May 9, 2022
Grand Strand bound
James Island to North Myrtle Beach, SC
Today was moving day but it was only about a 3 1/2 hour drive to North Myrtle Beach so we took our time finishing up the last few packing chores.
It's sad to be leaving Charleston but we both agreed that it's high on the list to return to in the future. Beautiful city, nice campground, beaches, adequate biking and dancing along with lots of historical things to see and do. We barely scratched the surface during our stay here. But I would make it a spring visit when the jasmine, honeysuckle and magnolia trees would be blooming!
By 11 we were heading north to the "Grand Strand" - the nickname of a 60 mile stretch of beach between Georgetown and Little River, SC that was coined in 1949. Our reason for going here is to hopefully get in some shag dancing, maybe some beach combing and a bike ride. But it's more about the dancing as it's purported to be where shag began.
We took Highway 17 which we had ridden many years ago on our east coast bike tour. But the area sure has changed and grown!
I did talk Don into making one stop at a stand that was selling sweetgrass baskets. After yesterday's water excitement, I told him he owed me BIG time for being on my hands and knees cleaning it all up! And I had my heart set on getting something else made of sweetgrass.
Miss Sew n'Sew (Tasha) was the owner of the stand and we really enjoyed talking with her while we shopped for something special. She said she learned the craft from her mother and had been trying to teach her kids. But right now they just make the roses.
We ended up buying a beautiful basket (a little pricey but well worth it) and a bouquet of palmetto roses. She also has a website so I could get something else mailed to me when we get back to Denver. I've already bookmarked it as she makes some gorgeous pieces, including earrings.
At around 2, we pulled into our campground for the rest of this week - Barefoot RV Resort. Our site backs up to a small craft airport with plenty of room for us on wide pavement. The neighbor says that they fly some neat vintage planes out of here so that would be fun to see.
The park itself is very nice and looks brand new. We could even rent a golf cart to get around town if we wanted!
It took a few hours to get settled in and we spent the rest of the evening relaxing. Don's achilles has flared up some again so I'm crossing my fingers that it won't be a problem and we can do the activities we have planned.
Don took this picture of a plant near our site at James Island. He thinks it's poison ivy?
This is the sweetgrass basket and bouquet of palmetto roses that we bought today. The round trivets on either side are also made of sweetgrass that we picked up when we were on Sullivan's Island. The basket and trivets are actually a mix of sweetgrass (lighter green), bulrush stems (thicker & darker brown), pine needles (thinner and lighter brown) that are all woven together using palmetto fronds. The basket is called an "elephant ear" basket. Don't ask the price!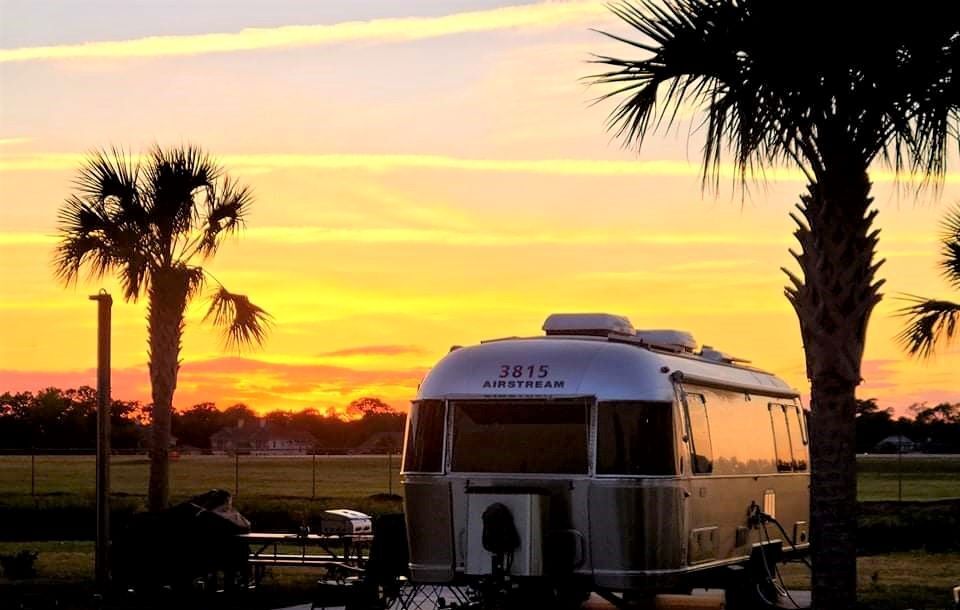 Sunset in North Myrtle Beach. Our neighbor actually took this picture for us.
| | | |
| --- | --- | --- |
| Rate this entry's writing | Heart | 1 |
| Comment on this entry | Comment | 0 |