March 5, 2021
Day 6 Casa Grande, AZ to Tucson, AZ
We have a rhythm now of being on the road close to 8 a.m. It is cool, sunny and with a humidity of 12!!! We have sore quads at the end of every day, but after ibuprofen and sleep, we feel okay. Ken woke up with a cold. Not sure where that came from with all the mask wearing. We seemed to have a bit of a tail wind because we were going 19 miles an hour [or we have really improved our strength! : ) ] The ghostly mts in the distance still intrigue us.
We learned from friends who live in Tucson that this terrain is called Basin and Ridge.
Sadly we saw many of these roadside memorials.
We rode 50 + miles on frontage roads which were ok. Sometimes we were between the freeway and freight trains. After lunch at mile 52, we rode 23 miles of Bike trail through Tucson. These paved trails are lovely!
Lunch beside the bike trail
View South at the start of the trail
These lovely trails soon turned out to be treacherous because new ones had been added since we got our directions and the signage on the trails didn't match our cue sheets. We got lost several times. Views were nice...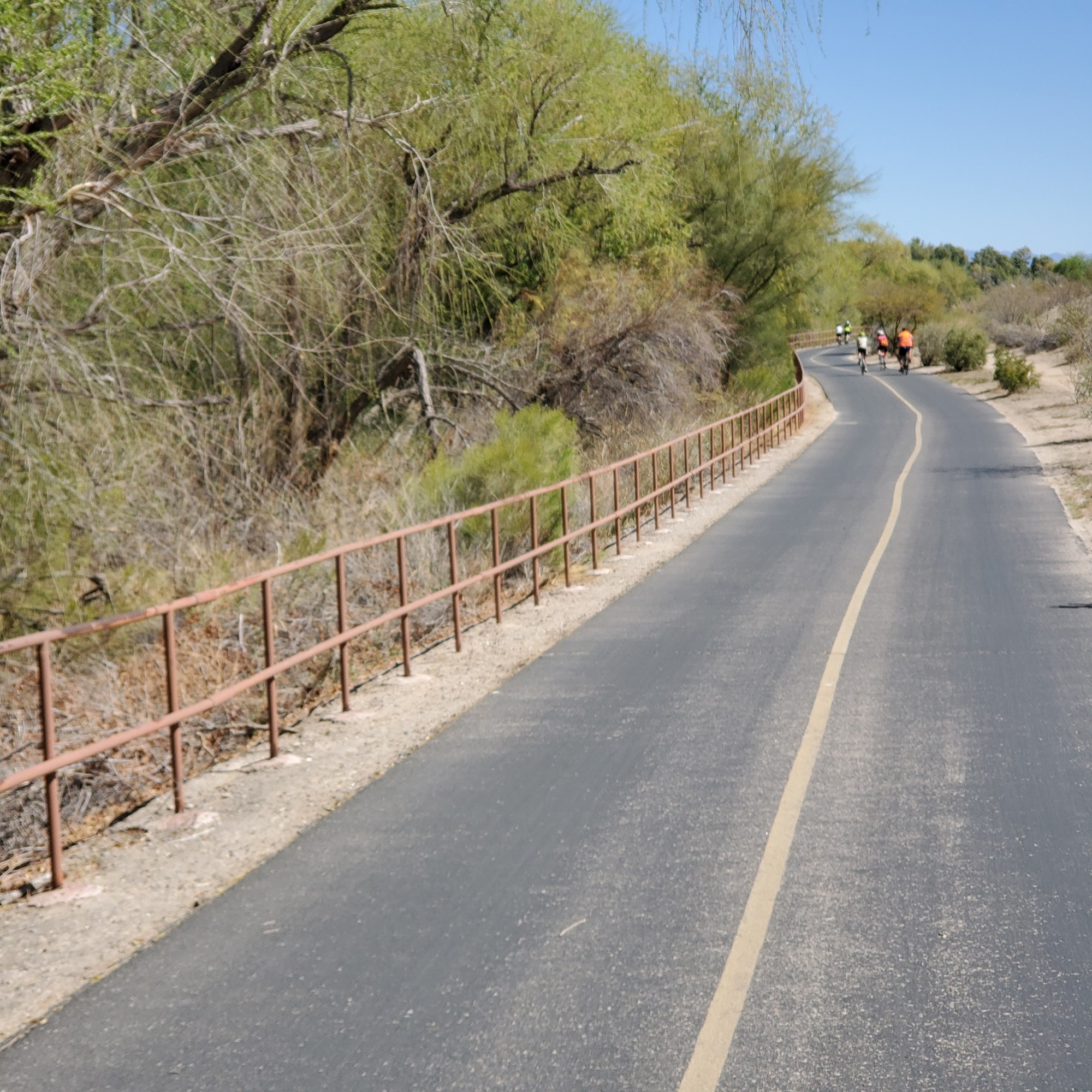 Start of bike path
Bat-mobiles
Our Comfort Inn & Suites is in a strip mall...not appealing, but inside there are lovely courtyards and it is quiet! We had dinner with my high school friends Phil Taylor and Linda Taufen and their partners at Linda and John's fabulous house. We forgot to take a picture! We're having brunch together Sat just so we can document our gathering.
Today's ride: 75 miles (121 km)
Total: 2,409 miles (3,877 km)
| | | |
| --- | --- | --- |
| Rate this entry's writing | Heart | 9 |
| Comment on this entry | Comment | 3 |