July 12, 2020
Day 43 - Pequot Lakes, MN to Walker, MN
We continued on the Paul Bunyan Trail today from Pequot Lakes to Walker.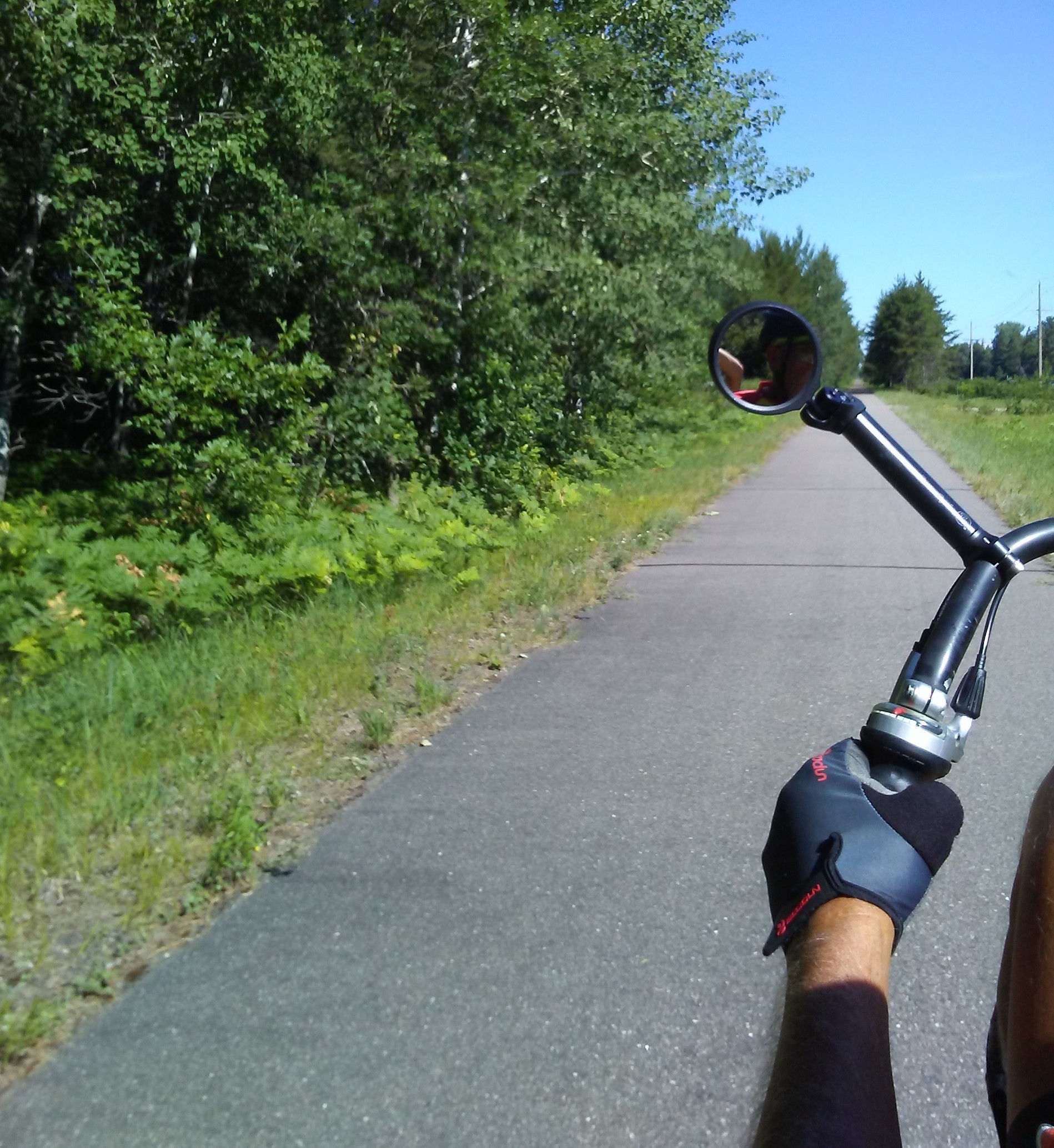 Trail leaving Pequot Lakes
The first town we came to this morning was Pine River. There was a caboose and old train station.
And a (closed) information center featuring what must represent Babe, the blue ox.
Street in Pine River
Another block in Pine River. I didn't notice the arrow on the facade of the barber shop until I looked at this picture. There must be a story there.
One section of the trail was lined with these yellow wildflowers.
Outside Pine River, we rode past what I first thought were some RV's. The sign on the building, though, said "Ice Houses". These are basically RV trailers made to sleep in while you sit out on the ice and fish. I guess it's a big step up from the ice shacks I've seen in movies, but I absolutely can't imagine the appeal of spending time out on a frozen lake for any reason. Florida is definitely the place for me.
Ice Castle ice houses
The next town on the trail was Backus. It is really just a one block town, but in the park we met this very delightful family. They live in Brainerd, MN and are making a three day trip up the trail to Bemidji, staying in hotels. The kids were all full of enthusiasm for the trip.
Colleen, Sullivan, Neil, Mullin and Gabriella
We rode part of the way to the next town with Neil and Mullin, then we met up with the whole family for a late breakfast in Hackensack. It was a lot of fun getting to know them. We parted ways when they went for ice cream to top off their breakfasts.
North of Hackensack, we encountered some very rough and patched pavement. It made the ride very bumpy for a while.
There were these patches and also many patches running the width of the trail that made constant annoying bumps.
Between Hackensack and Walker, we saw several lakes.
Some were small like this one.
Others were large with homes on the shoreline.
Walker is on Leech Lake. We've been here before at this same time of year and the town was full of summer visitors. It seems very quiet today.
Leech Lake
Leech Lake
There weren't many people on the streets today. In the past, we've found it packed with people on a July weekend.
Even though it was a relatively short day today, we both took a little nap after arriving at the motel. Around 7PM we went out to find something to eat and saw Neil, Colleen and the gang again at the DQ enjoying still more ice cream. The kids said they were enjoying the trip a lot. Small wonder!
Kerry here... Jeanna is enjoying the trip as well, as her dinner tonight consisted of Fritos, ice cream and Diet Coke. She said it was just one of those nights when being bad was oh so good! :-)
Today's ride: 39 miles (63 km)
Total: 1,207 miles (1,942 km)
| | | |
| --- | --- | --- |
| Rate this entry's writing | Heart | 6 |
| Comment on this entry | Comment | 6 |