July 8, 2020
Day 39 - Willmar, MN to Albany, MN
We awoke to a gray, drizzly morning. The conditions at our destination were much worse. Albany was having very heavy thunderstorms. They ended up with 3 inches of rain this morning. Fortunately, the storms were moving away from us. By 9AM, it was still dark and cloudy ahead, but as we rode, it got clearer and finally we had blue skies.
We expected a significant tailwinds today, but the winds were strong and in our face to start. We did finally get to enjoy some good tailwinds about halfway through the ride.
The first half of today's route was on the Glacial Lakes State Trail. Minnesota has excellent bike trails - paved and well maintained.
Along the Glacial Lakes State Trail - a good example of a "tree tunnel".
View from the trail
Much of the land beside the trail was designated as a "waterfowl breeding area", but it just looked like a swamp to us.
Trailside wetlands
There were two if these short underpasses.
We took a break in Spicer at a grocery store. While we were there, we met Latte and her "Mom". The woman was really interested and wanted to hear all about our trip. Latte was content to enjoy her rightful place as queen of the convertible.
At mile 25 we stopped at Paynesville for lunch and had some really good hamburgers at an A&W. They had all the tables and chairs stacked up on one side, leaving a big, open room. Except for a few other people coming in to order at the counter, we were the only ones there. We took our sandwiches and drink to a the far corner and enjoyed the guilty pleasure of a stand-up indoor lunch. The staff didn't say anything to us, so I don't think we were too brazen in our rule breaking :).
When we left Paynesville we also left the trail, and the rest of the day was spent on county roads (unlike the last few days, where we were on state and federal highways). The traffic was light and we passed about as many tractors and grain trucks as we did cars. It was really nice not to have to be on constant alert for traffic. It was also nice that, for the most part, the pavement was smooth and did not have the bone jarring expansion cracks that we have become accustomed to.
Being on county roads, we rode past, you guessed it, many farms. Up until now, almost all of the farms have been grain farms and most of them were quite large. Today we saw many more animal operations and livestock pastures and the farms don't see to be as large. We had several vistas today where we could see a dozen of so farms at a time - and it was quite scenic.
More poultry houses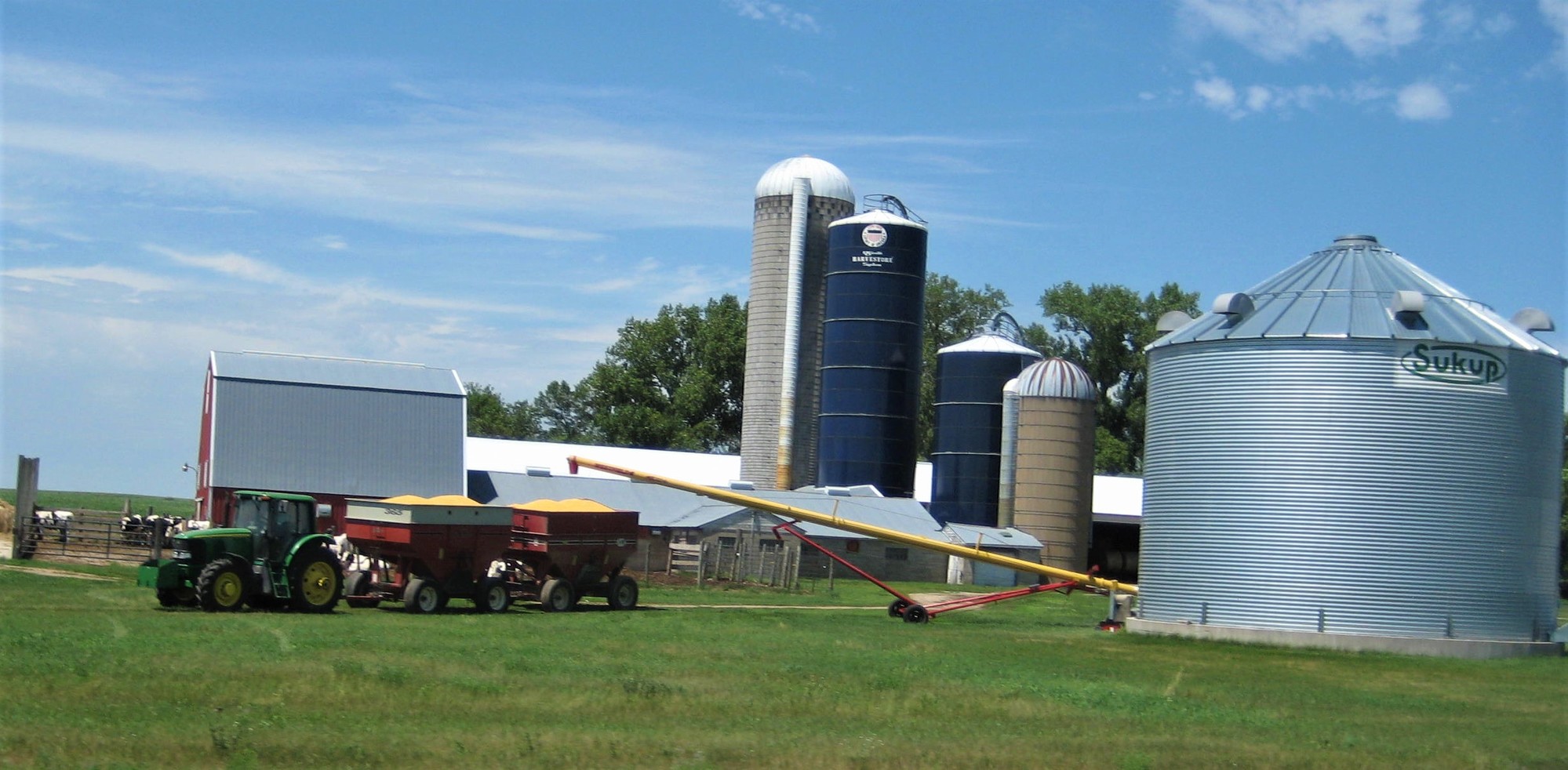 Loading grain wagons at an elevator
My picture postcard farm for today.
It is a large dairy farm. There were many more cows that I didn't photograph.
This old barn was standing all by itself in a large field.
Today's ride: 51 miles (82 km)
Total: 1,075 miles (1,730 km)
| | | |
| --- | --- | --- |
| Rate this entry's writing | Heart | 6 |
| Comment on this entry | Comment | 1 |