May 30, 2018
Vallier to Valence
Apres Glun, le Deluge

30th May 2018
41kms
Vallier to Valence
Apres Glun, Le deluge.
Our day begins pleasantly enough in this pristinely clean camping ground near the Rhone banks at Valier. But... No sooner has the coffee been brewed and consumed, than small droplets of rain begin descending. We pack quickly, spread the undried washing over our panniers, farewell our Dutch neighbour and a couple of the t'up north English acquaintances, ('We nearly emigrated to New Zealand in 1971.') and hit the road.
The impending deluge remains fairly restrained though, and progress is easy along the river bank over the next 40 plus kilometres. Barges and those massive river cruisers with rangeslider doors on the side (wouldn't do to be a sleepwalker) began to appear, making sedate progress upriver.
Kiwi nomenclature seems quite popular in parts of France.
There are also a number of hydro-electric dams and for the first time massive windmills can be seen whirling away in the distance. With these added to the atomic stations, fields of solar panels and the tidal station, one surmises that France should be reasonably self sufficient when it comes to electricity.

Our cote of the Rhone was heavily planted in vineyards right to the top of steep hills. Apart from Cotes du Rhone, I'm unsure of all the varieties but there's bound to be a lot of it. Fruit orchards are plentiful too with apricots and cherries growing right alongside the trail. Apricots are not quite ready yet but the cherries were deliciously ripe. How we know this, I am not at liberty to tell.
The route takes cyclists through deep green forest trails and past nature reserves where wildlife, can be seen frolicking if you're lucky. We spotted a couple of Castor- beaver and I saw a snake like creature almost skating along the water surface. Surprisingly, haven't seen any fish yet, though there are pecheurs trying their luck.
Later in the afternoon rain really set in and we stopped for a coffee at a PMU ( PMU acronym means Pari Mutuel Urbain - French state-controlled betting system), a betting shop. The coffee was restorative and we chatted to a lovely German couple we'd met a day or two before. Confident, that we could continue well beyond Valence before evening, we set off again.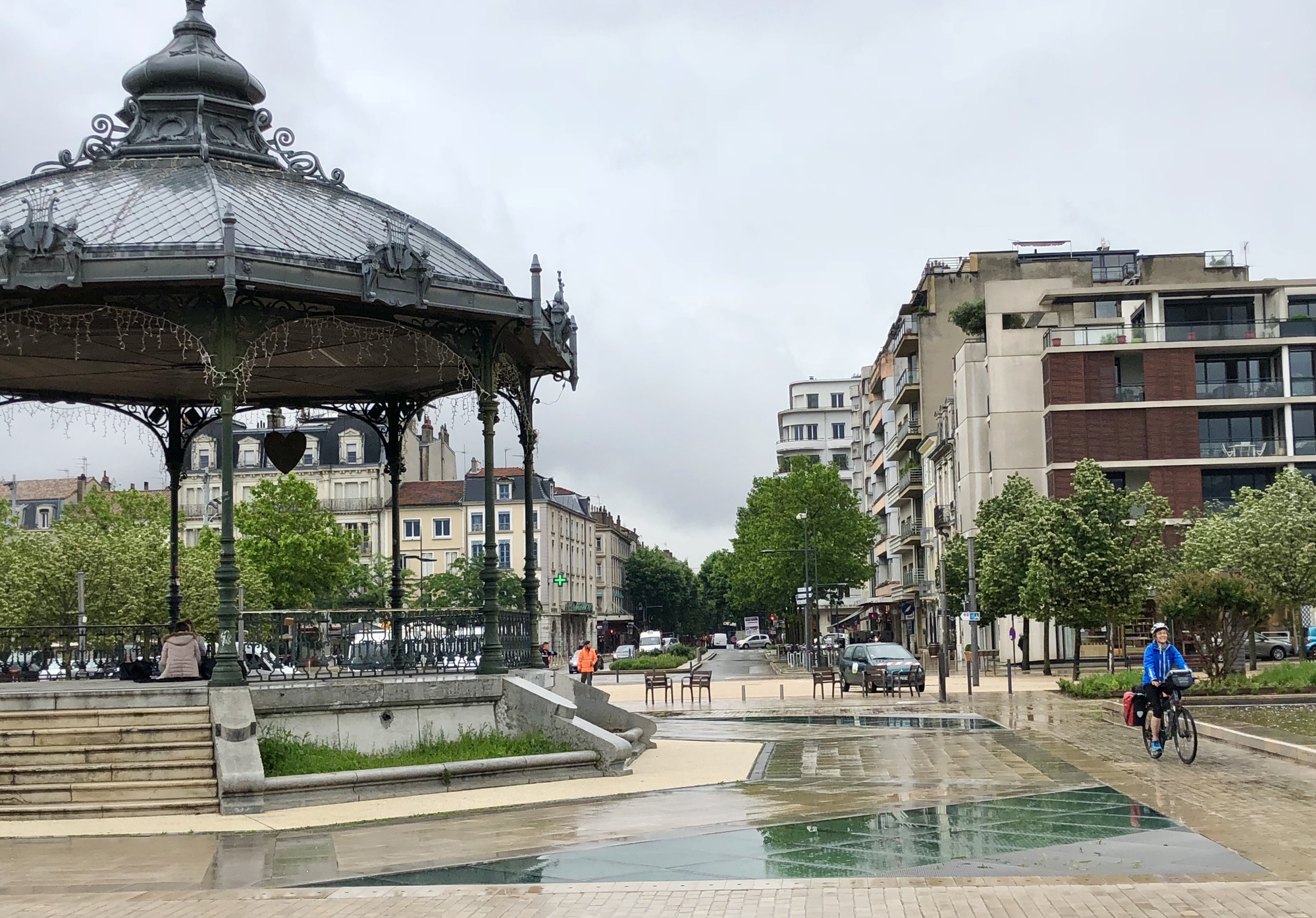 Valence in the rain.

It was not to be. Rain set in heavily as we left the tourist office and so Appart'city came to our rescue. With our dripping bikes secured in the garage, our wet clothing drying on the heated towel rail and fortified with sustenance purchased from Monoprix, we await the sunshine's return.

They're drinking our wine here- at least it says 'Kiwi'.
A dry haven!
Dripping in the foyer.
A slightly disconcerting sight during our walks through both Lyon and this city are the bunches of young people walking about with firearms cradled in their arms. They are in army uniform and full regalia but some look far too young to be in charge of such weaponry. A group appeared out of nowhere this evening as we left the store, steely gazes checking for anything moving in a way that it shouldn't be. We walked on our way carefully. A sobering reminder of security concerns across France.
Today's ride: 41 km (25 miles)
Total: 338 km (210 miles)
| | | |
| --- | --- | --- |
| Rate this entry's writing | Heart | 2 |
| Comment on this entry | Comment | 0 |