August 8, 2019
Thursday 8th August Roaming in Rostock, Storms in Schwann and Blue Skies In Baumgarten.
Up early to buy yoghurt and milk from the bahnhoff Spar. I also indulge in an apple pastry. They're all 1.75 € - I'm sure that's reasonable. The euro! No more Danish coins with the holes in the middle- we still only have a vague idea as to their worth. Breakfast in our hotel room is fairly leisurely affair - after the drenching of last evening, some recuperating is needed. Fetching the bikes from the basement and loading them up is made so much easier thanks to a) the lift and b) the luggage trolley.
While Ann loads the bags onto the trolley, and wheels them into the lift and out to the lobby, I bring the bikes up from the garage in same lift and we load up out by the front door. It works with machinelike precision. And so we head for Zentrum, trying to avoid too many cobbled streets; cobbles have their place but combined with heavily loaded cycles, they don't work so well.

Ready for one first day's cycling in Germany.
Rostock is a busy town, it has interesting features. The buildings sport impressively stepped gables, even the MacDonalds building. There's also the gothic cathedral, built in brick because limestone wasn't locally available.
The city took quite a drubbing by the RAF during WW2 because it was close to England and was the site of the Heinkel and Arado aircraft factories. Early this year a 250 pound bomb was found buried beneath the town centre.
The St Marien Cathedral echoes to the high notes of the choir warming up for the midday concert- some odd sounds, no doubt to stretch the vocals. There are some extremely ornate pieces - the pulpit and organ in particular. The exhibition of photographs related to WW 1 is graphic - happy scenes of joyous young men taking off on flower bedecked trains contrasted with scenes of death and destruction. One of the more amusing is a parade with a float parodying John Bull.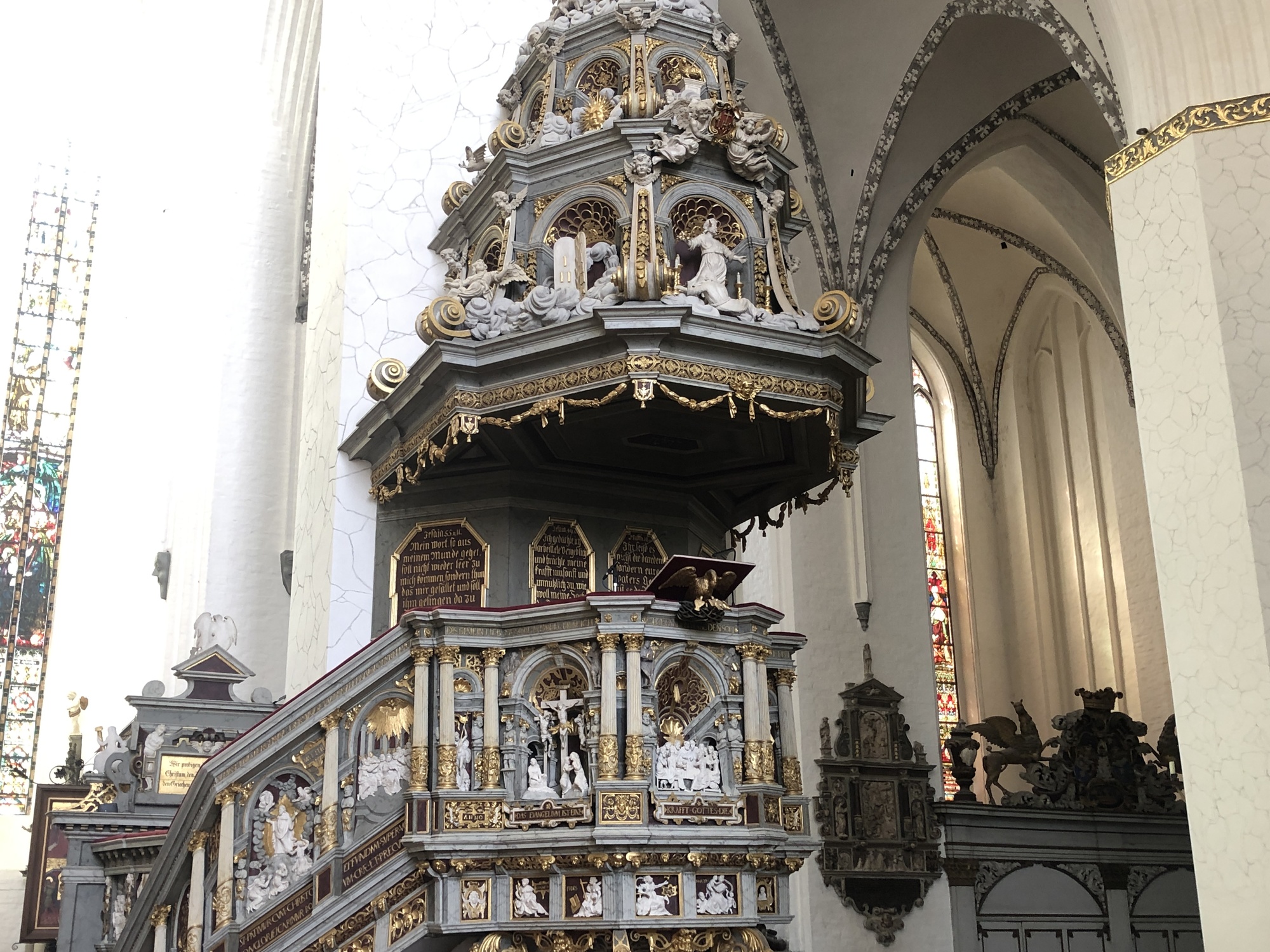 The trail from Rostock is well signposted and easy with a few ups and downs and twists and turns. The landscape stretches away into this distance with more trees as we enter villages. There's a dark sky overhead that seems to be pursuing us. It catches us outside a supermarket in Schwaan (Swan) were we stop for lunch. By the tine lunch is over, the sun's out again and the temperature rises. So it's away with rain jackets and off. This weather pattern is repeated a couple of times in the afternoon.
We head for Butzow and a cycle hosting family in Baumgarten, which is close by. It's fairly straight forward cycling with panoramic views of farmland from the tops of gentle rises. From one, the overwhelming sight of 60 plus wind turbines dominates the skyline. At Butzow which is about 10kms short of our destination we buy supplies. Here we also realise that we don't have the address we need and that we're in a cell phone black hole. A visit to a helpful travel shop solves the problem.
Franziska and her Brazilian husband Milton, warmly welcome us to their rambling farmhouse. They give us an upstairs room - with a bathroom! Cooking is done in an outdoors kitchen area and Ann rustles up a meal of pasta , mushrooms and tomato pesto rosso.
Kuche al fresco.
We chat for a while with Franziska learning about each other's lives, until darkness descends. We retreat upstairs to our quiet haven.

Today's ride: 62 km (39 miles)
Total: 412 km (256 miles)
| | | |
| --- | --- | --- |
| Rate this entry's writing | Heart | 5 |
| Comment on this entry | Comment | 0 |