August 5, 2021
Grafton - Caledonia, WI
AD slept in his own bed and met me back at the motel for a 9 AM departure. I was hoping to see his Mach 2 recumbent, but he brought the P-38.

Virtually all of our riding today was on bike paths. They changed names, depending on the county, but the ride felt like one path.
That was all fun and games until we hit the city. AD rides right through that mess a couple of times a month for his Italian cheese fix. Obviously, he's a hardened urban cyclist. We had no trouble, but the riding was very busy with plenty of city traffic and road crossings for about five miles. It was what I expected Green Bay to be like.


We rode through an area right down by the water where they were setting up for a triathlon. This entire tour I've been seeing plenty of very overweight people. Suddenly today I've seen cyclists and runners who were not only thin but I would describe them as emaciated. Now I know why. Triathletes are serious about fitness and diet.
At mile 30, we arrived at our lunch spot, very near the ferry. From there, we retrace our steps to our van at Irma's house, and AD rides back home.

I spent $22. Buying deli items for lunch. Groppi's is an amazing grocery, bakery, deli, and liquor store. It has an old wood floor and wood display cases. There was a small, shaded patio where we sat outside to eat.

I was watching Jacinto's ride on the link he sent me. He was quickly approaching. AD went to the street corner and flagged him down. We finished up lunch and said our goodbyes. AD gave us a couple of tshirts for his business, Recycled Recumbents. He said now we would have a change of clothes instead of having to wear the same thing day after day!
We went outside to depart. Jacinto's Rohloff had been hard to shift the past couple of days. As he approached Groppi's, the bike quit shifting at all. Unfortunately, the cable snapped while they were checking it out. Now Jacinto was left in the easiest gear. That's not the one you want for flat riding!

AD called a bike shop a couple of miles away. They could look at the wheel of we left it overnight. Really, we just needed to get to the van and drive home. Luckily this happened at the end of the last day. Our van was 18 miles away.

AD offered to ride home and come back with his van to give us a ride. In the meanwhile, Jacinto called Irma's daughter. That's where our van was parked. Denise said she could pick Jacinto up. I rode the rest of the way. AD got to go home and take a leisurely shower without hurrying off to rescue us.

For some reason, ridewithgps quit talking to me on the leg I rode solo, so I had to keep pulling the phone out to check. I arrived! It felt like an odd end to our nice tour. But, here we are.

All of our laundry is washing. All two shirts and two shorts of mine. Happily, I never had to wear my cold weather clothes.

Jacinto carried an umbrella. We used it once going to dinner. I carried a Silnylon tarp to cover the bikes in the rain. We used it once, in Frankfort, when we parked our bikes in the car parking spot as they weren't allowed in the room or the sidewalk. I had the little ice cube tray I used 3-4 times, but was happy to have it. Mostly we had well thought out items that were needed regularly.

Thank you for following along. It's been a good tour.
This trail head has free winter gloves. That's a great idea!
This former fish company is now a restaurant.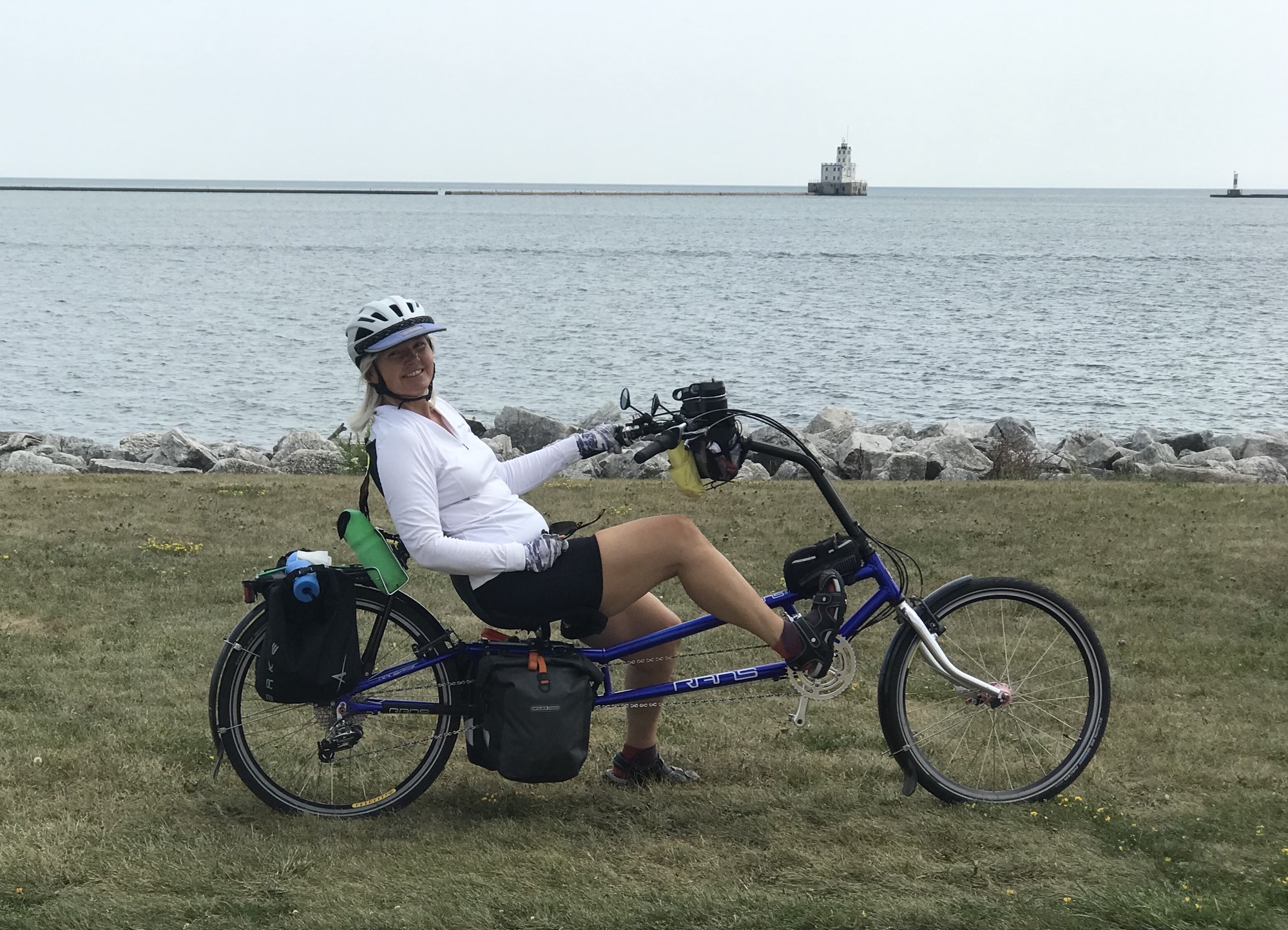 AD took this photo for me.
Milwaukee skyline.
AD brought the P-38 today.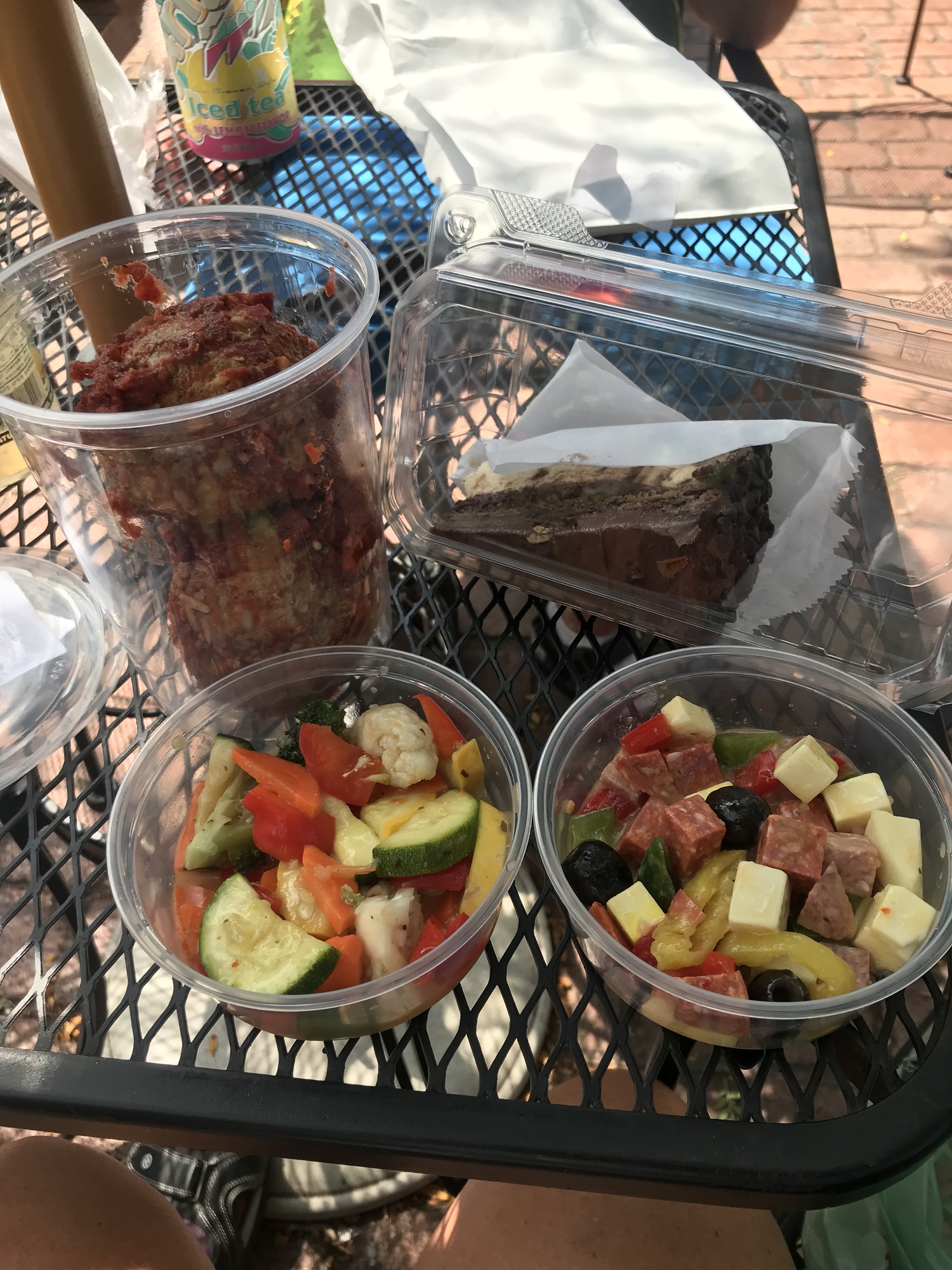 Lunch at Groppi's Italian Grocery and Deli.
Jacinto's unexpected end point.
One last silo shot.
Today's ride: 49 miles (79 km)
Total: 1,617 miles (2,602 km)
| | | |
| --- | --- | --- |
| Rate this entry's writing | Heart | 6 |
| Comment on this entry | Comment | 10 |