March 19, 2021
Day 20 Del Rio, TX to Camp Wood, TX
We only saw the shopping center district of Del Rio, stayed at Holiday Inn Express and had dinner at Applebees. Can't tell you anything else about it.
Ken woke up feeling fine. We rode conservatively and stretched more. His scoliosis and lack of gym workouts for core strength due to COVID are coming home to roost with these repetitive long days of cycling!
First 40 miles or so today were on roads that bordered huge ranches with fancy entrances and high fences. They apparently cater to hunters by raising exotic animals. We saw one antelope.
Exotic animal ranch entry
We got off busy hwy 90 at Brackettville, turning onto hwy 334 a "ranch road". Ranch roads are lower quality than Farm roads which are lower quality than County roads etc.
We've been on Farm Roads...now Ranch Roads
Brackettville courthouse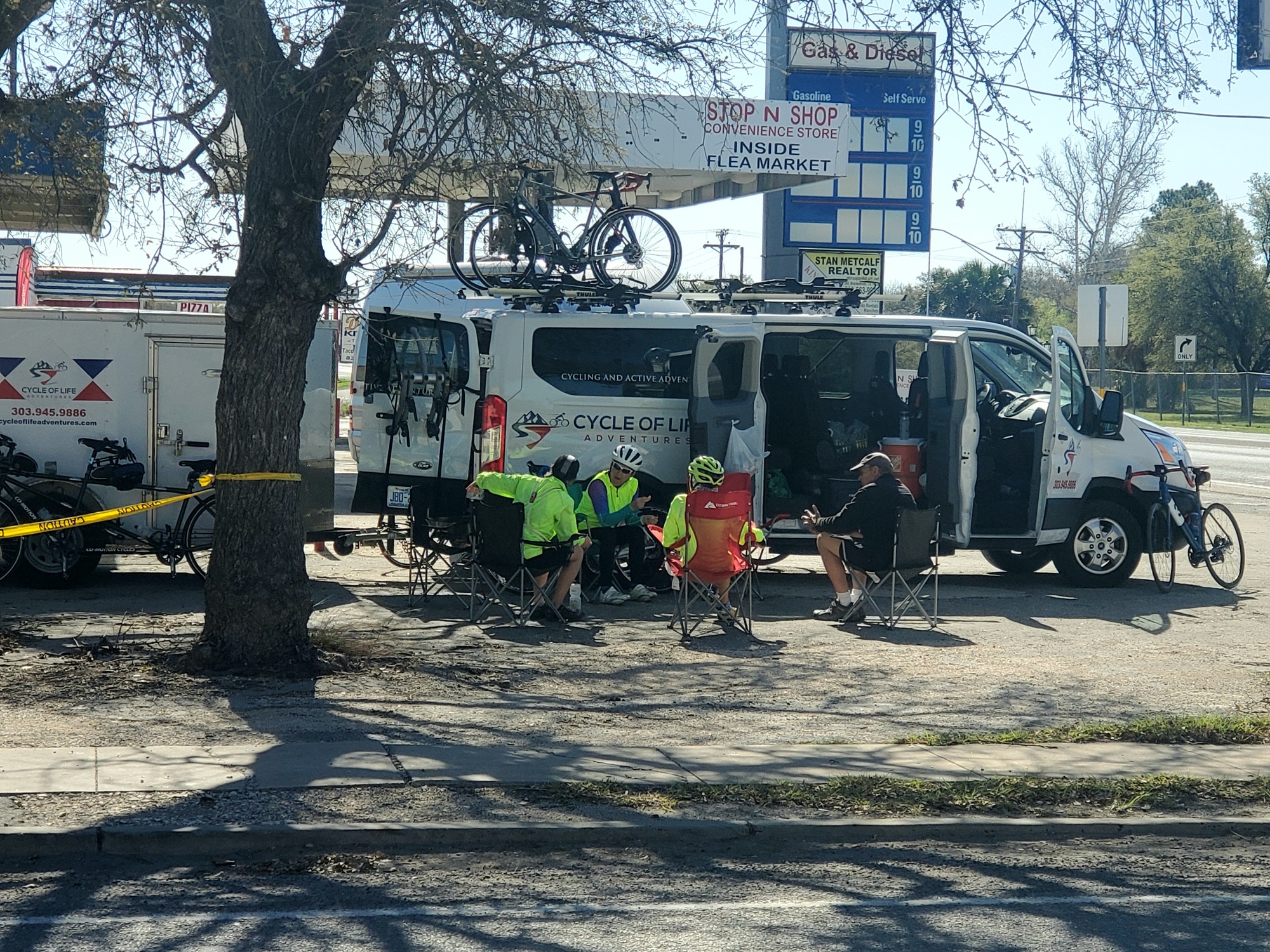 Our rest stop in Brackettville
Got our first flat tire of the trip on this country road - a steel belted radial tire steel thread caused the damage. Brackettville or the county has a new electric energy source!
Acres and acres of solar panels
Spring is coming here! We saw Indian paintbrush and other wild flowers (not bluebonnets yet). We are traveling towards "Hill Country" and we are seeing more greenery.
Rocio along a dry river bed of white stones
Looking east before turning north to Camp Wood
Cows usually find us cyclists quite interesting. They will stare or even come running towards us.
Until they decide we are scary!
Our no nonsense motel in Camp Wood
Today's ride: 80 miles (129 km)
Total: 1,555 miles (2,503 km)
| | | |
| --- | --- | --- |
| Rate this entry's writing | Heart | 6 |
| Comment on this entry | Comment | 6 |