July 24, 2020
Day 55 - Orr, MN to Virginia, MN
Well, at the risk of being labeled a chronic complainer, I have to say that today's ride really wasn't much fun either. We had another day of relentless 15-20 MPH headwinds. Also, the route was nearly all highway (US-53), so there wasn't much to see. We just put our heads down and pedaled. Kerry didn't even have any trains to count.
The first town we came to was Cook. It had a Subway that allowed indoor dining, so we did have a relaxing early lunch.
Our next stop was only nine miles away. When we got there, it appeared to have gone out of business. Kerry decided to turn around and stop at a bar we had just passed. The best thing about that was riding .3 miles with a tailwind!
The bar was something else. It is called the Log Cabin Tavern. It is a country bar in the far north of Minnesota. Old country music played on the juke-box. Several signs and posters not suitable for quoting here adorned the walls. Even though there were only 3 other customers in the place, the music was extremely loud, so we had our Diet Cokes and moved on. This stop did not enhance my very limited enjoyment of the ride so far.
All my snide remarks aside, these folks really were friendly.
We still had a brisk wind from the south.
One random nice view from today.
We plodded on just about five more miles and got a five mile reprieve from Hwy 53. We were routed onto a parallel road that may have been the old 53. It took us to the little community of Britt and the Britt Short Stop. This was the kind of stop we enjoy. People came over to talk when they saw the bike. There were two guys driving a Frito-Lay route who said they had passed us on the road earlier in the day. They asked about the trip and we had a nice conversation. Then a guy driving a hot rod (loud!) came over and said he needed to check out the bike. We talked to him for a few minutes, too. The store had a table and chairs so we could sit and rest while we had our cold drinks. Also, the "out of order" sign on the restroom didn't stop the very kind clerk from giving us the key! As simple as it was, that stop was probably the high point of our day.
As we rode into Virginia, we passed what we thought was a very pretty city park. It turned out to a golf course.
Seems like an awful lot of trees for a golf course!
Our little motel in Virginia is called the "Lakeshor Motor Inn" (yes, that is the correct spelling) and sits between two small lakes. In the back of us is Bailey Lake.
Bailey Lake
Walkway along the lake behind the motel
Across the street is Rotary Park and Silver Lake. The park has a metal sculpture honoring Virginia's history as a town of sawmills.
The Sawyer
There was also a piece of art in Silver Lake. Meet Virginia's "Ginny the Loon"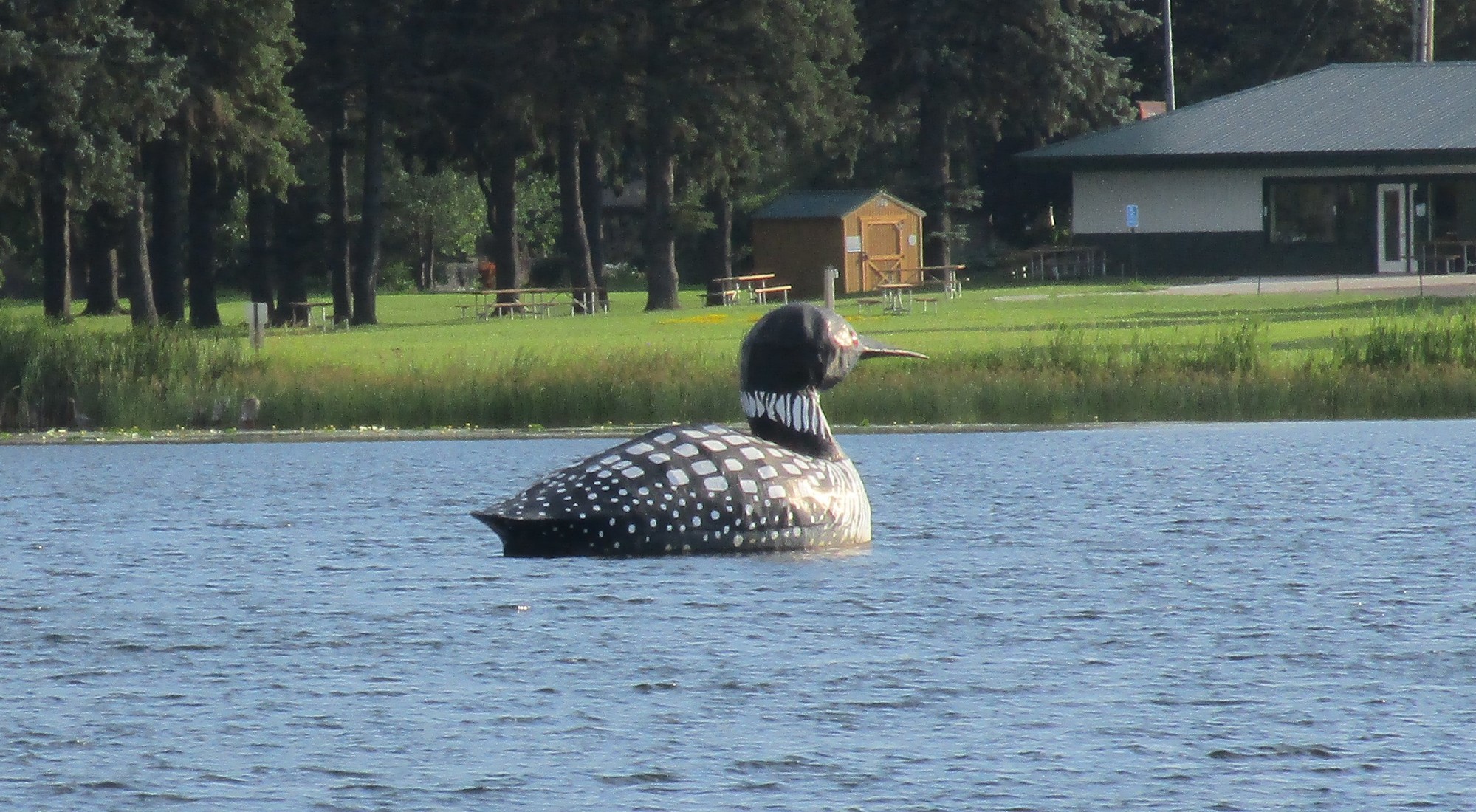 Today's ride: 45 miles (72 km)
Total: 1,615 miles (2,599 km)
| | | |
| --- | --- | --- |
| Rate this entry's writing | Heart | 8 |
| Comment on this entry | Comment | 1 |