A Short Note About Translation
I've Always Wanted To Provide a Short Note About Translation Because I Read So Many of Them When I Was Into Russian, German, and French Literature
I should have given this project a little more thought before I posted yesterday's introduction. When I read the printed copy of my journal this morning, I quickly realized it won't work to simply reproduce it verbatim. It needs a little translation. It's got too many inside jokes, meaningless minutiae, and references to things nobody else could know about. I'll just eliminate that stuff.
Also, it was written in the style of a timeline, as in:
"10:50 a.m: I made it to to the town of Spring Valley and proceeded to vandalize the local waste water treatment facility." [1]
It seems too chopped up that way, so I'm going to try to create smoother segues from one episode to the next.
I'm also going to add maps to enhance this translation. I know there is a pretty large contingent of map fans.
Another change I'll be making in my translation will be in the titles of each page. In place of the current titles ("Sunday," "Monday," "Tuesday," and "Wednesday") I'll try to come up with four new titles with a little more pizazz.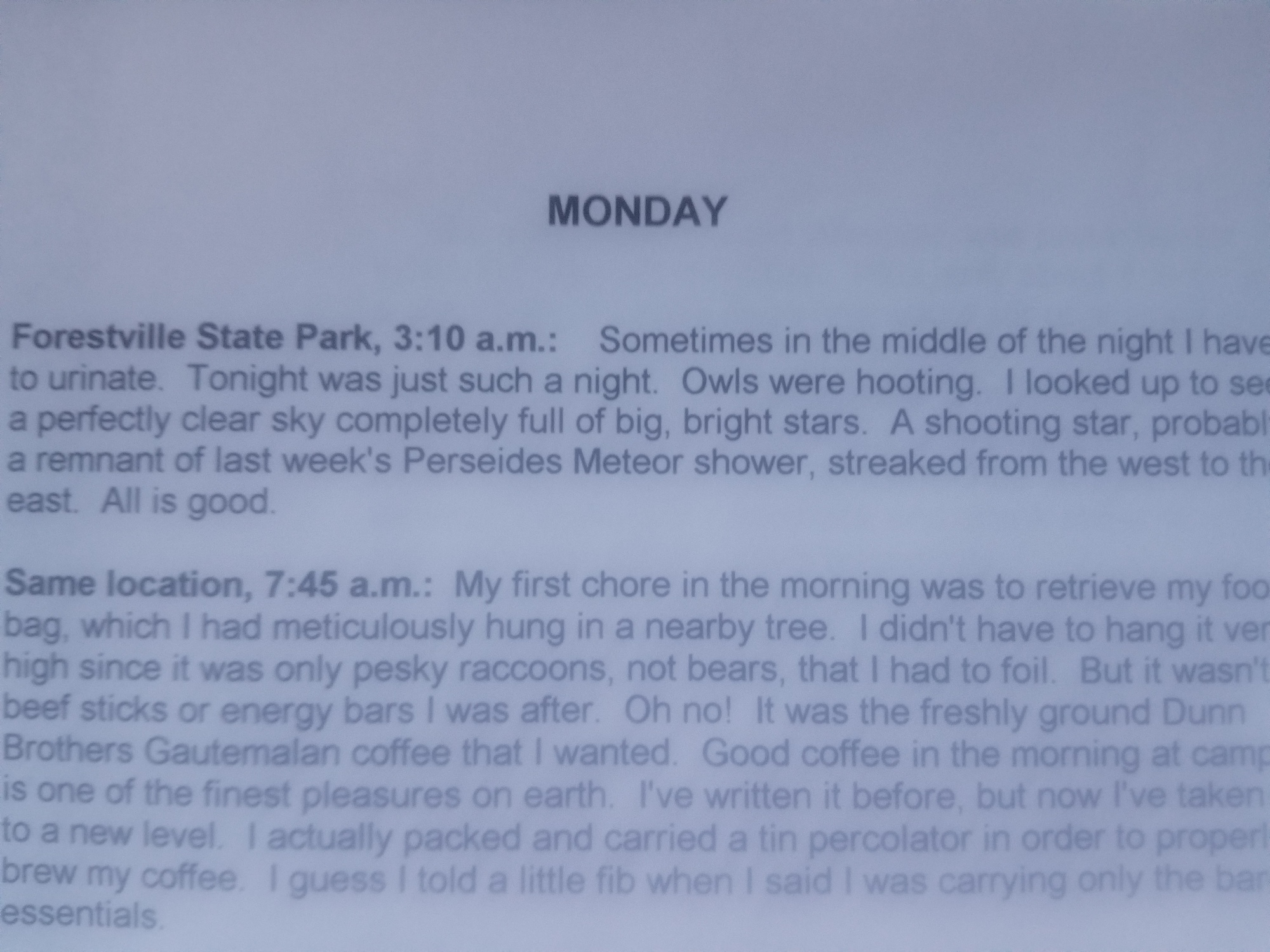 See what I mean? Timelines and titles named after days of the week will not do. They need translation.
Finally, there is no way I can translate this journal without adding a few comments from my new perspective as a slightly more experienced bicycle tourist. That's just how I am. Therefore, my plan is to use footnotes whenever I need to add context, embellishment, or some kind of smart-ass remark. That way, all new content will be clearly identifiable at the bottom of each page.
-----------------
[1] That was just a made-up example of a timeline entry. I didn't really vandalize anything.

| | | |
| --- | --- | --- |
| Rate this entry's writing | Heart | 5 |
| Comment on this entry | Comment | 6 |