June 4, 2021
Day 4: Marblemount to Colonial Creek Campground
The hills are alive...
"I think starting our last tour in Holland was a better strategy than starting on a hilly island and over the Cascade Mountains" says Rachel, "The hills are alive and they are killing me." Our usual strategy is to take it easy the first week or two as training, not sure that's going to work this time with five passes up ahead, one a day: Rainy, Washington, Loup Loup, Wauconda, and Sherman pass. We'll just keep plugging along.
We slept well in the guest tent, fixed coffee, and ate yogurt with the granola Jeanne gave us our first day. Rob and John are up and we say our goodbyes. They have created a beautiful spot, and we highly recommend cyclists to stage their days to stay with them. They give us advice about the road ahead. The first stretch is relatively flat for the about 15 miles following the Skagit River upstream to Newhalem. We turn off to visit the North Cascades Visitor Center and take a break there. The Ranger confirms that Colonial Creek Campground has a hiker-biker site for camping. The road starts to climb gradually then there are a few sections that steepened. And two tunnels, the first has a light for cyclists to push, so traffic would know there was a cyclist in the tunnel, this one is tough because we are going up.
We take another break at Gorge Creek Falls, then push our bikes over the open grate pedestrian bridge, with Patrick walking back for a photo of a waterfall. There are beautiful waterfalls all along the hillside. Finally reaching Diablo Dam we have a nice 2 mile downhill to Colonial Creek Campground. We say nice today because we are ready to stop early and have a "half rest day". We will have to regain that elevation tomorrow as we go over Rainy Pass and Washington Pass, then down to Winthrop with another Warmshowers stay.
There was a nice surprise checking into the campground, the hiker biker site is FREE! We arrived about 1pm, find the site (#115), eat lunch, set up the tent and relax.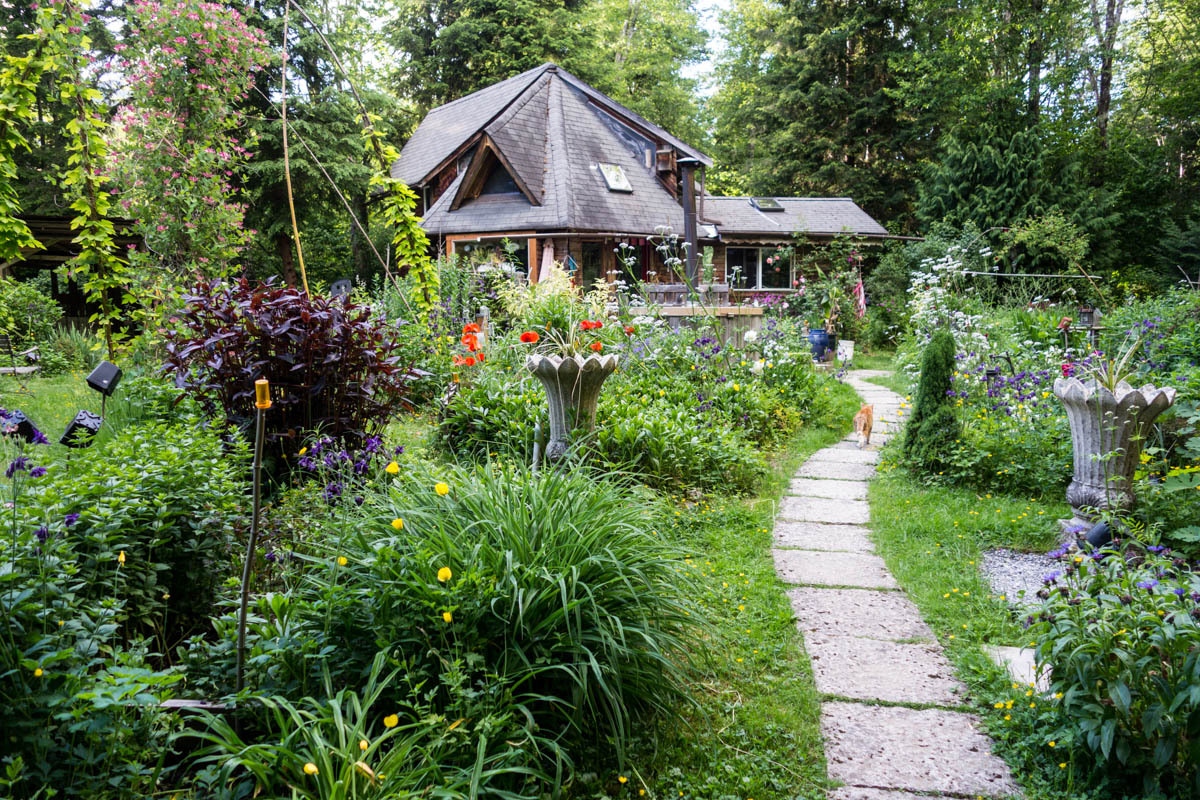 We say goodbye to this beautiful spot and gracious warmshowers hosts, Rob and John
Colonial Creek Campground, Hiker-Biker #115
Patrick cooks dinner, Indian food with noodles, the ones the raccoon didn't get
Patrick carries bear spray zip tied to the handlebar stem, not necessarily just against bears
Today's ride: 27 miles (43 km)
Total: 154 miles (248 km)
| | | |
| --- | --- | --- |
| Rate this entry's writing | Heart | 5 |
| Comment on this entry | Comment | 4 |