June 1, 2021
Day 1: Mukilteo Ferry to Clinton and cycling to Oak Harbor
Taking it easy this first day, we thought
"This is going to hurt" Rachel says. "Our first hill, and we've done a mile" Patrick replies. We had a slow start to our first day, enjoying the company of our Warmshowers hosts, Jeanne and Tom, and the gorgeous view of the Cascade Mountains from their deck. They have given us advice as well on the route and our stay with them has given us a good start to the tour.
The 5 mile ride to the Mukilteo ferry was rolling hills down to the water. The ferry terminal is new and there's a green lane for the bicycles. It was a quick crossing, pedestrians and cyclists are allowed off first, and we head to the Clinton Beach right outside the terminal to allow the traffic to pass. We have a break eating a muffin and fig bars and once the traffic subsided we take off. Immediately is a hill climb, and it hurts. Our two weeks of cycling a 19 mile loop wasn't much of a cardio workout that we are now experiencing.
We stay on 525 stopping for breaks at the bus stalls and in Greenbank stop at a Deli for chocolate milk and make a ham and cheese sandwich, There is an occasional glimpse of Mount Baker, yellow Witch's Broom is in full bloom along with Lupines in a variety of colors. Memories of other places surface and the vague feeling this is just a continuation of past tours. The sky is clear and temperature warmer than we expected. We are getting tired from the hills. When we reach Rt 20, we turn toward Fort Casey where the Keystone ferry leaves for Port Townsend. The road is flat and the headwind picked up. As we climbed away from the ferry terminal, there are three F18s practicing touch and go's. We turn on Engles road to Coupeville, a cute little village. Out of Coupeville we take Madrona Way to Libby Road.
The short steep hills increased after Coupeville and we are tiring. When we reach and take the final turn on West Beach that will take us to tonight's Warmshower host, there it is…there's always one more hill. And then another. We make to Kurt and Jane's house at 4pm.
Kurt is a retired teacher and Jane a physical therapist. They lived in China for a length of time and have beautiful Chinese furniture. Kurt also fishes as a commercial salmon fisherman in Alaska. Their house offers a beautiful view over the Strait Juan de Fuca all the way to Vancouver Island. They have cycled extensively in Europe.
A nice warm shower washes away the weariness of road. Jane and Kurt fix a wonderful meal including some of the salmon Kurt has caught. The evening is relaxing sharing travel stories and experiences. Mostly though, staying with locals we get good advice on the route. We have changes in our plans already.
The official first day photo of the "another one for the bikes" tour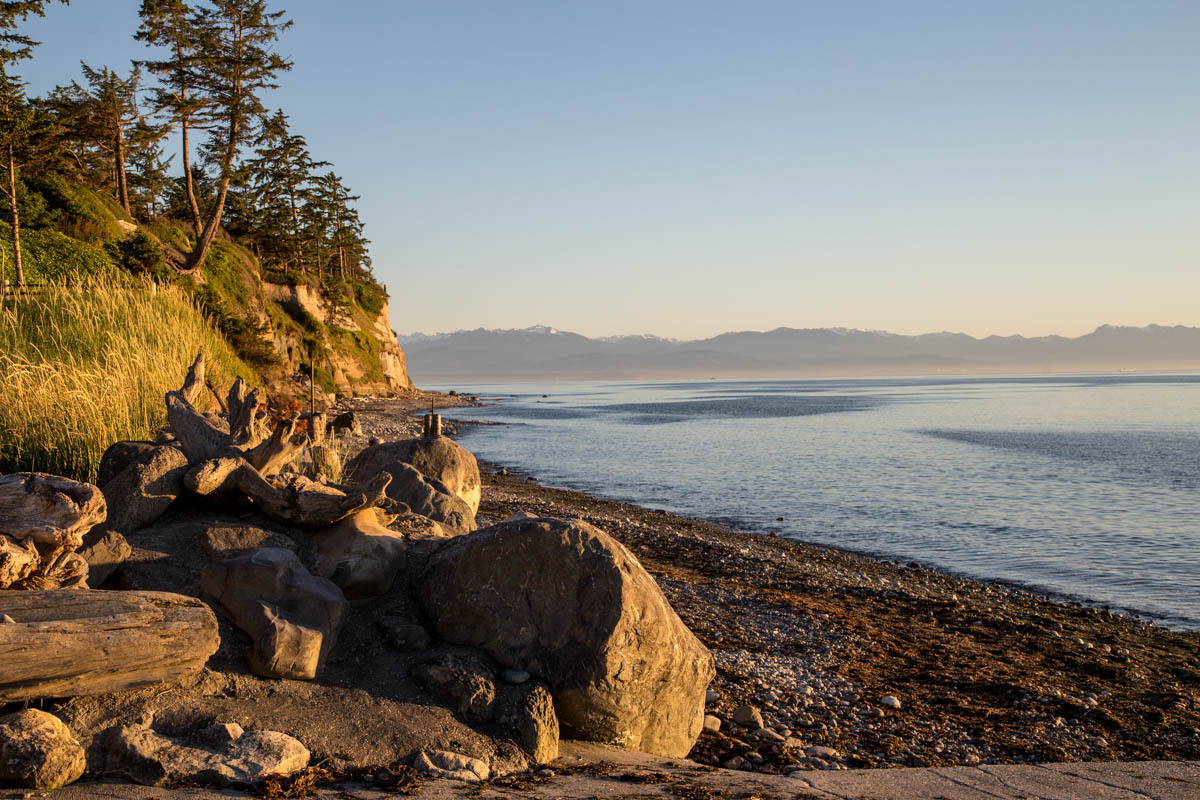 Today's ride: 43 miles (69 km)
Total: 43 miles (69 km)
| | | |
| --- | --- | --- |
| Rate this entry's writing | Heart | 7 |
| Comment on this entry | Comment | 1 |