June 21, 2014
"Without music, life would be a mistake." -Friedrich Nietzsche
Cleveland, Ohio
My quest for fun is reaching an apex in Cleveland. Last night I went for a walk and found myself in a party zone around 4th St. and Euclid Ave. It was full of interesting bars and restaurants. I had dinner and spent a couple of hours in the area.
I have no idea why I ordered a meatloaf sandwich, but I did. It was the first one I've ever had and it was excellent.
-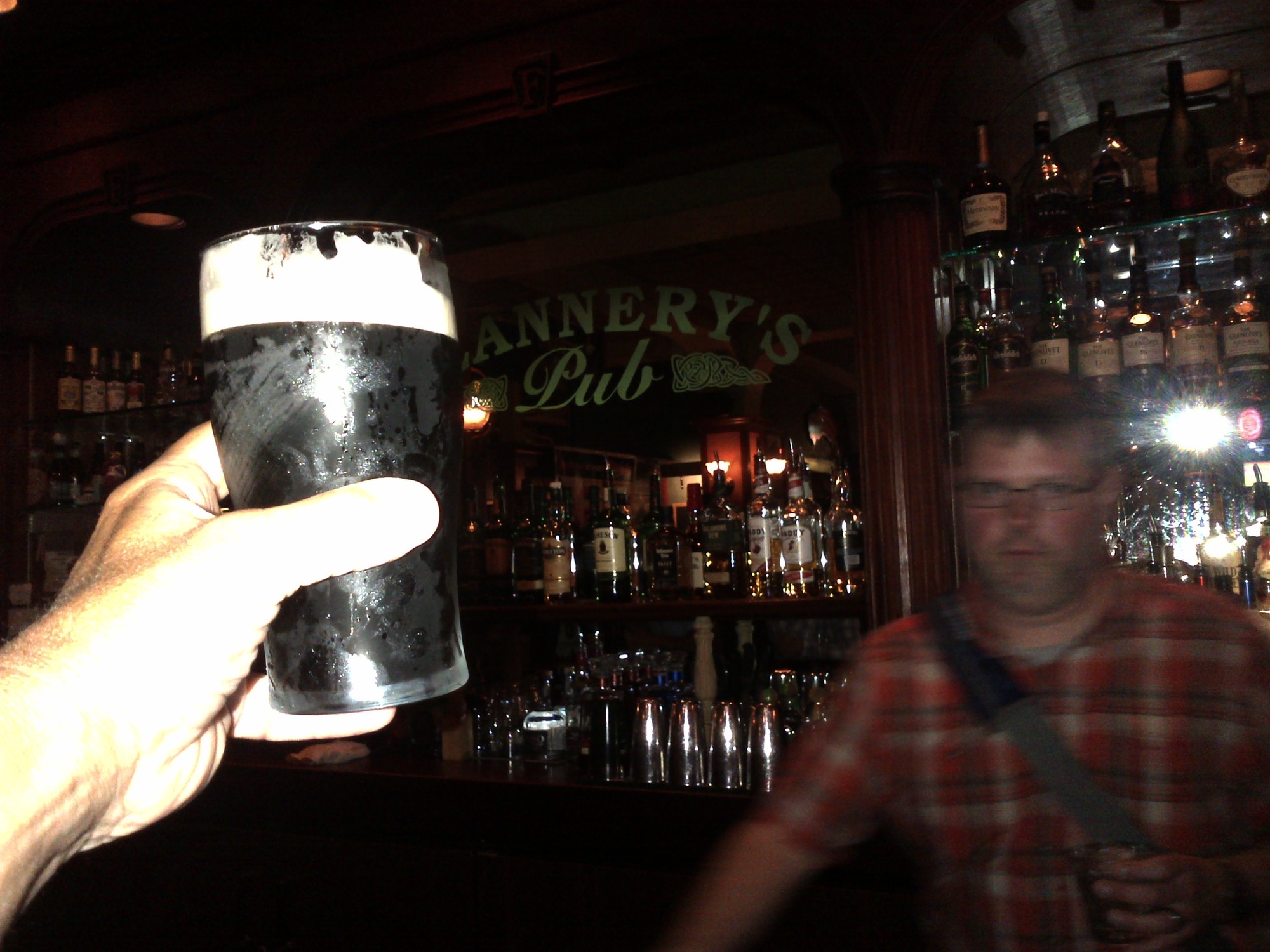 Guinness is a must at a place called "Flannery's."
-
Fourth and Euclid. 10:00 p.m.
This morning I went downstairs to retrieve The Reckless Mr. Bing Bong. Yes, you read that right. I had to retrieve my bike because the Doubletree Hotel required me to lock it up in the parking garage. Apparently the Doubletree thinks it's too high class to allow an icky touring bike to roll through its lobby and onto its elevators.
Once the retrieval process was completed, I zipped around the downtown area for a couple hours, while picking up some supplies and checking out the important tourist sites--like all the major sports stadiums and arenas, the Terminal Tower and other architecturally significant buildings, the Warehouse District, The Great Lakes Science Center and, of course, the REALLY BIG one--The John G. Breen Technology Center. Not familiar with that one? It's where the paint scientists conduct all of the research and development for the Sherwin Williams Company.
Located right on the banks of the formerly inflamed Cuyahoga River, it was fenced off, had locked gates, and was so secure that not even a valued retiree like me could get near it. From a safe distance I took a photo, keeping an eye out for the paint police.
A big mural advertising a big paint company.
The Rock and Roll Hall of Fame was my afternoon project. Let's see, where do I begin? I am not much of a museum guy, so I had no interest in seeing such things as Janis Joplin's Porsche, Jerry Garcia's guitars, costumes worn in concert by Stevie Nicks, or a poster of a 1969 Byrds concert. And there were many, many posters, costumes, and guitars on display.
The Rock & Roll Hall of Fame.
What interested me more, as a rock music fan, were Joe Strummer's handwritten lyrics for The Clash's "Rudy Can't Fail," and Brian Eno's production notes for U2's "Sunday, Bloody Sunday." There were fewer artifacts like that.
I did find the areas dedicated to the punk and grunge genres to be edgy for an institution that has become a shrine to the baby-boomer generation. I also liked the section showing the history of conservative politicians and religious leaders who have been outraged at the "decadence" of rock and roll, as well as the responses from various rock stars.
Well said, Mr. Zappa.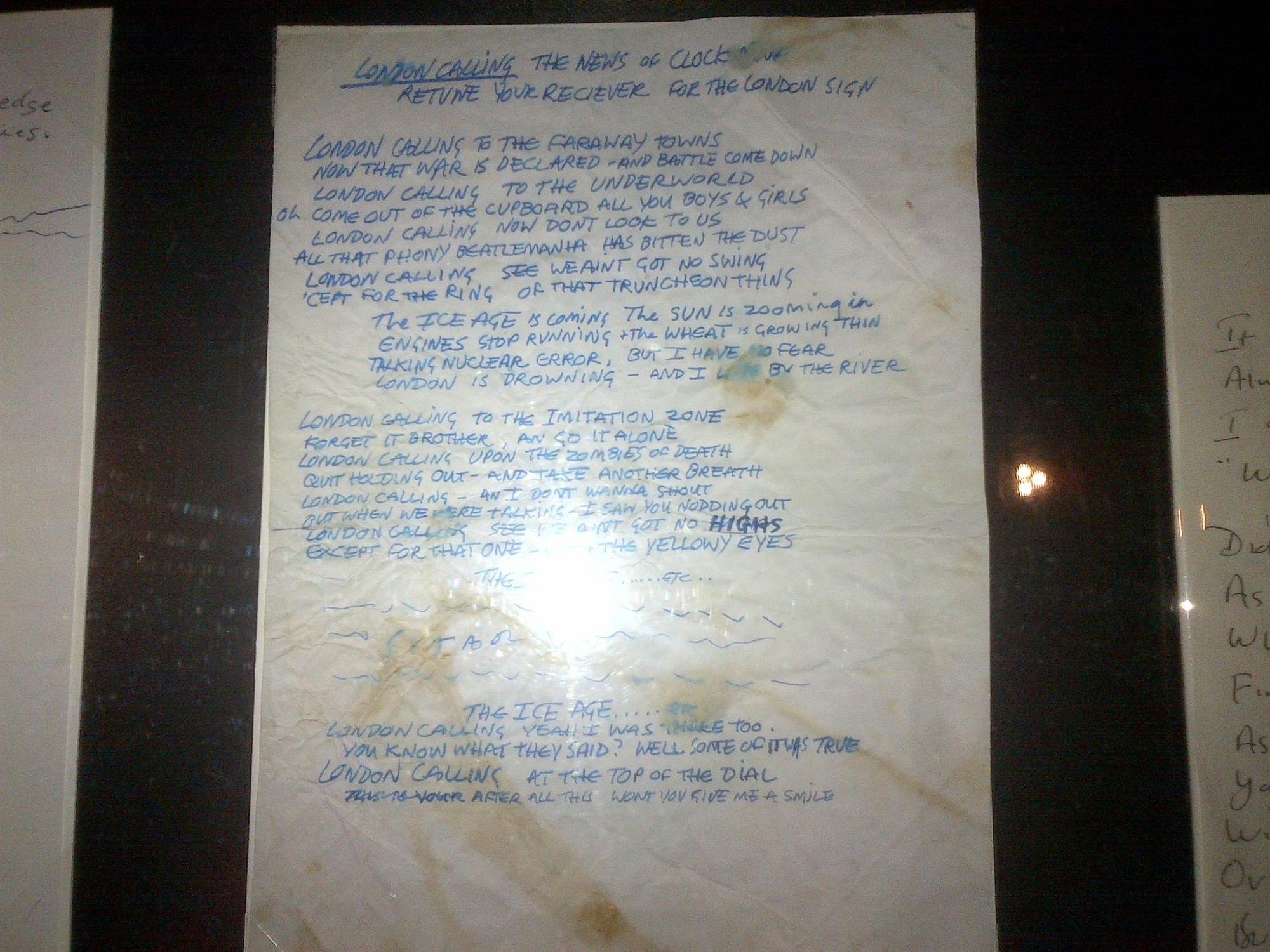 More handwritten lyrics from The Clash.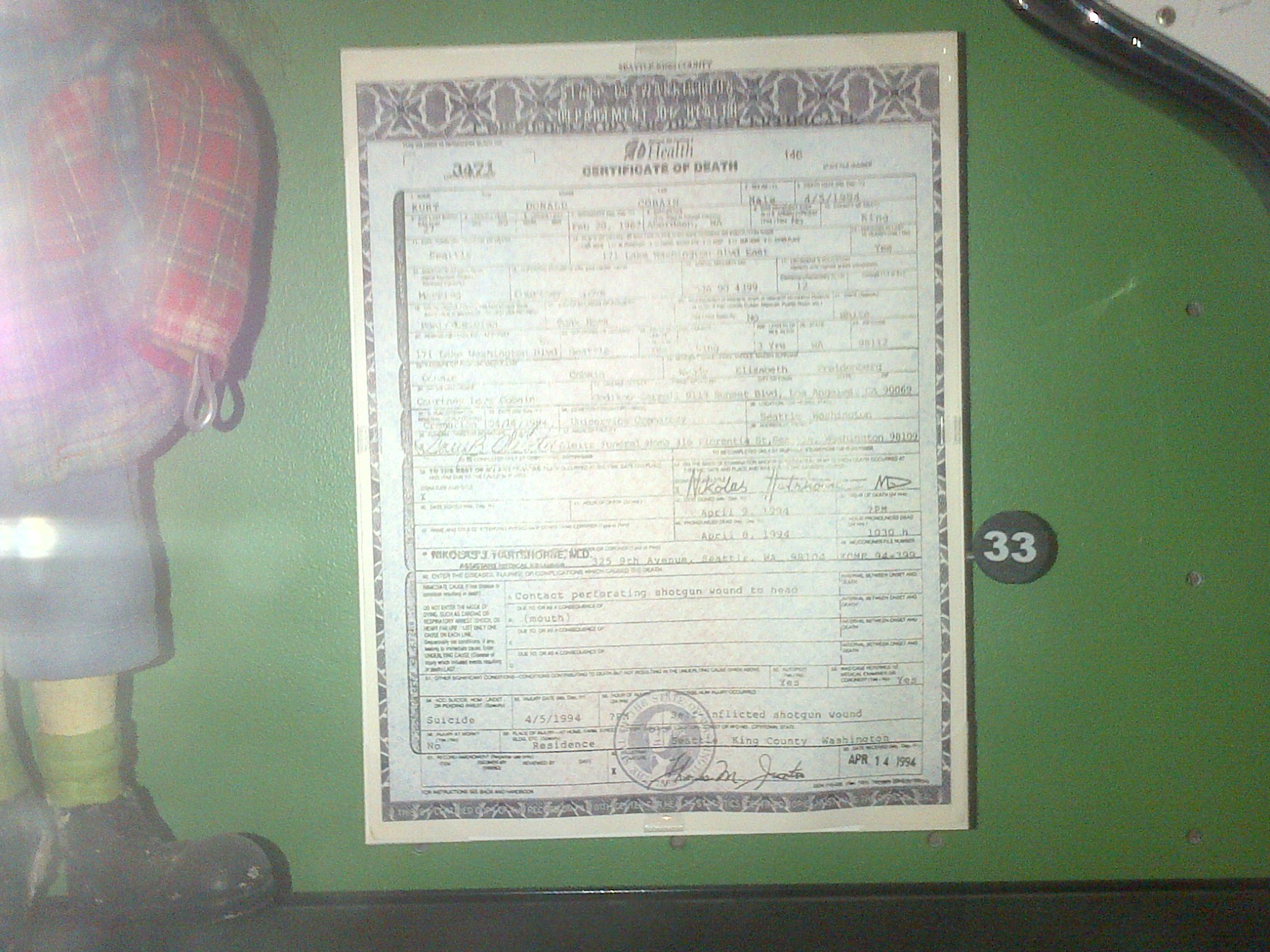 Kurt Cobain's death certificate. Interesting and gruesome at the same time.
A decent display based on Pink Floyd's "The Wall." It was the last thing I saw before leaving the R&RHoF. I don't think I will ever have to come here again.
One more "like" was the video of some of the Hall of Fame induction speeches and performances. One more "dislike" was the long lines and the throngs of tourists.
As you can see, my reaction to the Rock & Roll Hall of Fame is lukewarm. If you love the Beatles and the Rolling Stones and Elvis and Hendrix and Springsteen, this is the place for you. If your tastes, like mine, lean more toward the Velvet Underground, the R&RHoF has nothing more for you other than their names anonymously mixed in on a wall with all of the other inductees. Other geniuses like Dylan and The Clash and CCR are seriously under-represented in my opinion. And Nirvana only holds sway because they are brand new inductees. Next year they will be relegated to the same neverland as the Velvet Underground.
In conclusion, I have heard and read many individual opinions regarding who should and who should not be in the Rock & Roll Hall of Fame. I have my own opinions as well and, personally, I think mine are more correct and they should override everybody else's. Unfortunately, that's not how it works. Without naming any specific artists, I think there are waaaayyy too many hall of fame inductees. It is my belief that the membership list should be very, very exclusive. I would scratch at least a hundred, maybe two hundred, names off the list. And that would include many artists whose music I actually like. And I would only add one or two.
Admittedly, everybody has their own favorite musicians--usually from their own era or from their preferred musical genre. Who is right? Who is wrong? Nobody. Everybody. The same goes for literature and paintings. The same goes for your favorite quarterback or shortstop. The same goes for the best movies and actors.
I have rambled on much too long. Tomorrow I get back on the road. I will leave you with a few more pictures from my last 24 hours in Cleveland.
The home of the Cleveland Indians.
-
There was a display of antique Cleveland police cars in front of City Hall.
-
More cop cars and a motorcycle too.
-
Terminal Tower--a Cleveland landmark.
-
-
This has got to be the world's largest rubber stamp.
Today's ride: 8 miles (13 km)
Total: 949 miles (1,527 km)
| | | |
| --- | --- | --- |
| Rate this entry's writing | Heart | 0 |
| Comment on this entry | Comment | 0 |