June 5, 2015
Scooting along: sleeping rough
Leaving Perth this time around was easy.
The Friendly Local saw me off from the airport.
Previously when I escaped on my bike, I had to cycle out of town over the Darling escarpment. For those of you who know the area, you know by comparison with the world's great mountain ranges it's not much, but it is uphill.
This time, I flew. I Scooted to be precise. Scoot Air is Singapore Air's cheap alternative and I'm taking it to Singapore. We're on the slow descent into Changi airport and I'm pecking out this entry on my phone. Gosh, I guess this trip is really happening!
Several hours later...
I now have a passing familiarity with Changi Airport. The Scoot flight landed around midnight, Terminal 2. Picking up my bag and box and clearing customs was ridiculously easy. My bike-in-box was unloaded before the checked baggage and my bag was one of the first off of the carousel when it started spinning. Immigration man stamped my passport for thirty days, no questions asked. Everyone, including the crazy cyclist with massive bike-in-box, just saunters out of arrivals under the "nothing to declare" sign.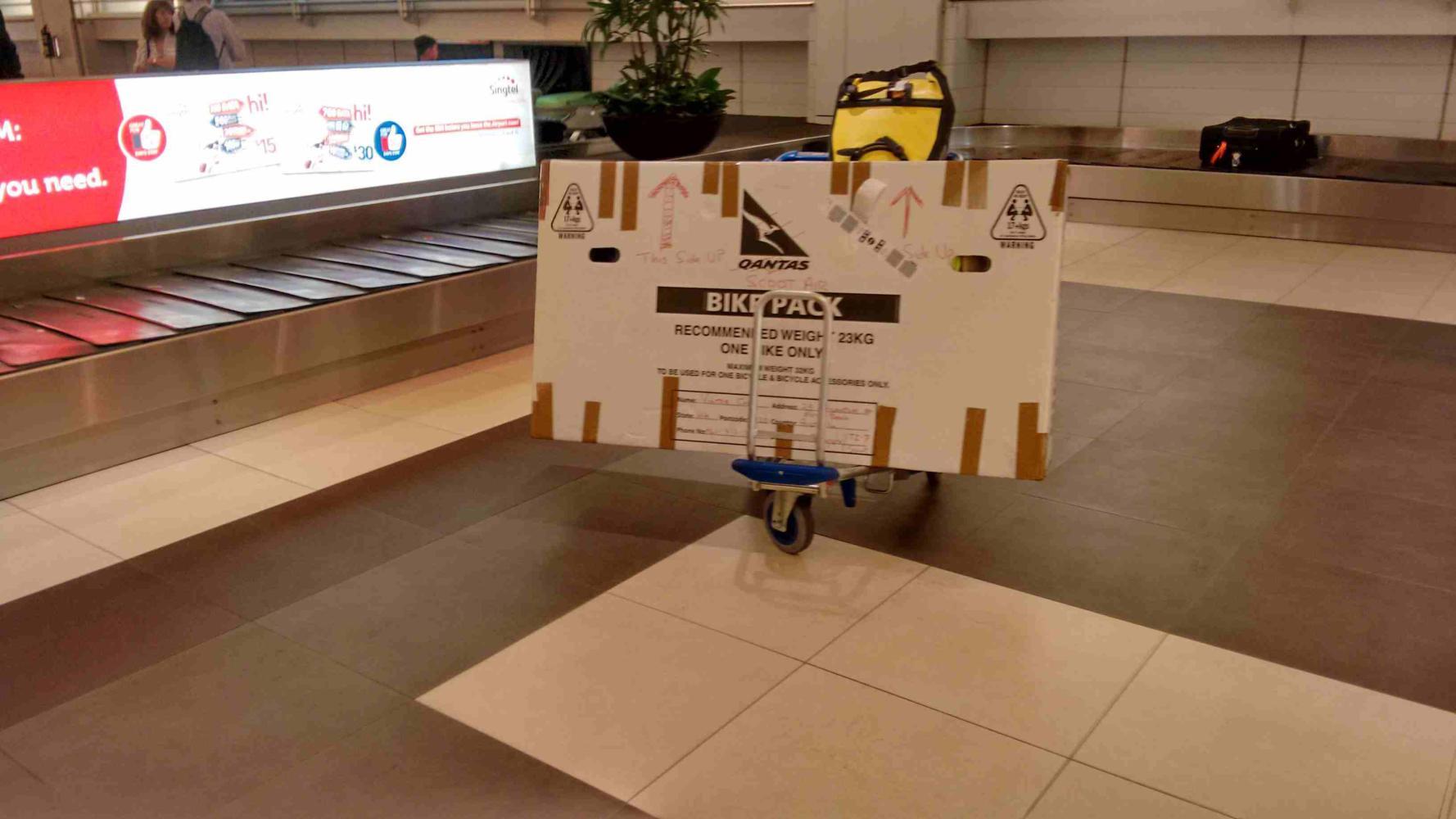 Nuthin to declare...
Each of the three terminals has a left luggage facility. I dropped off the bike-in-box and gear (cost about $10 S) for the night and spent the rest of the long night wandering around the three terminals, feeling like one of the undead; and eventually found a quiet corner to lie down and sleep. I was one of many travellers and homeless sleeping rough at Changi that night. Truth be known, I didn't sleep much...
Next morning (June 6), after wandering around sampling breakfast offerings and killing time until Tree In Hostel opens, it's now time to retrieve Bike-in-box and gear and try to figure out how to get out of the airport. Apparently there is no way to legally ride a bike out of here, so it's time to find a taxi big enough to take the bike-in-box and me. Besides, I haven't the foggiest idea of where the Hostel is from here; best to leave that headache to the taxi driver. Not to mention how to load the bike into his taxi ...
For those of you who might follow this route:
From Perth (can't vouch for the rest of the Scoot empire), Scoot Air have no official bike packing requirements. I think you could probably ride the bike into the terminal, turn the handlebars and take off the pedals and they'd wheel it onto the plane... maybe wrap it up in a bit of cling wrap to keep bits from wobbling about. Mine was carefully deconstructed and packed into a Qantas bike box.
To get out of the airport, you'll need a taxivan, as the regular taxis won't take an oversize bike-in-box. The regular taxi stand booking dudes don't know how to order one, so don't ask. I think they took evil delight in sending me back and forth across the terminal. Just go to the travel information desk, which is along side the "transportation desk" which does the taxivan booking. It costs $60S. Darren, the friendly taxivan driver tells me there is a way to cycle out of the airport avoiding the expressways, but only the locals would know it.
I spent the rest of the morning (and some would also tell you a good part of the afternoon) reassembling Tortuga, my bike. Job done, and she's ready to roll.
Don't know if I am....
It took time to turn it back into a bike again... Note to self: pump air in tires before taking on a test run through downtown Singapore.
| | | |
| --- | --- | --- |
| Rate this entry's writing | Heart | 0 |
| Comment on this entry | Comment | 0 |