July 17, 2021
Munising - Marquette, MI
What do you suppose the secret to a good night's sleep is? Retiring? Or not leaving early in the morning each morning on tour? Maybe it's a combination of the two. I have been sleeping very well this trip. Even on days when we expect rain, or some steep climbs, no problem, I've been sleeping well!
I think part of my personal issue is not eating wheat. I quit wheat in 2014 purely to lose weight. It worked. A side effect that I wasn't expecting is a lessening of tension and anxiety issues. When I've slipped and eaten wheat, I wake up at night worrying about all sorts of issues. I'm definitely happier when I don't indulge. I'm afraid that pasties will not be on my menu this trip.
There - I've gotten that out of the way. It's disappointing to not eat baked goods, I love them. But I do feel I'm a more pleasant person without them!
We ate breakfast in the room. Jacinto had last night's leftover tacos. They weren't good when fresh, I'm sure they were no better today. But he ate them. Jacinto was nice and took my oatmeal down to the office to microwave. I ate that and had some Spiz meal replacement mixed into milk. That got me out the door at 10:30. I told Jacinto that I'd been having some hot foot issues since the long 70 mile day. Today I was going to preemptively stop more often for photos and stand up to take them. Probably Jacinto would catch me.
No one cares but me, but it's been a little entertainment for me this trip. I counted FIVE red trucks before I left the town limit. Plus a number of them on the road during the day.
Today was easy routing - Highway 28 the entire way. Somewhere along the way, 28 has gained a large shoulder. This is the life! Yes, there was some traffic, but not much, and it was far enough away.
I stopped at a potty at mile 12. That was a good hot foot break. I've been eating hard boiled eggs the past few days as an on the bike snack. They seem to fill me up. I've been thinking about carrying them at home. I'm not sure I would feel comfortable carrying them in hot weather. It has been temperate to cool so far. Jacinto is still carrying that unopened glass jar of pickled eggs.
Today we rode close to the shore for much of the day. There were more water views to break up the trees. There were more businesses and houses along the way, that gave us something besides trees to look at.
A bike path showed up on the outside of Marquette. I missed the entrance, and looked at the route. Nah, I'd just keep going instead of back tracking. I no more than decided that, than I lost the road shoulder. I decided to deal with it. There were four lightly traveled lanes here and cars were moving around me. As I got closer to town, traffic got heavier. I decided to move onto the side walk. There were a lot of business drive way cuts, but it seemed like the safer idea. I only traveled a half mile or so, then there was an entrance for the bike path.
I looked at my routing. Yes, this is where I was supposed to be. I kept pulling the phone out, double checking. I'm not a confident city navigator. Marquette is a large town. I bicycled past a beach full of people enjoying their weekend.
I called Jacinto and asked where he was. Now he was just five miles back. I told him to get on the bike path. It went this way and that way, but I was getting closer to the motel. Highway 28 and 41 combined, traffic was heavier. Let's add in some road construction and cut down to one lane my direction! It ended up being in my favor, as I rode on the far side of the cones inside of the construction zone (no active construction today).
I certainly was ready to be done with this sudden burst of traffic. Finally I could see our motel on the left. I turned in. When I went in the office to check in, I wasn't happy to find out we were on the second floor. It didn't matter that I checked my phone and said that I'd made my reservation with Sarah, etc. No first floor. It's quite a large motel, I would think they would have a king room on the ground floor. It doesn't mater, I'm on the second floor. I mill around a little waiting for Jacinto, but he wasn't showing up and I hated to call him yet again. I decided to give taking my bike upstairs a try. No. First, I will call Comfort Inn and see their room price. $280. there. We paid $133. here. OK, I guess we are staying. Not only did I have to go up the stairs, I had to go around the corner, which meant lifting the front tire of my bike and rotating. I had the brake on, and when I released the brake, the bike rolled back and SNAP - the mount for my Dinotte light broke. I knew what it was the instant I heard the noise. Damn. Double damn. I got the room upstairs and opened the door to the room. Laminate flooring. Very, very basic. The bed looked like a five year old made it. Had it been changed? I pulled the covers back. Yeesss, I guess this looks like fresh sheets. Certainly not a professional job. No bath mat. No cups to drink out of. No fridge or microwave. There was a fridge sitting outside of the door. Broken, I presume. I went to the website to see if they list fridge/microwave. No, they do not. Hell. My good day was evaporating quickly.
I decided I could super glue the mount back together. Jacinto later pointed out that wouldn't be a good idea because if it didn't work, I would lose the light. I think that is wise. I'm going to zip tie it to the rack. There's a little plate to mount a reflector that should hold the light vertical. We have zip ties. I think this will work. Ironic that I had considered bringing extra light mounts, but didn't.
Jacinto took a long time to show up. He had stopped for chips and salsa and had also come in to the motel from a different direction. I carried all of his panniers upstairs and he got the bike. The room is plenty large. If it were on the bottom floor, I would be much happier.
There's a Buffalo Wild Wings right across the street. A half mile down has a little shopping center with several places to eat. Let's see where we end up.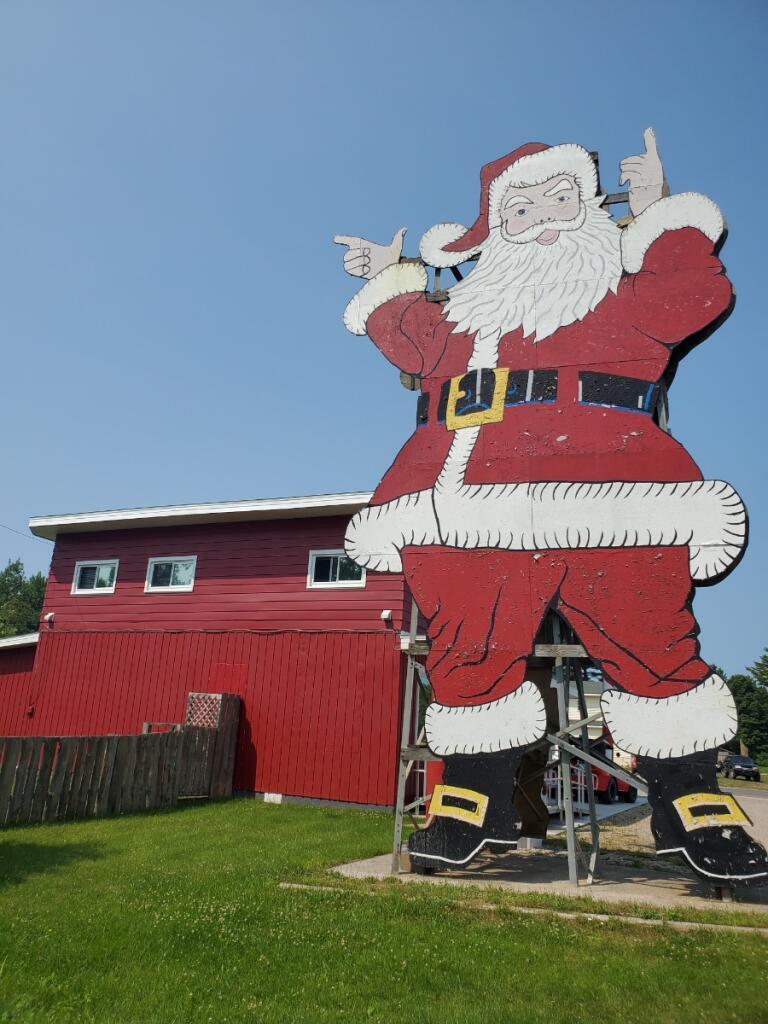 In Christmas, MI.
Remember the protectors against the snow plows? It looks like this one took one for the team.
Some yard entrances in this area are nicely decorated.
Yes!
It's Saturday. No workers in sight. I made use of the facilities. Not a half mile down the road, there was a rest area. Of course!
Seen at an auto sales store.
On the bike path coming into Marquette.
The big steam powered plant is being torn down.
Jacinto's photo.
Another one.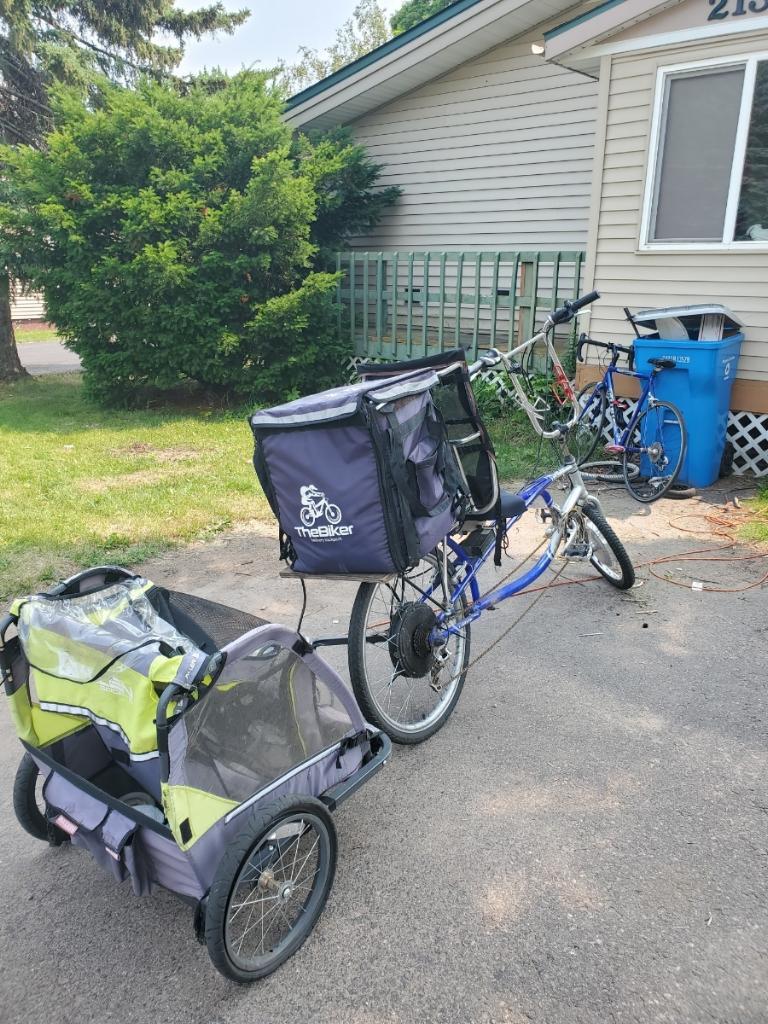 A motor powered food delivery. Nicholas called Jacinto over. He says he earns $300. A day delivering food.
Today's ride: 46 miles (74 km)
Total: 752 miles (1,210 km)
| | | |
| --- | --- | --- |
| Rate this entry's writing | Heart | 4 |
| Comment on this entry | Comment | 3 |