July 16, 2021
Grand Marais - Munising, MI
Jacinto didn't even set an alarm last night. That back fired on us, as we both kept checking to see if we should get up! Our room last night didn't have a cooler, just a fan. We slept with the window open and the birds made sure we were awake at daylight. I closed the window and went back to sleep.
Jacinto had leftover pizza for breakfast. He isn't much of a pizza eater, even when it's fresh. I ate oatmeal. Remember that glass jar of pickled eggs we bought several days ago? It is still unopened. I've been carrying peeled hard boiled eggs as a snack on the bike. Those have been working well for me during the day, along with a few bites of granola bar.
I was out the door first, at 10:30. I told Jacinto I thought the 6% climb over one mile would take me a half hour, so give me at least that much head time. In the end, the climb wasn't that bad. It was one mile to the turn on the dirt road, but the actual 6% climbing didn't last long. It was a wake up call for the legs, the first thing in the morning.
Today we had trees, trees, and more trees. With the very occasional water view. It was a delightful day of all sorts of trees. The pavement was smooth, traffic was light. What's not to like? I think it was my favorite day of the trip. Certainly we had more fun than yesterday's headwind. Ironically, we had a headwind today also, even though we were going west! But it wasn't a bad wind. Jacinto said having a tunnel of trees is good, because the trees are in close enough to keep the wind down. If the area is cleared more, the wind has a chance to keep going.
I stopped at a pit toilet at mile 12. Potty breaks on this tour take a little more thought. With the humidity, it is much tougher to pull my shorts up and down. I try to wait until I find a potty, so I don't end up mooning drivers passing by while I'm trying to shimmy up my shorts.
I kept riding at a steady pace, trying to stay in front of Jacinto. I didn't see him until mile 35. He has told me if he rides sitting down, then he rides more at my speed. But if he stands up (his preferred riding stance), then he is too fast and passes me.
Today's route was basically flat, after the opening climb. There were a few little rollers to keep things interesting.
It was a good ride to town. We had a giant downhill into town with an out of place section of EXTREMELY rough and patched roadway on the steep downhill. I told Jacinto that piece tested the integrity of my bra. It was found lacking. I had to apply the brakes and ride sitting forward in my seat. I'm happy that section was quickly over.
We got into town proper. Jacinto took the lead and we went through a couple of parking lots to avoid the road traffic. But we still had to cross the busy road. A couple of cars finally took pity on me and stopped to let me by. Of course, I had stopped in the wrong gear and had trouble getting going again. But they waited anyway. Drivers have been great this trip. BTW, I'm still seeing all sorts of red pick up trucks. I don't know what's with that. I've seen a lifetime of red trucks in two weeks.
Today we saw dogs in a yard! 4-5 barking dogs. The first ones of the trip. Dogs do exist in Michigan.
We pulled up to our expensive motel. It didn't look quite so fancy, but we are in a tourist area, near Painted Rocks. We've been seeing signs for kayak tours, glass bottom boat tours, campgrounds, etc. all day. Prices are inflated accordingly. As I checked in the desk clerk said I didn't need to fill out the automobile part, she could see we are on bicycles. She then suggested we could park the bicycles under the room window where we could see them. I asked if putting the bikes in the room would be a choice. She didn't slow down, but heartily agreed that is just fine. Whew. Yesterday I had gotten out of the shower and didn't have a comb for my hair. I walked out to the bicycle with a towel wrapped around me to get my comb. That's why I like the bike in the room. I have all of my stuff - even the forgotten comb.
We are going for tacos tonight. No fish and chips. No pasties either. I had called Jacinto did he want to stop at the Bear Inn Pasty Shop. He would if I wanted to. We were both interested in getting to town, so we didn't stop. What we really want is Chinese food, but we haven't seen any since Ludington.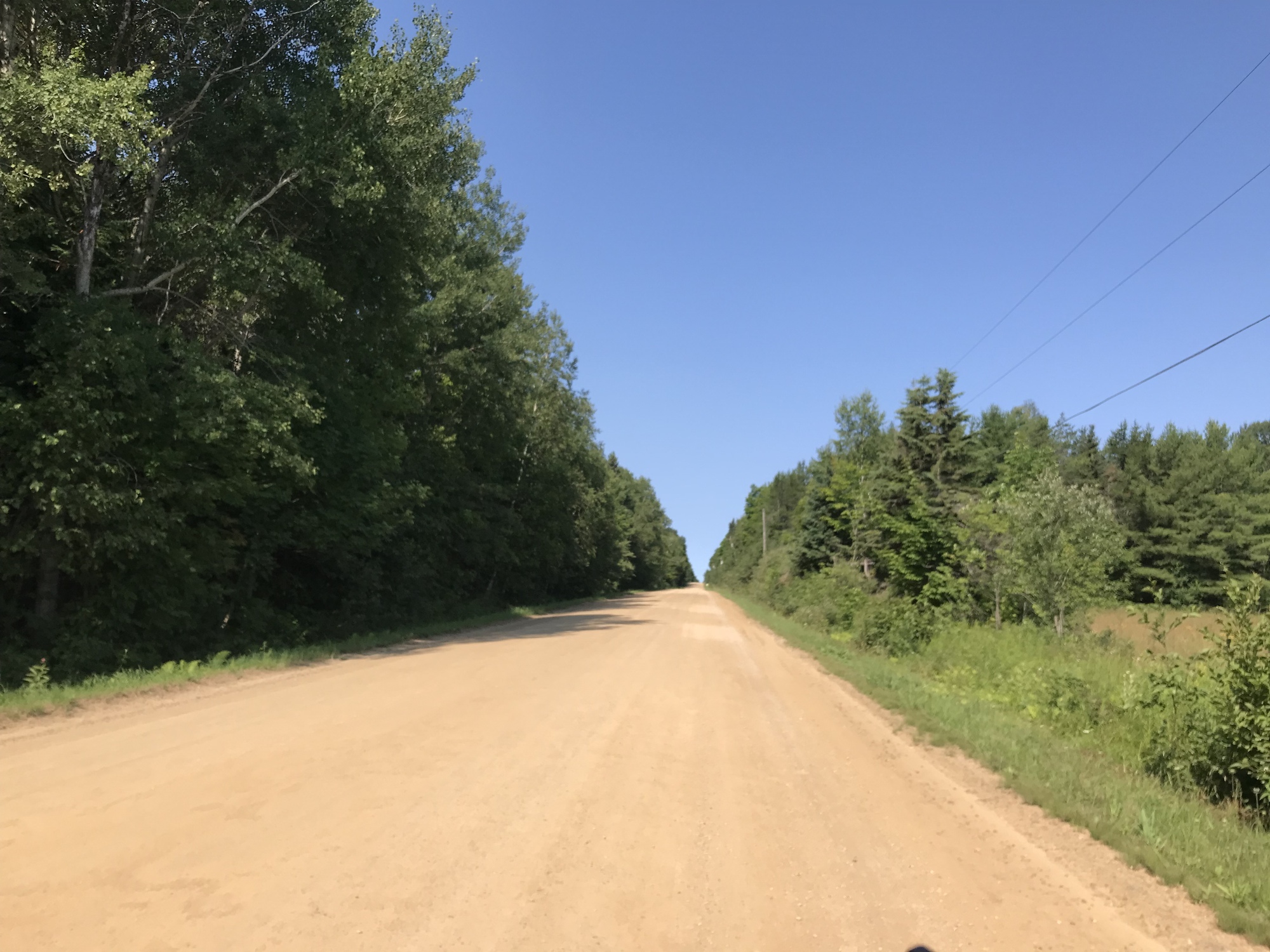 I had a short dirt section to start the day. Jacinto took a longer dirt piece that was a climb. He said he had enough weight to have traction.
This barn is made of painted cement blocks.
If only we all couldn't be in love enough to walk down the road holding hands.
Jacinto is catching me.
After several pasty shop free days, they are showing up again. This place had a full parking lot. It is 8-10 miles out of town in the middle of nowhere.
Our $250. Room has a cracked Formica sink that doesn't hold water. I'd say this looks like the sink in a $50. Room.
Jacinto's photo.
Snowmobiles are catered to in Michigan. There are many trails and even their own speed limit signs!
Today's ride: 49 miles (79 km)
Total: 706 miles (1,136 km)
| | | |
| --- | --- | --- |
| Rate this entry's writing | Heart | 4 |
| Comment on this entry | Comment | 0 |