July 25, 2021
Day 74 - a day off in Mitchell, OR
A 5 star hostel experience
Today we slept in, had coffees, updated our blogs/Instagram, and generally chilled out in the basement. It was awesome because we had the whole hostel to ourselves. We were there until 11 when the pastor and his wife (the host jalet) showed up. They usually host church on sundays in the basement for whatever community members show up. No one showed up untill 1130, but we talked to the hosts for a while. They are really cool and want to help start more community based hostels for cyclists and travellers. The hostel is also donation based, with a suggested price of 25/night. For lunch, we went back to the local food spot to eat with everyone. It was awesome to hang out with Mallory, Keely, and Meghan again. We went back to the hostel and did some routine maintenance on the bikes. I ran out of butt and bike lube, so I'll need to stop at the next bike shop. We relaxed for a few more hours after that and around 7 pm we decided to ride bikes to the painted hills. I really didn't want to ride on my off day, but I think I would have regretted not going. It was a 21 mile round trip. On the way there, it was mostly downhill, but very headwindy. The views were worth it though.
Our tanlines look alot like the hills...
By the time we were leaving we needed front lights. The ride back went by pretty quick with the tailwind. It was pretty sad though, an oncoming car hit a jackrabbit right beside us. We made it back to the hostel around 930 and started the shower line. The girls had made a cake and we sang "happy bike tour" to ourselves. It wasn't began cake, so Mary and I had cereal instead. It was 11 by then, so we had to get to bed. Everyone went upstairs and started packing their bikes. I was just too tired and put my ear plugs in and went to sleep.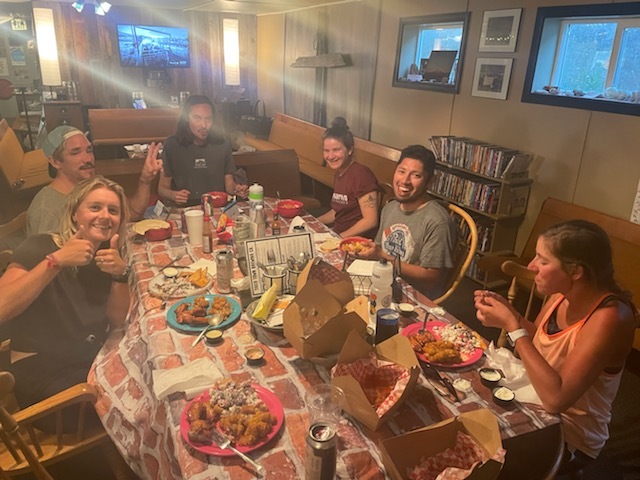 Downstairs in the kitchen
Another pic at the hills. The red color is from wetter times, the tan from dey times
Mileage:21
Altitude gain:1100
Today's ride: 21 miles (34 km)
Total: 3,815 miles (6,140 km)
| | | |
| --- | --- | --- |
| Rate this entry's writing | Heart | 6 |
| Comment on this entry | Comment | 0 |