The bike
I like the peace of mind of a purpose-built touring bike that is made for reliability. This gives me peace of mind when I'm in remote areas.
I've had the Koga World Traveller for a couple of years. The main benefits are that it has a 14 speed Rohloff hub with a Gates Belt Drive.
I hope the belt will not need replacing on this trip. I've read reviews of the belt lasting 20,000-30,000kms. I've already done 10,oookms on this belt.
The front hub is a SON 28 dyno. It powers the front and rear lights. It also allows me to charge my phone. It means I am not reliant on staying in towns for power.
I have a 22 tooth rear sprocket (was 19) and a 46 tooth front chainring (was 50). I changed the sprockets to give me more easy gears.
I've got a well-worn Brooks B17 saddle that should keep me comfortable for the entire trip.
Tyres are Schwalbe Marathon Plus Tour 28 x 1.75.
Naked bike = 20kgs
A spare belt and spare tyre are attached to the handle bars.
Spare spokes and a pump are attached to the frame.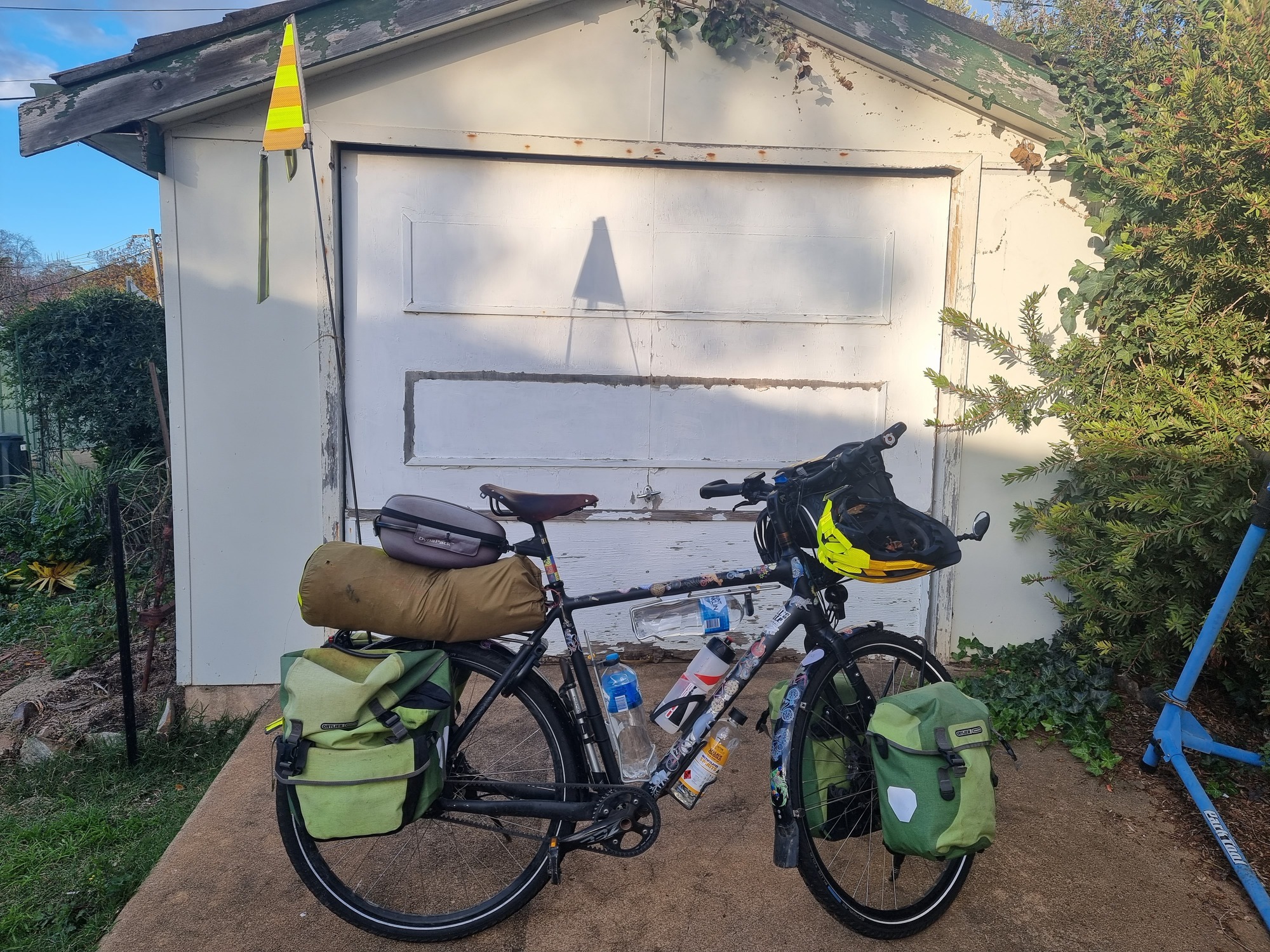 Fully loaded bike = 59kgs to 78kgs depending on how much water I carry
Naked bike = 20kgs.
Loaded bike (no food/water) = 39kgs.
Most days I will have 7ltrs of water, + 3kgs of food = 10kgs.
Loaded bike with food and water = 49kgs.
Vince (before breakfast) = 105kgs.
Bike + food/water + Vince = 164kgs.
I have the capacity to carry a further 19ltrs of water.
| | | |
| --- | --- | --- |
| Rate this entry's writing | Heart | 10 |
| Comment on this entry | Comment | 2 |