March 28, 2019
Day 4: Stovepipe Wells to Furnace Creek
Artist's Drive: A Beautiful Ride & A Bastard Of A Climb
Today we pulled up stakes and departed the combination Hooverville/Dustbowl environs of the no-frill Stovepipe Wells campground. I detected no tears being shed by our group about that fact, from what I could see. Today we were bound for another DV campground near the main visitor center ... Furnace Creek. There were several options for bike routing today. One could simply take the straightest route which would be an easy 35 miles or so. The same route with a loop of the Artist's Drive road just beyond Furnace Creek would turn it into a 50 miler, and there was a third choice to climb halfway back up Daylight Pass and then turn off downhill again at the Hell's Gate intersection (are you catching on to the naming conventions here? Many references to Hell, Heat and Death ... but in a good way).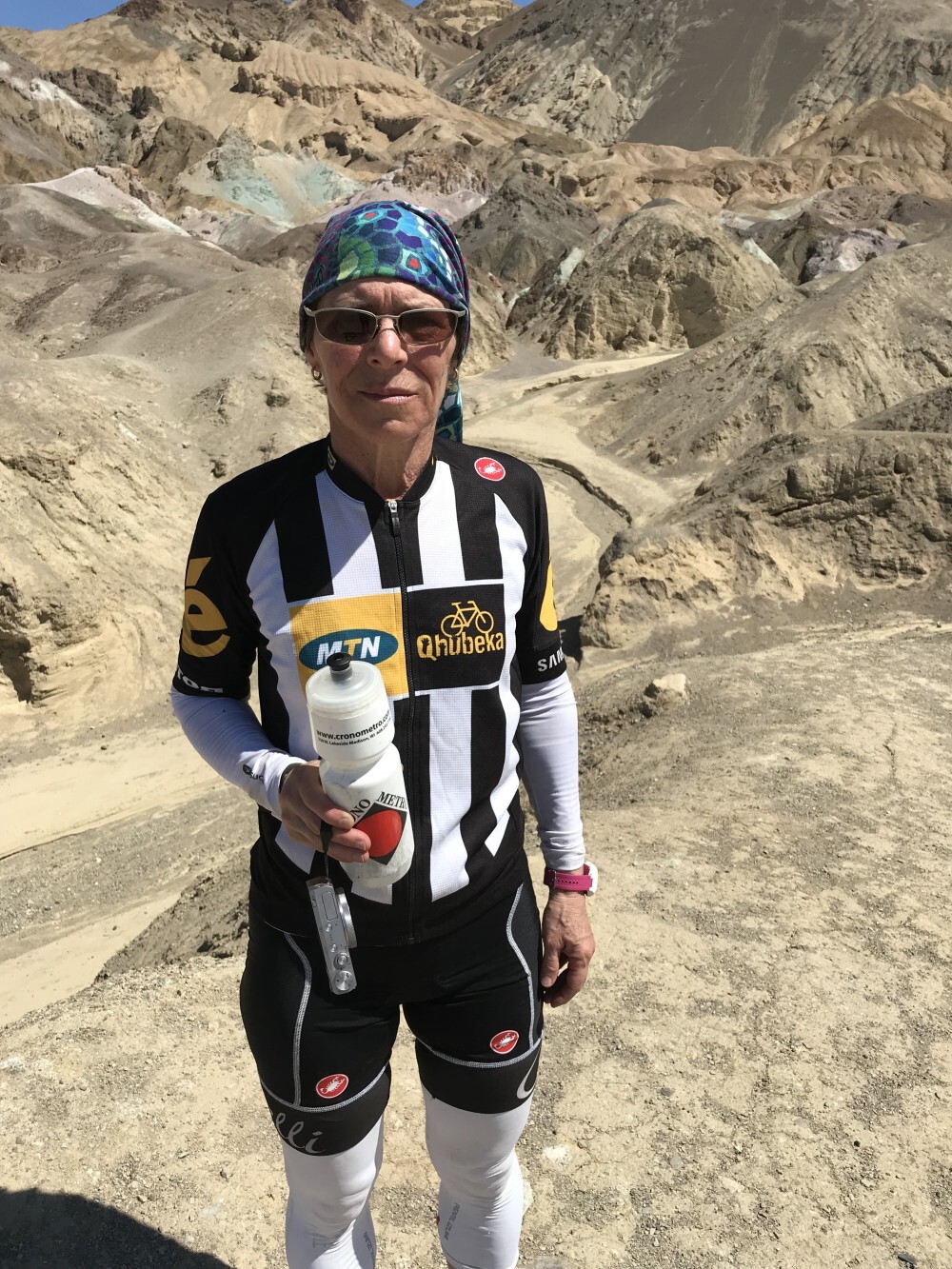 Marg, looking tough
Marg and I opted to do the 50 miler. Long ago we had taken the Artist's Drive loop by car, and it was a favorite moment of that trip. The loop is about 9-10 miles total and a one way road, which makes traffic dangers a bit more predictable. The weather report posted last night had declared "calm winds in the morning, turning to the NE, 5 MPH." I can only say there must be a different metric used in Death Valley to measure wind speed and direction. The wind, though not the squalls that blew yesterday, were noticeably stiff, and coming ... of course ... from the south. AKA the direction toward which we were riding. Well ... whatever.
Me, looking ... tough?
The first 35 miles weren't too bad terrain-wise, although I still insist that every strip of road in Death Valley is on average a 4% uphill. For a bit of a visual trivia, take a look at the map/terrain profile at the bottom of this page ... it shows the ups and downs of the day's route, and specifically the altitude above sea level at which you are riding. Much of the day's ride was below sea level, so the profile makes it look like we were biking underwater.
Margaret did NOT want to have her picture taken here. It took every fiber of my innate charm to coax her into posing. You can tell how thrilled she is by her expression.
Eventually we could see the turn-off for the Artist's Drive loop up ahead. We were excited about biking this nice, mellow road we remembered driving in the rental car years ago, and gawking at all the lovely sights.
Ah, folks, here is where a case of (roughly) "negative transfer" was at work. As Google tells us, "negative transfer" is when: the knowledge you've acquired earlier adversely affects your ability to learn a new task. Basically interference of previous knowledge with new learning. And, although BF Skinner would raise objections to my reaching for this metaphor, the fact that we drove this loop in a car did nothing to prepare us for riding it on a bike. Still a gorgeous bit of road and scenery, but .... oh .... good god ... let's let Strava tell the tale again. It says that the climb from Badwater Road (the turn-off on to Artist's Drive) to the summit is 2.98 miles, which averages 7%. It took me a wretched 30 minutes and 42 seconds to haul my 200 pounds of ballast up there at a screaming 5.8 mph. Contained within that segment is a separate segment that Strava refers to as "Artists Drive Steeps" ... as if the full climb isn't steep enough. That section is only .62 miles in length but averages 11% ... enough to make a Tour de France rider grow pale with fear. It only took me 8 minutes and 17 seconds to cover that .62 miles, at a rip-roaring 4.5 mph. We did not gawk much at the scenery, as we were grimly staring at our front wheels willing ourselves forward. I hope I don't sound like I hated it though ... it was equal parts horrible and wonderful ... exquisite suffering. The kind of thing you can't wait to scurry home and humble brag about to your biking friends ... or put in your Cycleblaze journal. So, there.
Does that look steep? It should, because it was damn steep.
The campsite at Furnace Creek turned out to be a real gem. It was everything Stovepipe Wells wasn't ... clean, paved, civilized ... and even had trees! Our group camp site was very close to the bathroom block house, and they were clean and tidy.
Furnace Creek Campsite - There are trees in Death Valley!!
A private resort was just to the south of us, and that is the place where our warm showers awaited. Rumor had it the resort charges non-lodgers $11 to use the showers. Seeing the lay out of the place, and the lush fairways of their golf course, I don't doubt it. Imagine the amount of water you have to pump to keep an 18 hole golf course green and lush in the middle of Death Valley!
The private resort where we showered, and which had an 18 hole golf course.
Today's Easter Egg moment was at the shower area ... the showers are adjacent to, and in the same compound as, the resort swimming pool. Once Margaret was done with her shower we were about to exit the pool area when a young man (about mid 30's) scurried over to Marg and asked with wide eyes and great enthusiasm, "Is that a Purple Rain skirt you're wearing?!?" Purple Rain is a small performance skirt company, and indeed Marg was wearing one of those, as she is a BIG fan. She said, "Well, yeah, it is!" He could hardly contain himself, and he waved and shouted to someone in the pool area to "Come over here!!" He said he wanted us to meet the founder of the company! Sure enough here came the founder, designer, sole seamstress and single "employee" of this one woman production, Mandy!! She has been single handedly building the company, and to this point hand made every piece she's sold.
Long story short, we (well, mainly Marg, because strangely I haven't been wearing their skirts much) had a great conversation with her. Marg was psyched about this random bit of wonderfulness because she LOVES these skirts, and Mandy is down-to-earth and generous with her time and her story. She is a native Minnesotan but is now based in Southern Oregon. Neat woman, savvy business owner. She told me that they make kilts for men, and I think I am on-board with that idea enough to buy one.
Everyone returned to camp from their various post-biking pursuits for dinner. We all proudly shared our horror stories about climbing up Artist's Drive vertiginous pitches, and stuffed our faces. We have settled into a happy routine on the trip .... eat, ride, eat, chat, sleep, repeat.
The view from our sweet, sweet location in Furnace Creek
Volney and Dan
Today's ride: 51 miles (82 km)
Total: 257 miles (414 km)
| | | |
| --- | --- | --- |
| Rate this entry's writing | Heart | 7 |
| Comment on this entry | Comment | 2 |