June 17, 2023
Day 1: Saturday 17 June 2023 - Dieppe to Gisors
planned route 106km https://ridewithgps.com/routes/42604181

Up at 0545 and downstairs for breakfast at 6:30. Breakfast was a substantially better offering than we might expect.
Cathy and Dave and I were ready to leave by 7:30, and the promised hill out of town did not disappoint. Around 450 m long and about 15% gradient, then levelled out substantially. This was the first of four significant climbs that my Garmin flagged up for me.
Very pretty rolling Norman countryside, and atl 11km we diverted onto the Avenue Verte, a 40km converted rail track, with a flat tarmac path. Absolutely fantastic
Around the 32KM we stopped for a snack of croissant and similar products, and also picked up a sandwich for later on, not knowing exactly what might be available or open. I managed to consume an almond croissant that weighed almost as much as I do.
Lovely and warm, most of the day after a slightly cooler start.
After Forges les Eaux (more pastries!) we were back onto normal roads and the train became more undulating again.
At about one hour to go several of us stopped at a closed restaurant and sat and ate snacks , while congratulating Gary on his appointment as Commander of the British Empire (CBE) for services to charity, particularly Parkinson's UK.
After an extremely brief and very localised shower, we arrived at Gisors at about 4pm. We had a drink at the bar opposite the hotel, then off to our rooms for an extremely welcome shower, and clothes washing. Kathy, Dave and I went to a local restaurant that was excellent.
Now back in the room trying not to nod off too soon! Roasting, and no air-conditioning.
Tomorrow breakfast does not start until 8 o'clock, so our plan is to leave ASAP after we have finished it. 114KM and a reasonable amount of climbing.

As you have probably gathered by now, my knee survived the day. Somewhat painful, but not insurmountably so if I keep my right leg from bending too much.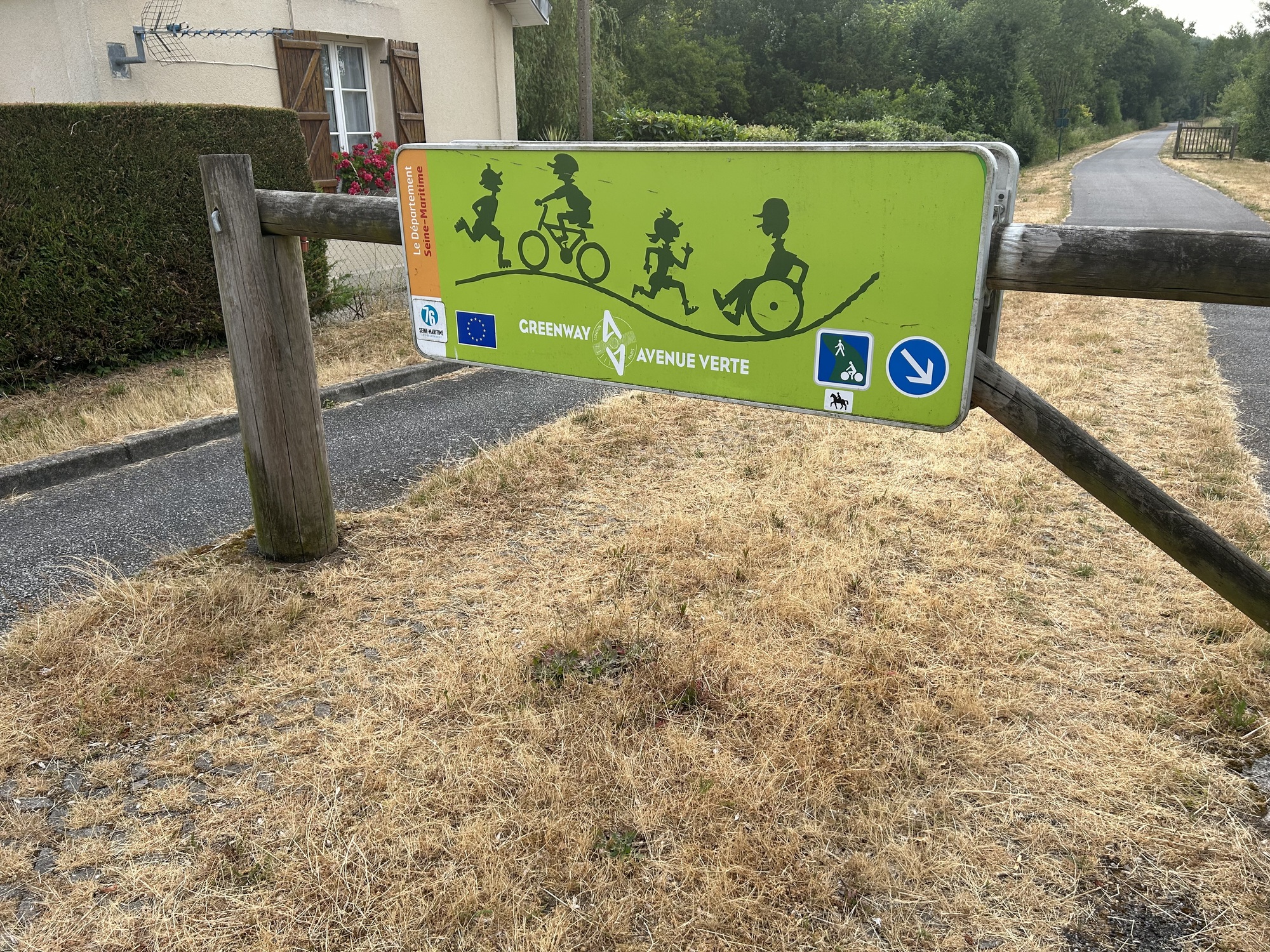 Avenue Verte
Chateau de Mesnières en Bray
Still life: boulangerie with bikes
Me and Kathy
Salad of gésiers, magret and foie gras
Crepe caramel
Today's ride: 107 km (66 miles)
Total: 125 km (78 miles)
| | | |
| --- | --- | --- |
| Rate this entry's writing | Heart | 0 |
| Comment on this entry | Comment | 0 |