Member Profile
Janice Branham
Journals
About
My husband Barry and I did our first experimental bike tour in 2013, an overnight from Louisiana Missouri to Mark Twain Lake and back. I rode a Trek touring bike, he was on his beloved Lightning R-84 recumbent. The trip ended 15 miles short of the finish when I hit a rock, went over the handlebars and broke my clavicle. I looked at Barry's bike and figured if I had one like that and fell off, it would be less likely to end the trip.
Barry found a Lightning P-38 frame on eBay and built it up for me. He's a whiz with a wrench - has built several bikes and fixed countless flats, broken chains and cables on the road. We took it on our first big trip on the southern California coast the following spring.
It's my favorite touring rig - so comfortable when we're on the road all day every day, and you can't do an endo on it. We took our bents down Route 66 from St. Louis to California after I retired in 2018, and back to the Pacific coast in Oregon and Northern California in 2022.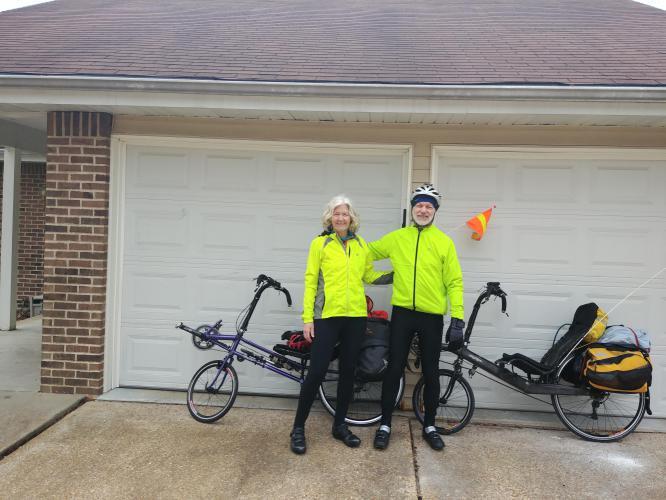 We found out about Cycle Blaze and on our first European bike tour in fall 2022. That time we took our folding Bike Fridays from Amsterdam to southern France.
The Fridays are great for hopping on and off trains and maneuvering around traffic in the cities. Not as great for long rides though. I feel like they are more work to pedal with loaded panniers. Still mulling what we'll ride on our next trip to Europe, maybe the gravel bikes?
Three weeks before we were to leave for our 2023 tour of the Northwest, the derailleur on my P-38 broke. Fortuitously, my friend Hank was selling his P-38 - a deluxe model with belt drive, a Rohloff hub, disc brakes and a comfier seat. I figured the universe was talking to me and I should go get that bike. It's dreamy. More details on that saga in Bikus Interruptus.
We have stayed with many wonderful, generous WarmShowers hosts, and have hosted cyclists at our home in St. Louis Missouri (West County.) Come stay with us if you're on tour through the area.