July 8, 2005
Day 52: Great Falls to Freezeout Lakes
Since the guys slept in late, Charlene and I had a great morning together. We talked about her dad and how hard it is for kids to care for their parents - all of the issues and delicate negotiations. She ran me over to the bookstore so I could get a copy of Ivan Doig's This House of Sky for Pat. Then it was time for me to say goodbye to everybody.
Missouri River Bike Trail in Great Falls
Boy was it hot! 90 degrees already by 11:00. I did a few errands - bank, film cards, and of course, a chocolate shake. Then I biked with a blast-furnace headwind 10 miles to Vaughn. It's interesting that, as small as it is, the current version of the town faces the highway. Yet, three blocks away you can tell that it once faced the railroad. The tracks are gone and there's not a single business left. So I got a giant root beer and found the shady side of the convenience store out of the wind, Charlene had given me a copy of The Notebook and I just read and read until it was almost 7:00.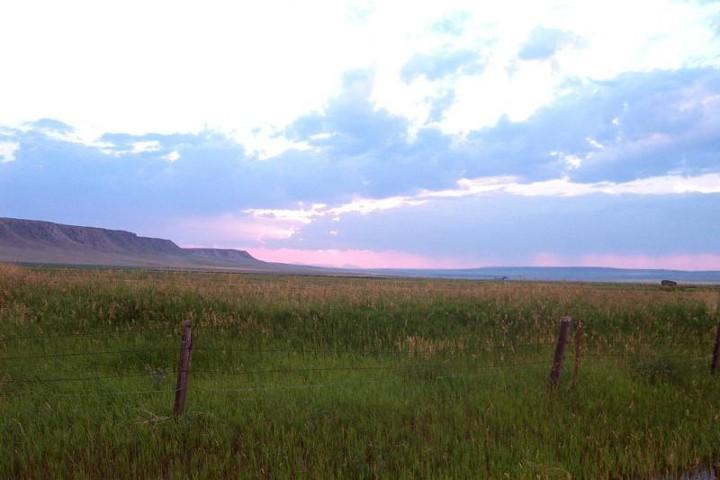 Sunset on the High Plains near Sun River
The wind had died down some, but it was still super hot. It was 25 miles to Fairfield - mostly uphill - and scorching. I pedalled slowly and made it in just before sunset. The bank clock said it was still 84 degrees at 9:00. Mercy! Then I continued another 10 miles to the Freezeout Lakes Wildlife Refuge in the twilight, The Rockies were silhouetted in the distance - clouds and sky reflected in the many lakes - meadowlarks called and ducks flushed as I rode by. So I camped for the night with a tiny crescent moon on the horizon and the sound of the marsh to lull me asleep.
Today's ride: 44 miles (71 km)
Total: 2,773 miles (4,463 km)
| | | |
| --- | --- | --- |
| Rate this entry's writing | Heart | 0 |
| Comment on this entry | Comment | 0 |