Overview
I suppose I could start this journal with an introduction, who I am, where I'm going, what I'm taking with me. When I first started this journal, I wasn't going to do that. I figured people either knew who I was or didn't care. I've since changed my mind.
My name is Marian. I'm 36 years old. I'll have my 37th birthday on this trip. I'm an American. I live in China. Although I only ever really planned to live here for 10 months, I've lived in China for almost 16 years now. I've somewhat unintentionally found myself working as a translator from Chinese to English and just as unintentionally found myself the legal representative and sole investor in a translation agency which is a Wholly Foreign Owned Entity.
I know, these things don't sound like the sort of things one does by accident. But they really weren't planned either. They just sort of happened. One thing after another followed by another thing after that, the next logical step to take was usually the one that was taken and somehow, here I am.
Like many Millennials or small and medium business owners I tried to do the working full time for other people in an office that I went in to five days a week. Unlike many other business owners, I did not start a business because I wanted some nebulous type of freedom to sink or swim on my own. I started it because I wanted a work visa. I wanted a work visa because I didn't have one. I didn't have one because the last far too many companies I had worked for in the preceding three or four years had, quite annoyingly, closed while I was working for them.
Now, I'm the boss. I'm also sort of what might be described as a "digital nomad". My job doesn't require me to be in a specific place at a specific time; it merely requires that I get all my work done. The amount of work I have is based on the amount of work clients give me. This could be anything from 80 hour work weeks to 8 hour work months. I don't know when it will be one or the other though I've had enough years in this business to generally assume that Chinese New Year, the weeks immediately before it, and the weeks after it, are all going to be fairly dead.
Furthermore, I live on a resort island. They call it "China's Hawaii". So, it's really super important that I get the hell out of the dodge during the biggest holiday season of the year.
This year I've decided to go to Vietnam. Vietnam is the closest place I can go that isn't China. It's so close, I can bike there. It's so close that if I were willing to ignore little technicalities like "legal border crossings" I could easily take a boat there. The first (and last) time I was in Vietnam was in 2006, on my second ever actually multi-day actually overnight bike tour. I'm a little excited to be going back and seeing how things have changed.
Other than deciding to flee China during Chinese New Year and deciding to go to Vietnam, I didn't really make much in the way of plans for this trip. Obviously, since an advance visa is required for crossing the land border, I had to do some planning but really not very much. Unlike many people going on longer tours, this isn't a Trip of the Lifetime for me that requires all sorts of super serious planning because I'm not going to get the opportunity again for a very long time.
Although it's entirely possible that my chances may be interrupted by the need to stop and go somewhere else or the need to sit in a hotel room and do some work, I'll have just as many chances as I'm interested in taking. In addition to all sorts of one week trips and weekend trips, (add links as soon as ported from CGOAB) I took two months from Shanghai to Chongqing in 2017, two months from Shanghai to Shenzhen in 2015, a month from Singapore to Kuala Lumpur and back again in 2015, nearly two months from Haikou to Kunming in 2014, just over three months from Beijing to Haikou in 2012, and just over two months from Haikou to Beijing in 2008.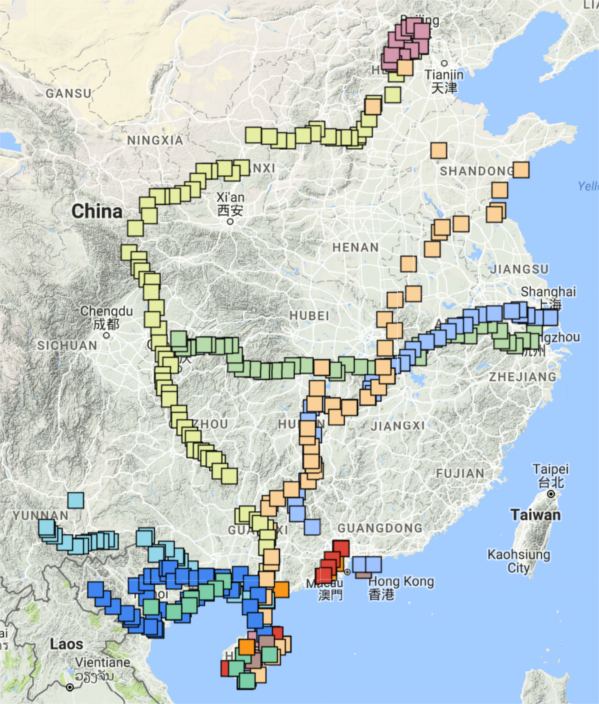 Not counting New York's Fingerlakes region and Malaysia, these are the places I've spent the night while cycle touring
I really just needed to scrounge up some bits of stuff left over from last summer. Specifically, the bits of stuff I had left at the end of the trip after I'd already done multiple "why am I carrying this stuff I don't need?" trips to the post office to send unnecessary crap home. This time, instead of sending it home mid-way, I thought what if I never bring it in the first place?
Radical idea, huh?

I'm hardly going ultralight. I'm just accepting that I never camp, never cook, and handwash my laundry often enough that I really don't need very much clothing.
Since the weather is being uncooperatively cold right now, I'm carrying some warmer stuff that I plan to send home from the China/Vietnam border but that's it for excess. No tent. No sleeping bag. No cook gear. I didn't even bring my coffee kit! I've got one ordinary non-waterproof Vaude front pannier (on the rear rack), two waterproof homebrew mini panniers made out of 3-Liter soda bottles on the Manything Cages on my front fork, and a handlebar bag. That's it.

And I won't find myself struggling up little hills because I'm overloaded and then some in preparation for eventualities that never actually come to pass.

| | | |
| --- | --- | --- |
| Rate this entry's writing | Heart | 1 |
| Comment on this entry | Comment | 0 |