September 4, 2018
Nevis Range
... a World Cup mountain bike park
I'm always a little apprehensive before we visit a big mountain bike park, while Bruce just relishes the thought of it. The night before, my mind is running wild with thoughts of finding myself holding up speedy riders on single-track downhills runs. In 2017, we rode at Lenzerheide, a Swiss mountain bike park that regularly hosts World Cup events. At the top of the chairlift, there were two downhill options - the steep and the very, very steep. (Red and blue pills right there.) What I should have done was take the third option - the chairlift down - but that only occurred to me partway downhill. It. Was. Terrifying.
Today, I'm relying on the power of positive thinking. It's also mid-week, lessening the numbers of other riders on the trails. We backtrack up the valley to Nevis Range Mountain Experience, another World Cup venue - oh great! First impressions are positive though, especially with morning coffee under my belt. We soon find a variety of trails that satisfy us both, sometimes riding together, sometimes splitting off to do our own thing. It's the best kind of riding and we spend a happy afternoon here.
I think I'm proudly pointing out that I rode the trickier blue trail . . .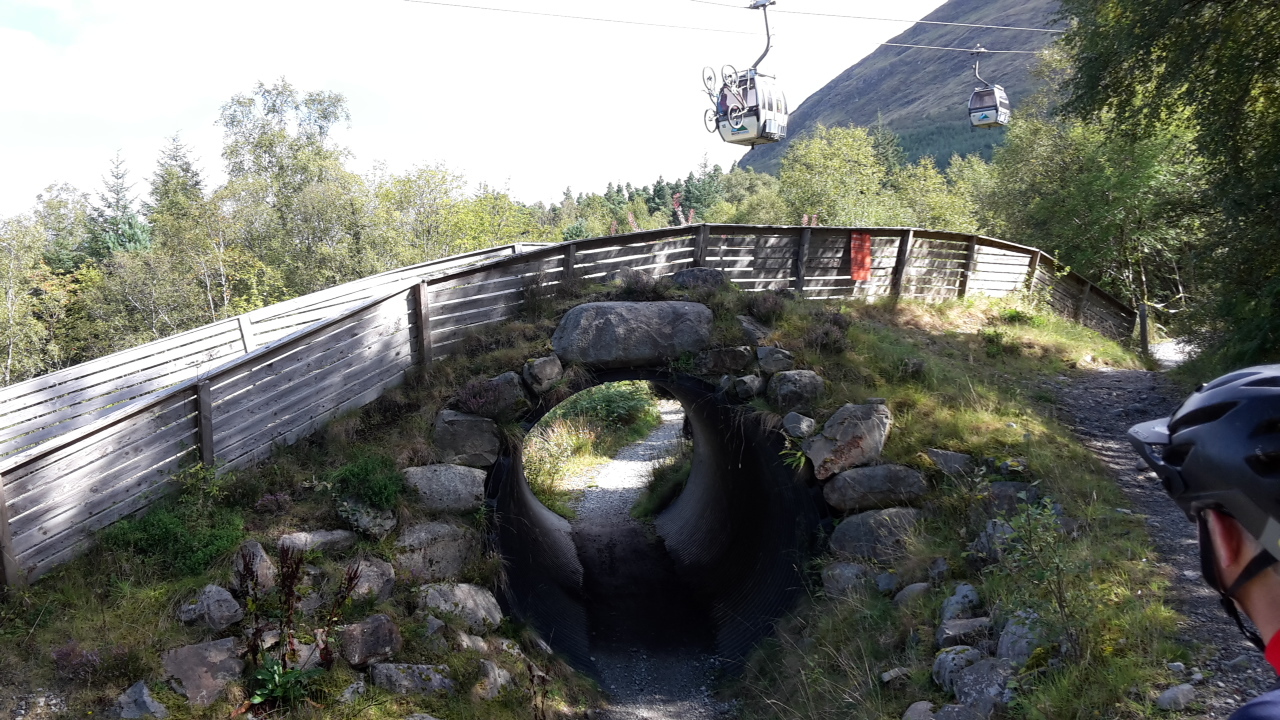 Our path was through the tunnel underneath the World Cup course
Today's ride: 17 km (11 miles)
Total: 369 km (229 miles)
| | | |
| --- | --- | --- |
| Rate this entry's writing | Heart | 2 |
| Comment on this entry | Comment | 0 |