The day that the rains came down
Villamblard, St-Astier, St-Aquilin, Tocane-St-Apre, Montagrier, Paussac, Léguillac, Cercies, Vieux-Mareuil, Mainzac, Marthon
They never drench you when you're hot, only when you're cold. It isn't easy being a cyclist.
Round your way, do you have those big sprays in the fields? Sprays that drench the crops in one direction and then through some cleverness of their own swing round abruptly and send the water cascading in another.
We have them round here. They are often set so that they not only water where the farmer wants to water but come cascading down on the neighbouring road as well. It is a law of cycling misfortune that when it is cold and windy, the water will catch you. When it is hot and a sticky and a good drenching is everything you pray for, the spray will be set to stop at the last cabbage in the field and you'll get nothing.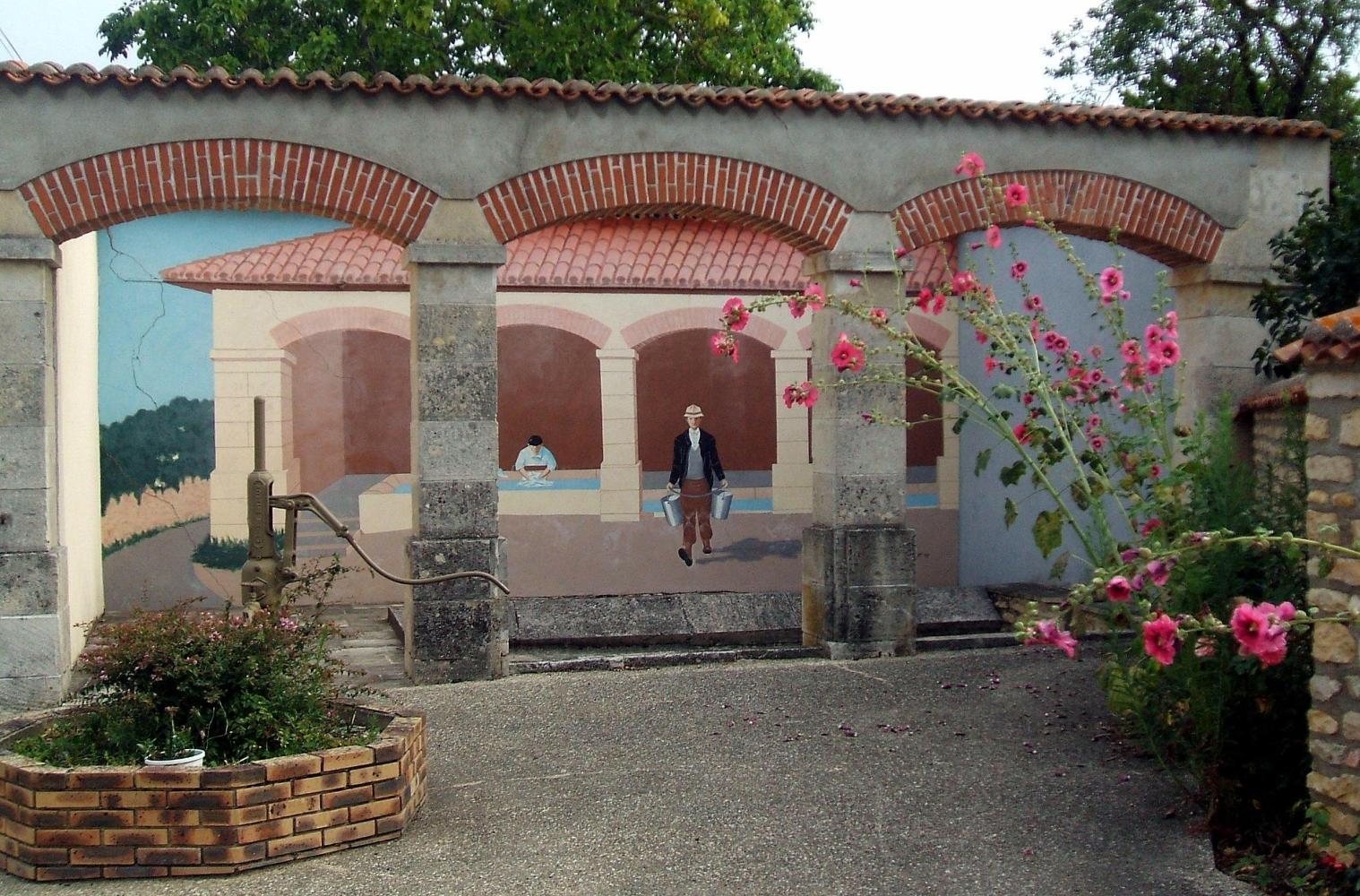 I love these trick-of-the-eye murals
Today, we got both cold and windy and hot and sticky. It began with a call at a boulangerie for an informal breakfast on a public bench and then by being misdirected by a local. Where we wanted was St-Astier, over a hill and down in the valley. What we wanted was to get there by the lesser of the two roads, the one that would be prettier and avoid such traffic as there was even at the price of a hill.

In these circumstances - have you noticed? - you run into the Wishing To Be Helpful But Being Anything But side of human nature.
The lesser road wasn't signposted. In fact, it was a turning off another road, a bit out of the village, but the scale of the map didn't make that obvious.
"S'il vous plaît, madame, la route de St-Astier, sauriez-vous?"
"Easy", said the woman getting into her car with a baguette under her arm. "Straight down the road you're on."
It didn't ring true. You get a sense about these things even if the signposts and the map aren't fighting on your side. We let her drive away and then asked a comfortable-looking man whose obvious delight in food and pastis suggested his feet rarely got wet when it rained.
We recognised his accent. He twanged his words. He said "bongjour" rather than "bonjour". He spotted the name on Steph's club jersey and confirmed that he, too, came from Agen. We were asking directions, therefore, of a virtual foreigner. One who had a holiday home in the area, though, and as so often knew it better than those who lived there all the time.
"Madame was sending you the car-driver's way," he sympathised. "You want the way a cyclist would go, don't you?"
How often do you meet a saint like that?
He pointed us out of the village, told us to turn left a hundred metres later, then to ride on through the next hamlet and on to where we wanted. It set a good tone for the morning, spoiled - because every silver lining has a cloud - by the rain that followed almost instantly.
I'd ridden that climb out of St-Astier before.
"Ca bosse," said cyclists we met there. "That goes up..."
And it does. It's only a secondary road, edging one of those fenced and forested military areas where you never see a soldier, but it does "bosse". It bosses quite a lot and when you get to the top you find the local council has removed all the signposts from the side turnings because they want to keep the traffic on the road that you're on.
That's the challenge of cycling: to use the signposts when they suit you and to ignore them, or their absence, if you want to go where you want to go and not the way it suits other people to send you.
The rain fell. It fell right through the yellow storm covers we can pull down over our bags. There are times I would substitute the convenience of outside pockets on my Altura bags, with all the ease that they entail when it comes to tucking away things like gloves, rain jackets and bonk rations, for the smooth waterproof qualities of Ortliebs. And, if it comes to that, for the superior fittings of Ortliebs, since my front bags stay on the rack only with the help of old-fashioned toe-straps.
This was a morning when I knew the field-watering would get us. In the afternoon it grew dry and hot and all the sprays would miss us. Not the local kids, though. I ground to a halt in Paussac, the sort of halt ended only by drinking a lot and eating a lot. The sight of cyclists dying on the steps of your town hall is irresistible to 10-year-olds accustomed to nothing more thrilling in their village than the butcher's sausage-making machine, and so they rode round and past us on their mountain bikes before picking up the courage to speak.
"Are you riding those bikes?", asked a bright-eyed boy in a red T-shirt, decided that the obvious was the best opening to take.
We confirmed that we were.
He circled round a couple of times more as his pals edged a little closer, convinced now that we may be foreign, odd and exhausted but that we were probably harmless.
"Where are you going?" he asked.
He probably expected the name of the next village, as far as his aunt's or where his mother went from time to time. Or where his school was.
"To Saumur," I said.
It meant nothing.
"It's towards Paris," I said, because it was pretty sure even a 10-year-old would have heard of Paris.
"Hey, they're riding those bikes to Paris," he told his pals, obviously impressed.
"Er, I didn't actually say that," I began, but he wasn't listening. And I was happy to be a greater hero than I thought.
I wasn't later, though. I was a wimp. The wind picked up. It howled in our faces. The rain joined in. The clouds came down to bang us on the head. Marthon loomed. It didn't have a camp site. We were relieved. It did have a small hotel. We were also relieved. And it had a room. We were relieved beyond description.
You can't always be brave.
| | | |
| --- | --- | --- |
| Rate this entry's writing | Heart | 3 |
| Comment on this entry | Comment | 0 |