September 18, 2021
Day 1 - Vienne to Albon
The Grande Hotel de la Poste seemed pretty empty. It was very quiet, but I have the feeling that it could be noisy when full. We slept fitfully, thanks to a rock-hard bed, down pillows that turned into boulders, and a plastic cover on the mattress. Neither of us felt very chipper in the morning.

Breakfast helped. The hotel breakfast was really good, with lots of homemade goodies and out-of-the-ordinary condiments. They had American-style pancakes with maple syrup on offer! And evidently France's best confiture maker is located in Vienne. I've never had strawberry preserves as good as those before…
We had put the bike together in the parking garage and had wheeled it back to the hotel before breakfast. So after breakfast, all we had to do was load up and return one bag to the car. Saturday morning is market day in Vienne, so the streets were pretty crowded. We walked the bike down to the river, stopping for a first picture in front of a small carousel.
Start of tour picture! Robin and one of the Jules Verne themed carousels she loves!
Down by the river, we turned on all of our electronics and pushed off!
Saddling up along the Rhône in Vienne.
First up was crossing the Rhône on the same bridge we were on yesterday. Then a quick left turn and down to the river's edge. We were on our way.
Over the river in Vienne.
The path leading south out of Vienne is really nicely set up. Lots of cyclists and runners were out on this sunny Saturday morning. We passed several riverside cafes in various stages of setting up. One cafe was hosting a large bike club who had evidently decided to take a break.
South of Vienne
The river was beautiful in the morning sun, and on our right, the hillsides were terraced with grape vines. We often marvel at how much wine is produced in France. Once again, an amazing amount of acreage was devoted to the cultivation of wine grapes.
The ride proceeded easily. We're basically going downhill for this whole ride, and we had a slight tailwind this morning. There was a large section of the path that ran through a bunch of market gardens. We saw an amazing variety of produce growing. Eggplants, tomatoes, squash, chard, broccoli…. All in small plots, and most of them in greenhouses. There's a reason this area is known for having the best cooking in France. Everything grows here!
The only riding problems we had were with a bunch of tandem-hostile gates that had been installed in the "Centre d'observation de la nature de l'Ile de Beurre" just north of Condrieu in the town of Tupin-et-Semons. They were too sharp and too narrow for us to ride through and there were sooo many of them. They were cleverly spaced just far enough apart to make us play a frustrating game of ride-walk-ride-walk, etc. Fortunately we exited the park and life got easy again. If you're coming this way on a tandem, you might want to just stay on the main road to detour around those infernal gates.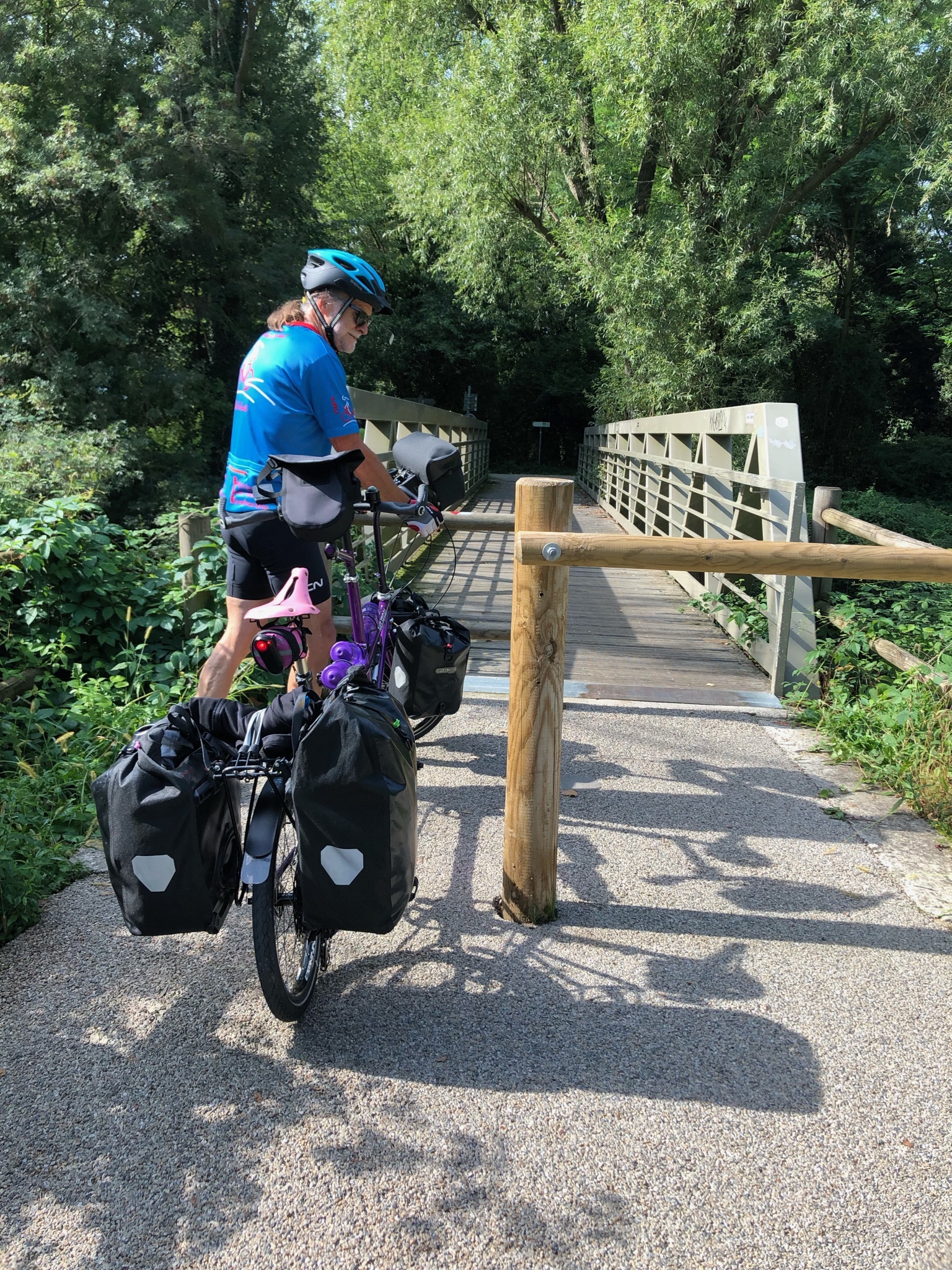 Tandem-hostile bike path furniture.
The riding was beautiful, though!
We crossed over the river on a dam at Saint-Pierre-de-Boeuf (wonder what the story there is?) and covered a long straight segment of bike path along a fairly busy road. Nice to be on our own road!
We were getting hungry and ready for a break, and just like magic a boulangerie popped up as we passed through Sablons! Open at 1PM on a Saturday, too. What country are we in again?? They even had little tables set up out front. We had our own food, so we bypassed the lovely stuff on offer at Maison Jury. We bought some drinks to pay the rent on the table and ate our food as cars zipped by on their Saturday errands.
Powered back up, we set out through Sablons - a nice path along the river.
In general, this whole ride was on amazingly good quality paths. It's hard to say enough good things about the work that put into creating this cycling infrastructure.
As we approached Saint-Rambert d'Albon, we discussed strategy for the upcoming Sunday and Monday. These are sometimes tough days for lunch and dinner in France, especially in small towns. We decided to make a detour to a local LeClerc supermarket to stock up on supplies so that we could throw together a picnic in an emergency. This involved some dirt roads and sketchy navigation, but eventually we found the market. Rich waited while Robin loaded up on goodies.
Waiting at LeClerc
From there, it was a quick ride to the point where we left the ViaRhona to navigate to tonight's lodging - the Domaine de Buis in Albon. This is a "relais d'hotes", which means it provides lodging and meals. It's a really nice place. We got here right at the earliest checkin time - 3PM, got installed in our room, and have been chilling all afternoon.
The entrance driveway of the Domaine des Buis
Domaine des Buis - our destination for today.
No covered bike parking here, but the bike is safe inside a small courtyard. We're now wondering what exactly we're going to be served for dinner. This could be an adventure!
Today's ride: 53 km (33 miles)
Total: 53 km (33 miles)
| | | |
| --- | --- | --- |
| Rate this entry's writing | Heart | 11 |
| Comment on this entry | Comment | 1 |