July 15, 2014
Day 36: When is a bike the same as an RV?
Today was just blah like, riding wise. The sky was overcast and dull. The weather was hot and a bit humid. Still, we made it to our destination of Dayton, and after spending a couple of hours at a Starbucks updating journals and checking email we headed for the Dayton State Park to camp. And it was there we found out that a bike is the same as an RV...
We had picked out a site in the virtually empty campground and were setting up our tents when Ranger Rick (not his real name, probably) came by to "explain the fee system." My guard went up immediately; this wasn't going to be good.
"The way it works is that I have to charge you for two vehicles, because a bike is considered one vehicle. So that's $11 each."
I gave an unhappy, sideways glance to Leo and dove right in.
"So what you're saying is that if someone comes in with a huge RV and has 10 people, they get charged $11? But if there is a group of 4 cyclists staying at one campsite we would have to pay $44? Not to mention that with our two bikes, and two tired cyclists who don't have the room to carry cases of beers, or have the energy to party all night and disturb the other campers....and we have to pay more?"
And that was exactly what it meant. So we had to pay $22, basically the same for a KOA or nicer RV park, with showers, wifi, grass, etc, and all we were getting for our $22 was dirt with ants, a water spigot and a dark toilet some distance away.
I started to get a little hot under the collar, and Leo put my hand on my shoulder to calm me down.
"We'll pay it," Leo said, though he threw in some challenging words as well.
Part of my beef was that the campground was empty. How is $11 going to make or break the Nevada State Park budget? I thought the guy was being a jerk. Leo though he was just "Jobsworth", which is a term he used to describe someone who is a bit simpleminded as far as flexibility in decision making.
But the fun wasn't over. Then he gave us instructions...
"You see that spigot over there?" he said. "That's where you get water. And the trash cans next to it are where you put your garbage."
Leo and I looked at each other. I was tempted to ask him to repeat the instructions slower, so I could take notes, but I didn't because I just wanted him to leave so I could count the ants crawling up the outside of my tent.
"...and to get to the toilets you follow that path over there," he continued. "Now, this place is crawling with rattlesnakes, because we've had a really dry year, so we've had a lot of them, so be careful to watch your step on the path, especially at night....". Which only served made Leo nervous about rattlesnakes, even though we've been in rattlesnake country for weeks now.
Finally he stopped talking. I gave him the $22 in cash, $11 less than the huge RV a little ways away (the only other campers in the park) and he left.
"You should have asked him for a receipt, just to be lippy," Leo said.
I chuckled a bit.
"At least it will make a good story," he added. And I guess he was right.
Tomorrow we should be in California.
This just made me hungry for ice cream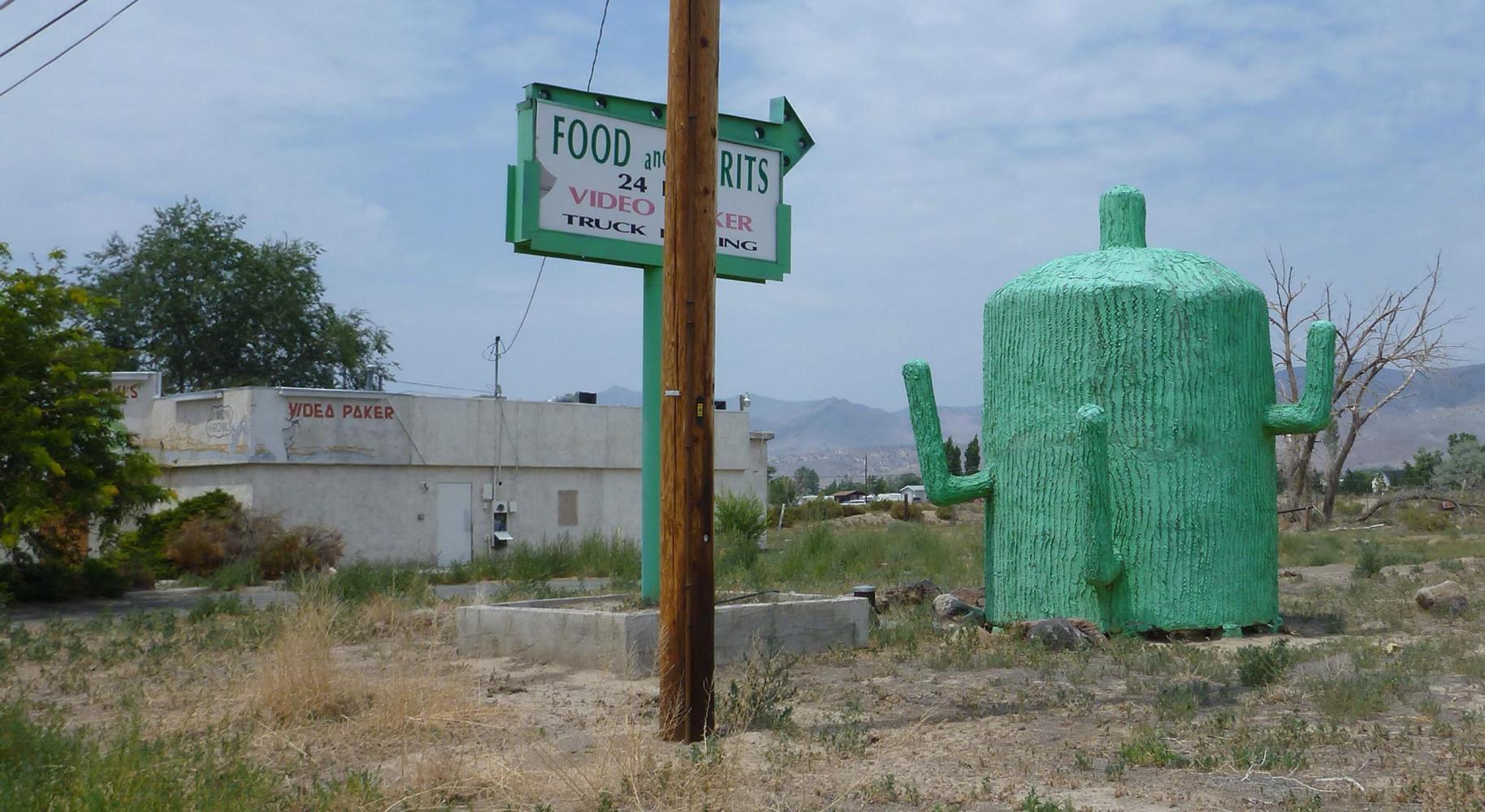 This store went out of business. That's little surprise. Look at that stupid looking cactus!
Today's ride: 55 miles (89 km)
Total: 2,195 miles (3,533 km)
| | | |
| --- | --- | --- |
| Rate this entry's writing | Heart | 0 |
| Comment on this entry | Comment | 0 |