June 25, 2018
Yverdon to Munich by train
Trains and changes, late arrival in Munich and a haven in a cellar.
As our friends take the low road to Basel for the Highland dancing exhibition, we take the high road to Munich. We are at the station in good time for the 11:06 to Zurich. Oh joy! Cycle carriage is right at the front. On we go. The accompanying carriages are first class. I try to persuade Ann that we can stay put but she reminds me that this is Switzerland. And so we walk through the two first class carriages and the restaurant car to our appropriate seats. We know our place. Slight separation anxiety re our bikes. It's 1hr 45mins to Zurich which is cloudy and drizzly. Changing trains is easy- we have 13mins and we only need to move from platform 12 to 15 for the Munich.
It's 4 hours to Munich. The train passes a rainy Lindau at the top end of Bodensee -Lake Konstanz where we'd once contemplated taking the Bodensee to Königsee route. Another day perhaps. Anyway we're going to be doing part of it to get to Salzburg.
At Munich, we have an easy exit into a coldish, wetish, late afternoon. We are at Strasse level so no lifts needed. Initially, we do our usual thing by heading in the wrong direction, but on correction we head back through the old centre and across the Isar to Untere Grassstrasse.
We consult google maps, and wend our way through the streets of yet another large European city to our destination. It's always refreshing the way a city, on arrival, foreign and a little intimidating, the next day becomes interesting and familiar. Ann's navigational skills ensure that the ride takes less than 45minutes.
Ann has the directions on a piece of paper which becomes damper by the minute. Eventually we find the Strasse, Gurnot, our Warmshowers host, has given us. His instructions also help us access the bike garage and small cellar he has renovated and plastered. It's down a steep stairway which is a little intimidating initially- Who knows where we are?
Our cycle touring host has created a wonderful room for tourers in one of the cellars in the basement of his apartment. All is on a minimalistic scale, but it worked incredibly well. The walls are partly white washed plaster and partly exposed brick. Our beds are IKEA foldouts and prove very comfortable and the shower and toilet are separate but also part of the room. ( Say no more!). A coffee maker, chocolate and wine and a welcoming drink of lemon cordial add to our comfort. Maps and books on Munich and cycling are also provided.
The warmth exuding from the room as we enter from the cold outside after garaging our cycles, is such a relief.
Life in the cellar.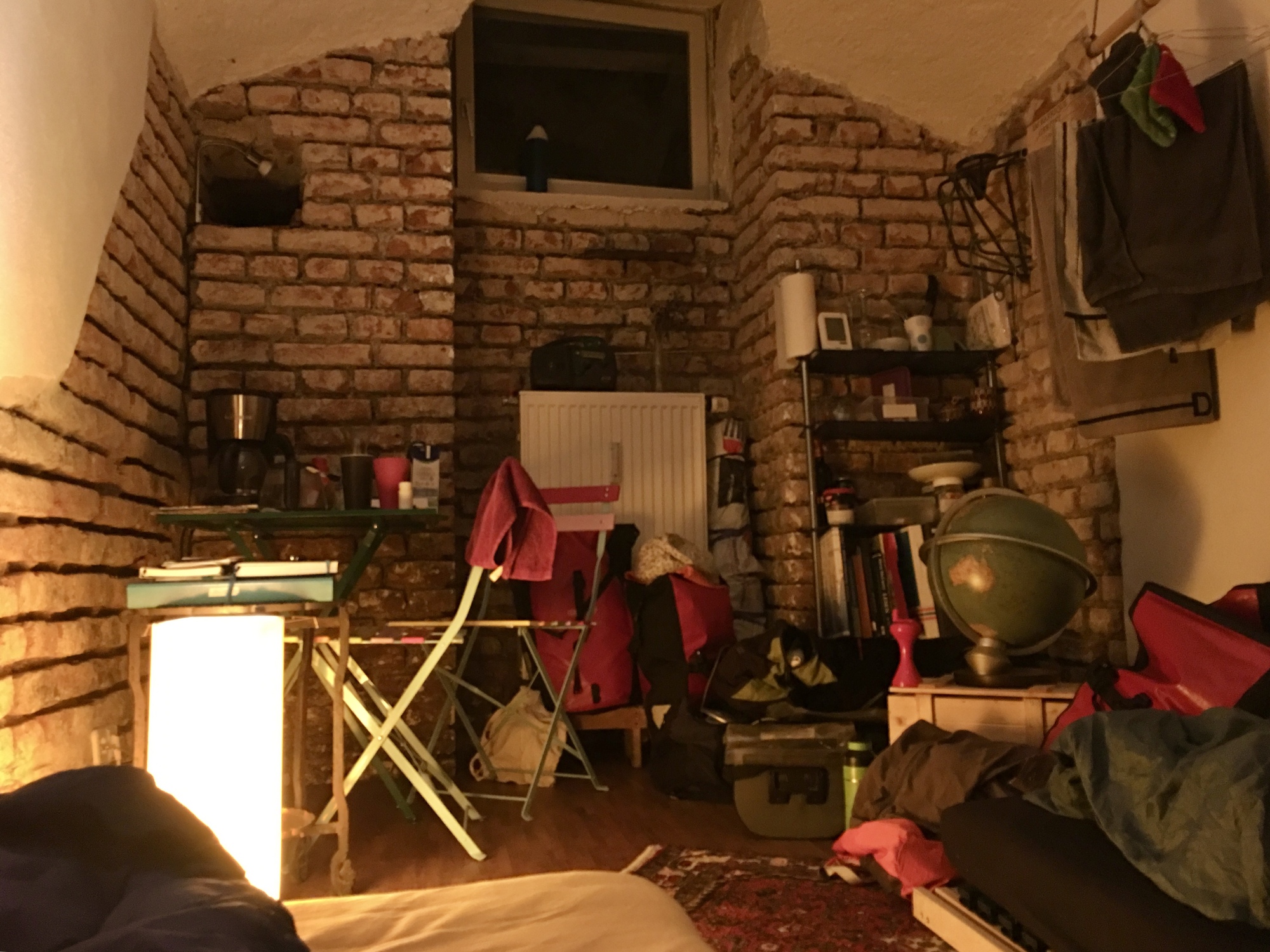 After unpacking and changing, we walk up the evening street to a beautiful tree lined square and find a pizza. It's been a day of contrasts- bouts of inaction followed by some challenging activity, small Swiss lake town to large Bavarian city. A day of interesting sensations and sights. We settle in to our cosy, quiet cellar aware that a fascinating city awaits, demanding exploration!
Today's ride: 16 km (10 miles)
Total: 3,427 km (2,128 miles)
| | | |
| --- | --- | --- |
| Rate this entry's writing | Heart | 1 |
| Comment on this entry | Comment | 0 |