June 13, 2009
Rainy in Eggum
ride on to Ramberg
It's pretty cloudy in the morning. Maybe it'll rain. It certainly looks like it could from my bedroom window. At breakfast the landlady says she doesn't want paying for last night's supper. I insist and thank her then set off towards Eggum, one of the so-called 'romantic' spots along the top coastline of Vestvågøy.
The road undulates and when I get there very few people are around and it looks a bit forlorn in this damp greyness. Instead of cycling back, I wonder if it's possible to get all the way along the coast and try following a gravel path once the flat and narrow road comes to an end, which I guess some could find romantic.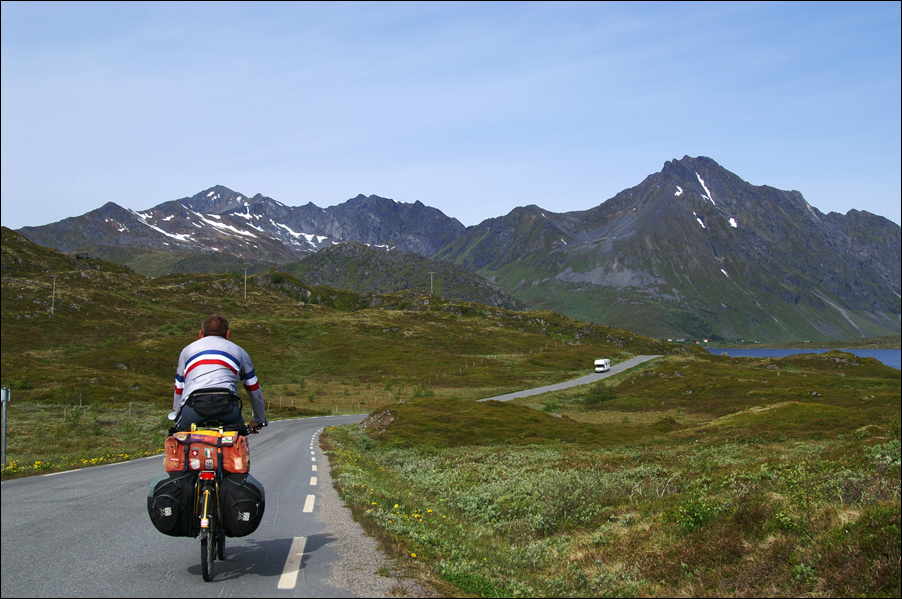 Heading to Eggum
Set back a kilometer from the coast is a huge waterfall, so I open a wooden gate and bounce along a rocky jeep track past sheep to see it up close, only to realise it looked better from a distance when I arrive.
I bounce back and then ride as far west as the gravel trail leads me. It peters out and the footpath gets rockier, until I have to get off and push. The grassy-rocky route hugs the steep side of the cliffs and after carrying my bike over some boulders, I decide to leave it and sus out if it's actually possible to complete the whole coastal journey. Uh-uh, I don't think so - too dangerous with a long, vertical drop to the turbulent sea. I head back.
There's a big, circular WW2 bunker in Eggum that now houses a petite coffee shop. Inside behind a glass countertop is a Thai lady who is all smiles and I end up having a couple of cups, plus a chocolate waffle. It's good to chat. She's married a local. I linger around and as I leave it starts to drizzle, just like I knew it would.
Once on the E10 the rain gets heavier and there's a wicked wind blowing, slowly me down. As I push on into the wetness, feeling chilled, I look up and see the friendly Finn who I've bumped into a couple of times driving by in a car. He waves. This all happens in a split-second. I snatch a response, but he's already gone. I get my head back down and just hope he saw my brief acknowledgement.
There are other nice beaches along the coast but with this weather I don't venture to see them. I need somewhere dry and warm. It's a slog across Vestvågøy and the undeniable beauty of its landscape is buried under cloud. Flakstadøya is the same. Thankfully it was incredibly sunny when I went north a few days ago and I got to see it in perfect conditions.
When I get to Ramberg my jacket and shorts and everything else underneath is soaked. It's impossible to be any wetter. I find a restaurant and walk in squelching, leaving puddles on the polished wood floor.
The plush dining room is dominated by a long table seated with what seems to be a birthday party crowd of 30-odd well-dressed locals. I feel self-conscious as I get shown to a table laid with a crisp white cloth and decide to change my shirt and shorts for dry ones in the washroom. That feels a whole lot better.
It's a super meal, washed down with a couple of beers. It's pouring down outside and I don't relish riding, but have to make a move. Sund is another 10km away and it's getting late. My plan being to cycle to the guesthouse place I stayed on my first night on the Lofoten Islands.
Once outside, it seems ever colder than before. Across the road is a sign for a rorbuer and I knock on the door. The lady says she has a room, so I lock up my bike, fit the rain cover over my Brooks and dump my wet panniers in the hallway of the wooden building, an antique place that is tastfully furnished and traditionally decorated.
It's all rustic and authentic and the wooden walls and floors are painted in duck-egg blue and light grays. What luck. It's the kind of place you see featured in travel articles that you wish you could visit. After a hot shower and another change of clothes, I order more beer and use the home's wi-fi.
Life is good.
Today's ride: 50 km (31 miles)
Total: 272 km (169 miles)
| | | |
| --- | --- | --- |
| Rate this entry's writing | Heart | 0 |
| Comment on this entry | Comment | 0 |