July 13, 2021
Sault Ste Marie - Paradise, MI
We've been watching the weather for days. We got lucky yesterday, with a bright, sunshine filled ride. It started raining overnight and rained all morning, with varying intensity. I had called tonight's lodging and asked if we could get into our room early. No. 4 PM check in. We stayed in the Best Western room until checkout at all. It was raining lightly outside. I put on my raincoat. Jacinto's concession to the weather was to wear two shirts and to put his phone in a baggie.
It appeared we would ride out of the storm as the day went on. We back tracked three miles on 75 and then spent the majority of our day on excellent riding road, Lakeshore Drive. Michigan has a large number of roads with brand new pavement. It's a real treat.
Our route today hugged the coast. If only we could see it. The clouds and the water were the same color, it was hard to identify what was on the horizon.
I wore my raincoat for the first 20 miles, until the lighthouse. Then I used the pit toilet. I'm sure I was quite a sight, trying to peel my tight bike shorts down and back up again. It's a good thing I hadn't opted for a roadside bush stop. There's no way I could have gotten my shorts arranged without giving some poor passing car more of a view than they planned on.
I had new bike shorts today. Walmart yoga shorts. I had one pair of shorts for the trip and they have died. In general, the thighs on my bicycle bottoms degrade in the sun. The elastic gives out and the shorts/tights get 'white' thighs with no compression. I was trying to ignore the white, poochy fabric on my shorts, but when Jacinto noticed them, I had to admit they really were at the end of their useful life. We stopped at Walmart on the way back to the room last night and bought a $9.99 pair of shorts. I now have a souvenir from Michigan.
I figured out that a fancy new mustard colored Wrangler Jeep that I was following was the mail lady. There was no placard or anything saying mail, just an orange square flag attached to her rear window. The kind they give out at the lumber yard. The obvious clue was her stopping at every mailbox and inserting mail. I didn't want to pass her just to be passed again, so I stopped. I heard a sound in the dirt behind me. I was Jacinto pulling up! I had been too busy going through the process of deciding the Jeep was a mail vehicle to notice him behind me.
I told Jacinto to go on ahead, I was doing just fine and there wasn't any need for him to poke around behind me. The last time he caught up with me was at the first viewpoint for the water. We could see something large moving around in the water close to shore. What was it? Jacinto speculated it was a crocodile. Seriously? In Michigan. He went to investigate - it couldn't be a fish that large, that close to shore. Now was my chance to find out if there are indeed crocodiles in Michigan. Jacinto laughed - no, it was a big rock with the waves breaking over it.
Jacinto waited for me to go down the road, but did eventually pass me. I kept pace with him until a little uphill, then he was gone. I stopped for snacks a couple of times. I was trying to conserve my energy. My legs were a little tired this morning from the big day yesterday. Today was a long one also. We don't have a day off for 11 days. Sure and steady gets me there.
All good things must come to an end. After 45 blissful miles on Longshore Drive, we turned onto M-123. We immediately lost our smooth pavement. It seems as if Michigan either has perfect pavement, or the most terrible pavement. Nothing in the middle. M-123 had a small shoulder with a rumble strip poorly placed to the right of the white line. Which left about 6" of pavement to balance on. The kicker is that the little strip of leftover pavement had cracked and been sealed. It's hard enough to balance on that small of area, much less when it's cracked!
The saving grace was light traffic. I frequently rode to the left of the white line, moving over only when cars came by. I mentioned yesterday that no one waved at me. Today I had a woman in an oncoming white Prius roll down her window and wave enthusiastically. That was a sprit lifter at the end of the day.
It doesn't seem to matter how many miles I have to ride in a day, I'm always counting them down.
For some reason tonight we are at the Magnuson Grand Hotel - which is a large yellow hotel that looks very imposing over the water. Jacinto and I agreed that we passed two old mom and pop motels that are more our typical style. It's been so long since I made these reservations that I can't quite remember how we ended up here. Bicycles go in the basement. That wouldn't be my first choice. We are on the 3rd floor, in a large room that is nice, but not extra nice. We do have a hot breakfast in the morning. I appreciate that.
There was a box of rags right next to the front door, which rather spoiled their fancy hotel vibe. I made use of them, wiping grit off of both bikes and cleaning my chain. Jacinto is the fancy pants with a belt drive bike, no chain cleaning for him.
We went to dinner at the adjacent restaurant/bar. After a short wait, we got a table right next to the pinball machines. Lucky us. The menu was small and wheat centric. No gluten free buns or flour tortillas. I ordered bigos soup. Google tells me that is a traditional soup from Poland. It has a variety of meats and sauerkraut, amount other things. Then I had a half order of chili cheese fries. Jacinto had a burger.
We did not see a single pastie store today, or much of anything. Jacinto is almost frantic in his search for convenience stores. He worries about the availability of gas so much you would think he needs to purchase some!
Point Iroquois Lighthouse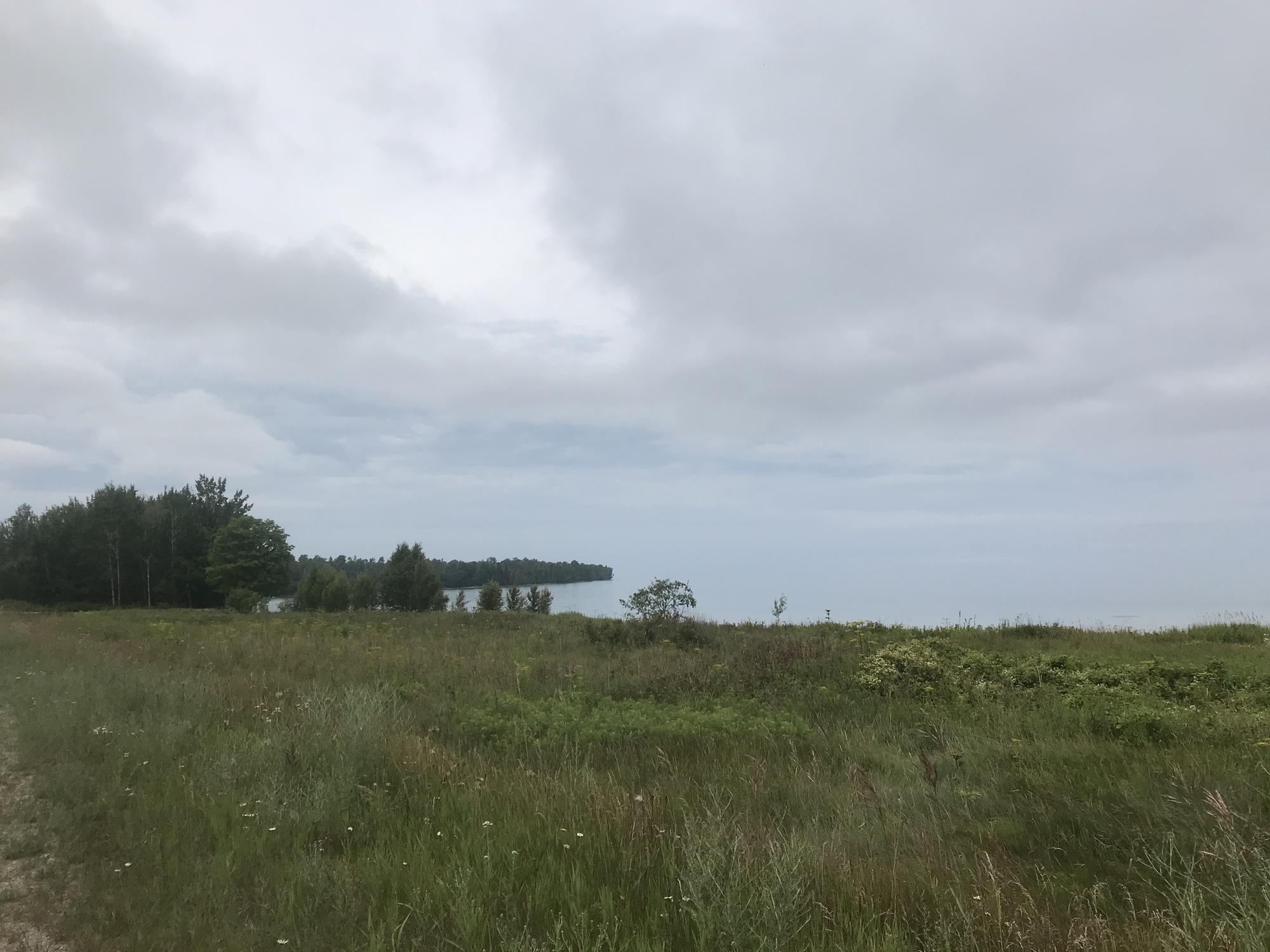 Our first view of Lake Superior, officially Whitefish Bay.
I love the blue sky!
A flying pig is my folk art of the day.
This is a tree stump!
Jacinto's photo.
Jacinto's photo in Brimley.
Today's ride: 56 miles (90 km)
Total: 566 miles (911 km)
| | | |
| --- | --- | --- |
| Rate this entry's writing | Heart | 5 |
| Comment on this entry | Comment | 0 |