July 18, 2021
Day 67 - White Bird, ID to Riggins, ID
Quit following me
We woke up at the usual time this morning and had a semi slow start. The RV couple stopped by to talk to us. They saw us from the road while they were driving the jeep to the next spot. We also had the owner of the RV park come by and talk for a while about his proposed building in McCall. I don't know why people want to talk to us about their building projects, but it's not the first time people have chatted to us about their buildings. We got a later start than usual, which is unfortunate because the forecast was for 102* today. The ride was ok all the way until 11 when we were getting close to riggins and it got pretty hot.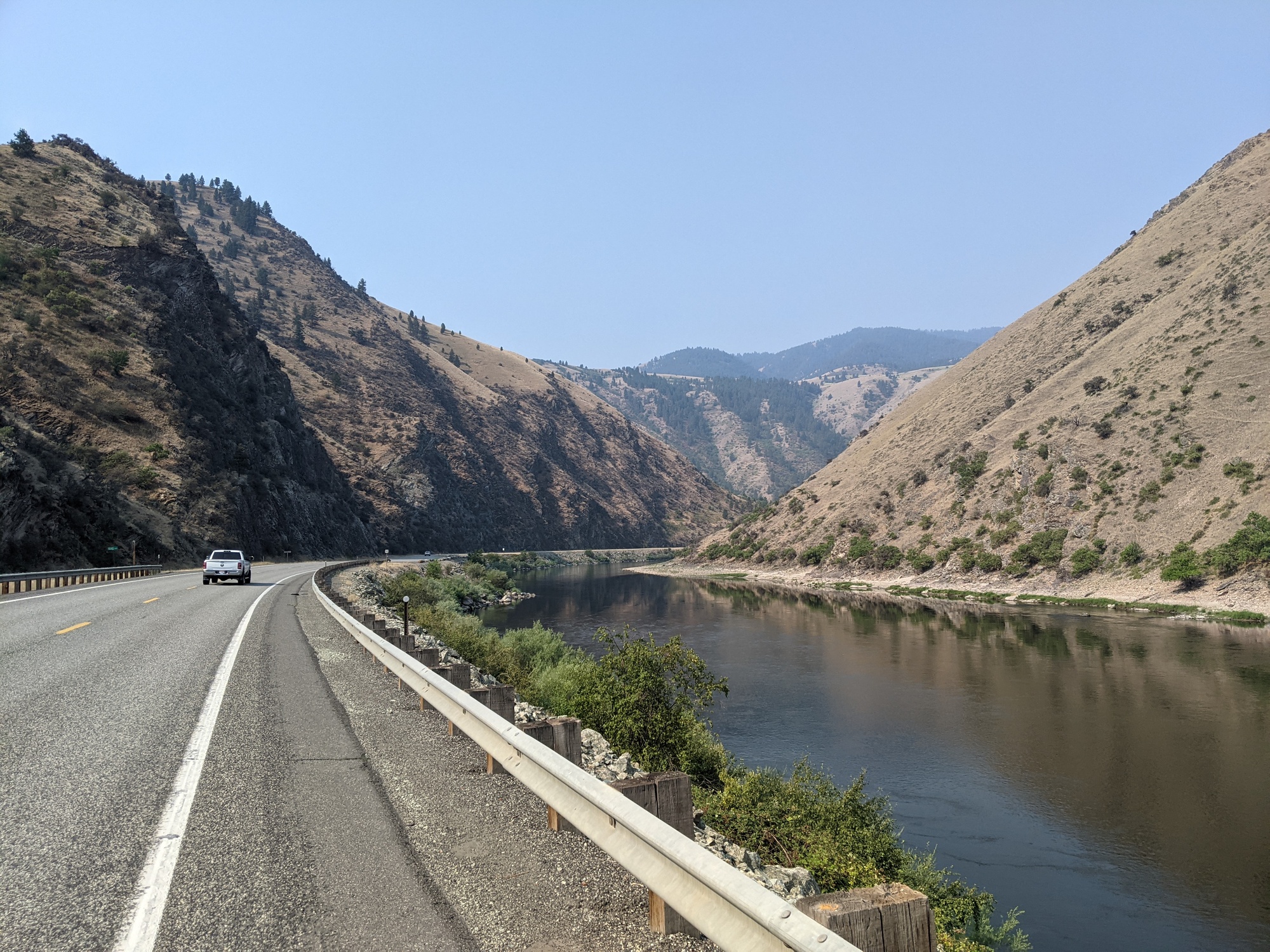 The salmon river
We planned to get to new meadows and stopped in riggings around noon to get groceries. New meadows was another 30 miles and we started looking for some sleeping options. We didn't have anything in place yet and Mark called a motel down the road. It was only $90 and we had 5 people to split it. The thought of ac and stopping for the day sounded so good that we went for it. We also saw that creepy lady in the white murano again in the grocery store. We were all freaked out, bit she didn't recognize us. We are starting to think she is following us, but that is pretty unlikely. it's also pretty unlikely that we have seen her 3 days in a row.
We ate our lunch outside of the store and went right over to the motel. It was a cool old family owned place and had just enough room for all of us in one room. Jeremy also pulled into town from grangeville and decided to stay too. He got his own hotel room and we didn't see him much. I think the heat was killing him. We cranked the ac and took a short nap. We had aspirations to go swim in the river, but it was so hot. We went back to the grocery store for some microwavable vegan foods, but they didn't have any. So I ate oatmeal and Mary made a salad. It was a little sad, but it was ok. We planned to leave early tomorrow to beat the heat, so we went to bed early.
I'm glad we stopped at noon because the heat kept building during the day and there is a large climb out of town. We might have died.
Inside the hotel room. Everyone except Jeremy is in this picture. (Alex is outside the window)
Mileage:28
Altitude gain:900
Today's ride: 28 miles (45 km)
Total: 3,443 miles (5,541 km)
| | | |
| --- | --- | --- |
| Rate this entry's writing | Heart | 4 |
| Comment on this entry | Comment | 0 |