March 31, 2019
Day 7: Shoshone to Pahrump
The End of the Tour
I think everyone welcomed the fact today was going to be a mere 28 miles. I know Margaret and I did. I don't think I mentioned that prior to this ride Marg had ridden a grand total of 47 outdoor miles, while I had a whopping total of 65. We had been pretty fit from cross country ski season, and riding the indoor trainer, but that's no substitute for actually putting your rear end on the saddle and getting some real riding done.
We'd weathered the miles and the climbs of this tour pretty well, but at this point we were "knackered," as the Brits say. Twenty-eight miles sounded divine. There were, of course, a couple climbs to tackle, but nothing like the behemoths we'd been riding the last week.

A very long piece of road.
Leading up to the first climb of the day was another of those optical illusion roads, where the hill looked a mile away but in fact was many more miles than that. It seemed never to arrive. Then, as per usual, when the hill came it seemed never too end.
At the top of the last climb of the trip.
At the top of the final hill Dan had parked the van and trailer and most of the crew gathered around to eat a quick lunch and high five each other at the point where we knew there were no more major climbs. Huzzah! When we set off again, several of us fell into an unplanned pace line going along at a mellow speed and it was really nice to be rolling along as a unit. It wasn't long after that we hit the outskirts of Pahrump, and weaved our way through the streets and roundabouts until hitting the main drag and finding the Best Western, where we'd begun a week ago.
A pace line beelining toward Pahrump.
We headed around to the back and found the van and trailer waiting for us. We were happy that everyone arrived before anyone had to hit the road to make it somewhere else. That gave us the chance to exchange goodbyes, email addresses, and hugs. I am repeating myself, but what a lovely group of people. Lots of humor, good natured ribbing and friendly sarcasm, and full support to each other. Eventually though, it was time for us to go.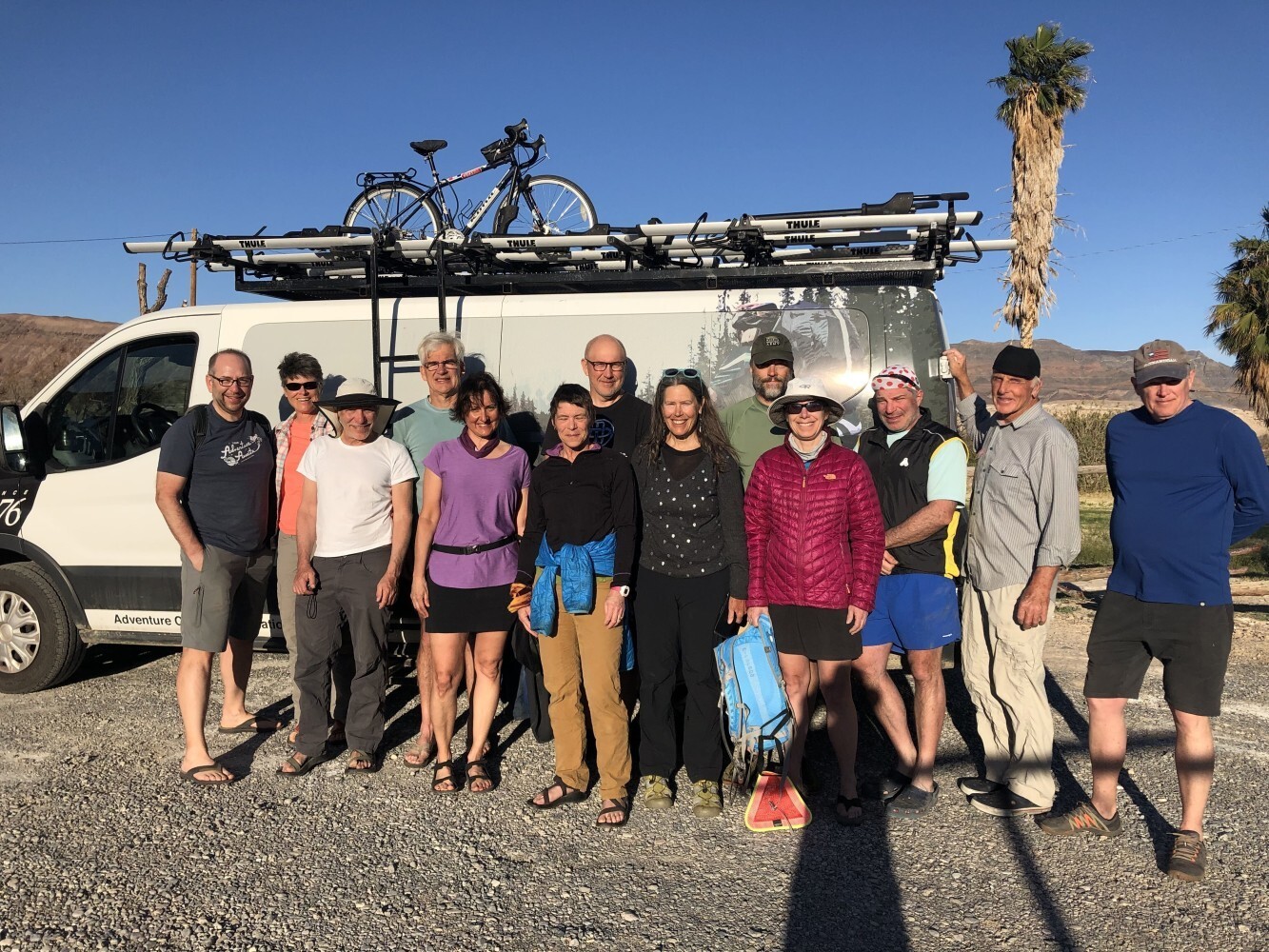 The best part of this trip
No trip is pronounced complete by Marg and I until we've bought a coffee for the road, and that was our first stop. There is a brand new Starbucks in Pahrump that opened the evening before we started our ride. I know because I had driven up there for a coffee and the sign on the door apologized that they were doing a staff training run-through and they'd open the next day. So surely, even a week later, we were no more than their 1,000th customer, right? Or maybe 10,000th customer, more likely. Regardless, the coffee was awesome, and off we went, for a 2 1/2 day drive home.
No trip is complete until we get coffee for the road.
Final pontifications will be on the next, and final page.
Today's ride: 28 miles (45 km)
Total: 411 miles (661 km)
| | | |
| --- | --- | --- |
| Rate this entry's writing | Heart | 3 |
| Comment on this entry | Comment | 0 |