September 28, 2021
Glenwood Springs bike paths
Jim and Genny were planning to depart at 9 AM. I set my alarm for 8. Today was my driving day. I planned to park next to their vehicle at the Silver Spruce Motel and then go for a bike ride up Grizzly Creek.
Little did I know that the path was closed at No Name, only four miles from the motel. I went past the closed sign, thinking perhaps they were giving a preemptive warning about the closure later down the path. No, closed really means closed. Heading back towards the trail intersection at Two Rivers Park was mostly downhill coasting. I warned a couple of groups of cyclists that the path didn't go as far as CDOT had been advertising. As a side note, I spent significant time trying to find path closure information on CDOT, but could find nothing. Jim and Genny had bicycled to Shoshoni power plant at the beginning of their visit. I was hoping to go that far. It wasn't to be.
I went back to Two Rivers and headed up the Rio Grande Path towards Carbondale. I initially planned to ride 20 miles total, but upped my plan to riding into Carbondale. It's too bad I left my money in the van, I could stop for a burrito in Carbondale if I had money.
Two miles down the path, I recognized Jim and Genny from a distance away. We chatted for a moment about their ride and the bike closure. Then we continued on. I had a nice ride, perhaps a bit too nice. I had a stiff headwind on the return.
We didn't go to breakfast in the morning. I'd been snacking all day, and was getting hungry. Genny texted me and said they were at Village Inn, if I wanted lunch. I certainly did! But, I was still five slow miles out on the bike path.
The clouds made for interesting views this morning, they were pretty, but not threatening. I had a nice ride. Perhaps a bit of a let down after the spectacular riding we'd had, a bit sedate and ordinary. Look at me, complaining about ordinary riding!
I got the bike loaded into the van just as they finished eating. We said our goodbyes and I headed home. Finishing a tour is always bitter sweet. This has been an extra good tour. I've never seen so many outstanding views. IMO, riding a bicycle is the best way to see and photograph colors because it is very easy to stop exactly where the good view is. When Jim gave me the ride to the top of McClure Pass, there were several vistas I would have taken a photo from, if only we could stop.
Thank you for following along.
Cabin #5 at Redstone Cliffs Lodge.
I sat out back behind the cabin and read my book. They also have a hot tub next to the river.
I'm the morning, I caught up with Jim and Genny at some road construction. Those are raindrops on the windshield!
They really did mean the bike path is closed. I was hoping to ride to Grizzly Creek. Instead I made it four miles to No Name.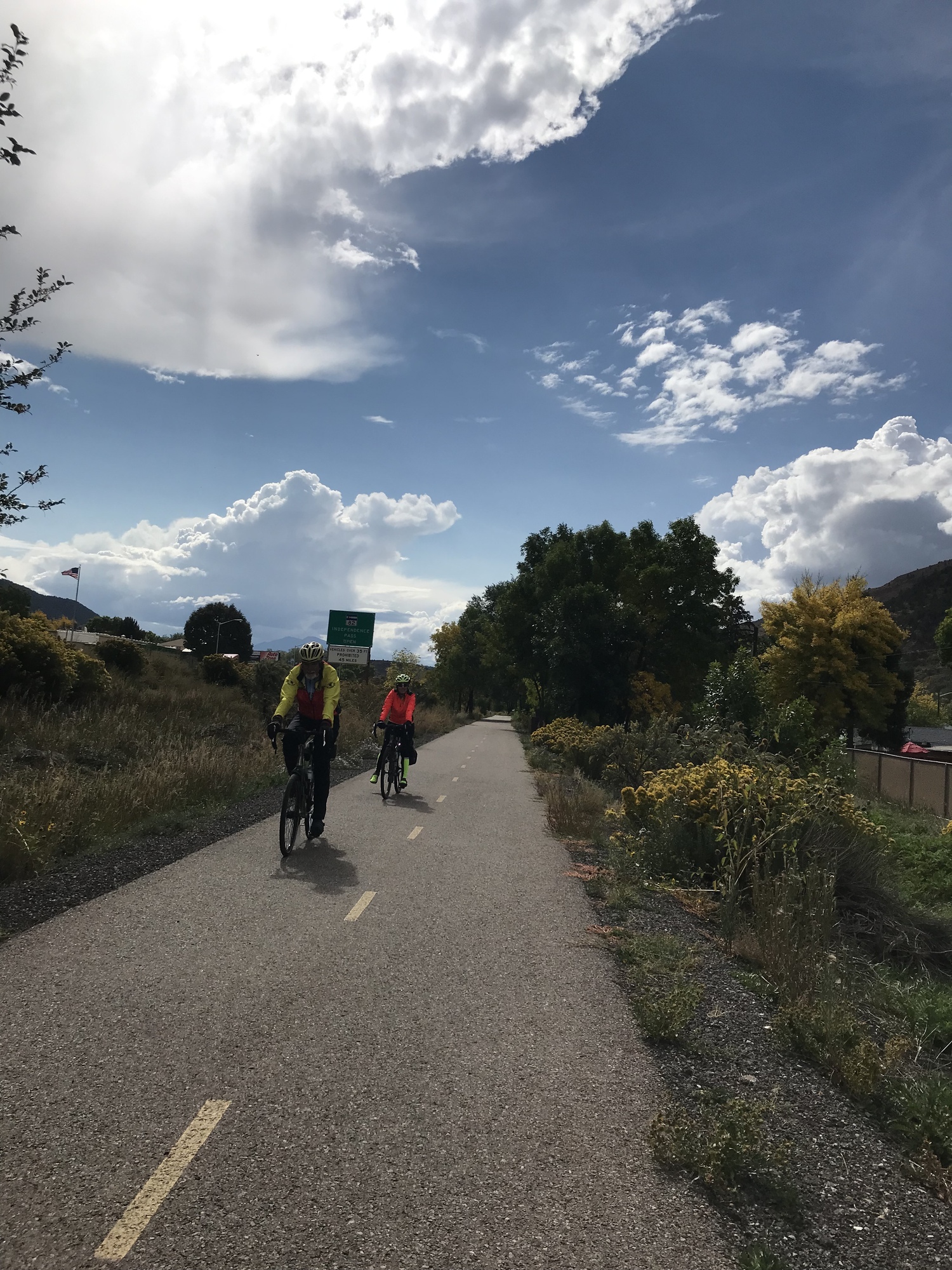 I switched paths and rode to Carbondale. Look whom I met going the opposite direction!
Mt Sopris.
One last photo of my RANS Stratus XP, K style frame.
Today's ride: 33 miles (53 km)
Total: 417 miles (671 km)
| | | |
| --- | --- | --- |
| Rate this entry's writing | Heart | 3 |
| Comment on this entry | Comment | 0 |