September 24, 2021
Buena Vista - Taylor Park
Taylor Trading Post is ATV headquarters.
Genny hiked to the top of the Continental Divide Trail while she waited on the pass.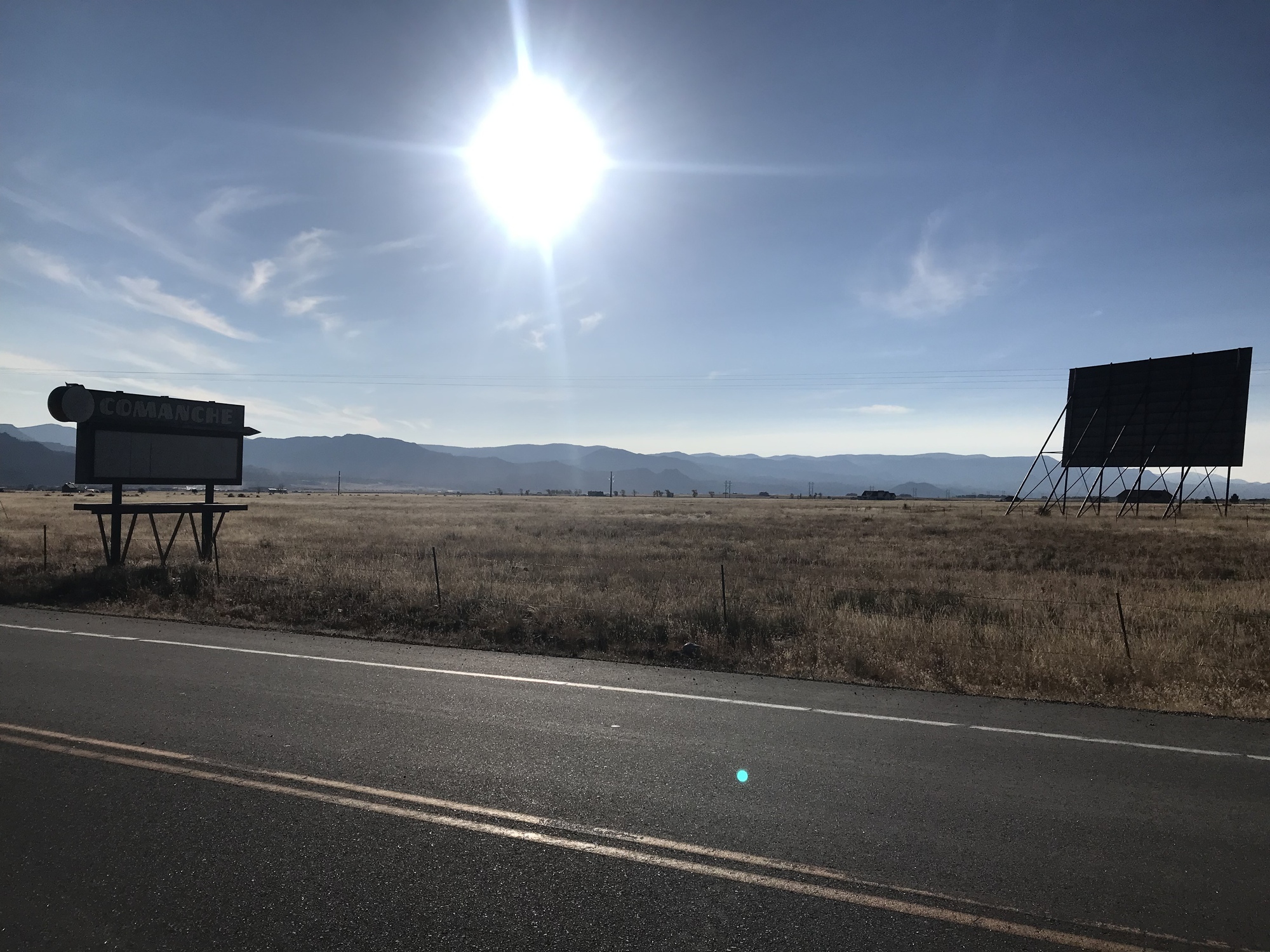 The drive in movie in Buena Vista is still running. The downtown theatre is closed.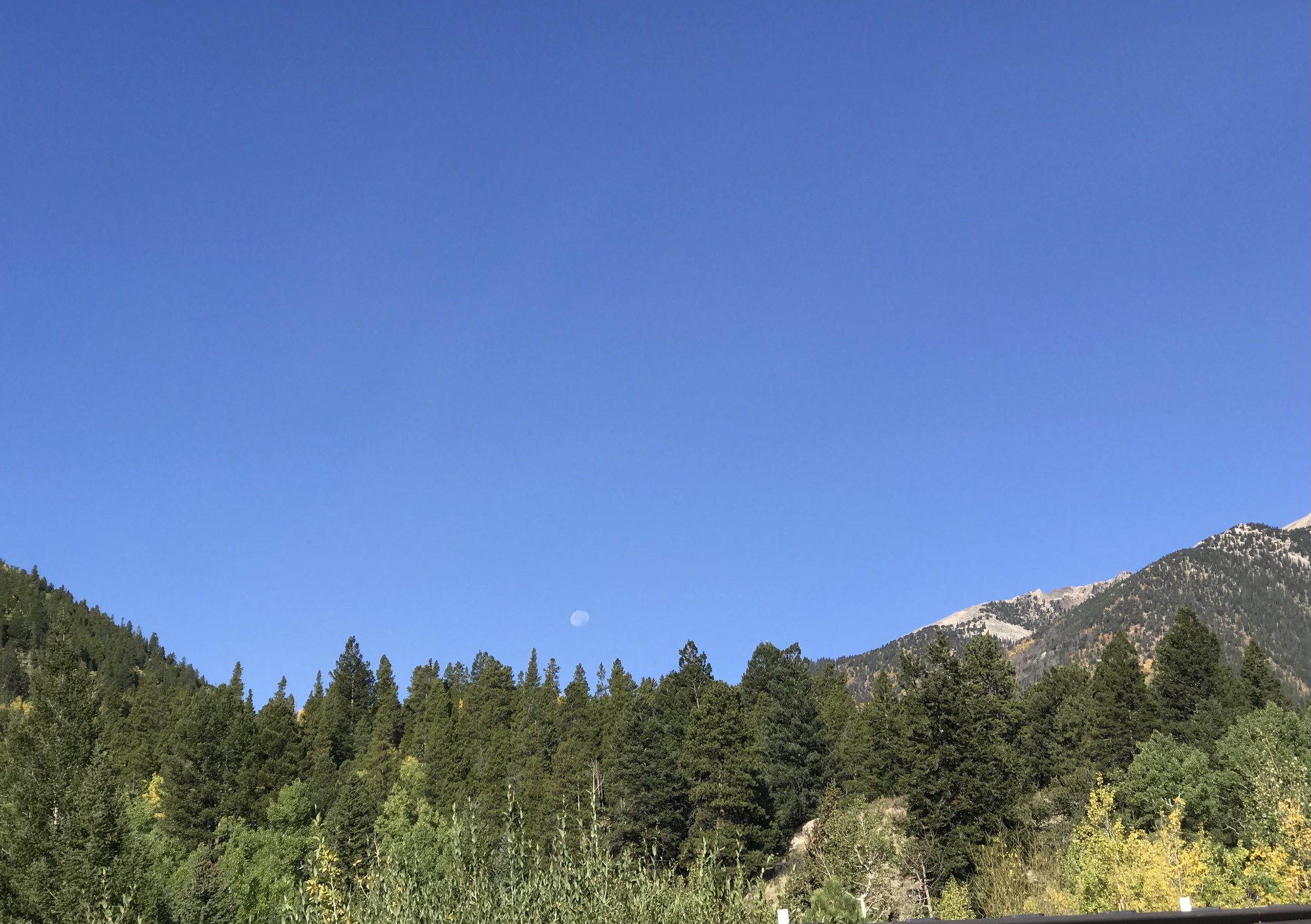 The moon still shows, right in the center of the photo.
Do we go to the left or the right of that mountain? Answer? Right.
Rose hips? I only saw them in one area. There were many wild strawberry plants.
This photo of the summit completely does not show the angle of the road grade. I had complete feeling of terror.
This is a beautiful ride.
Arrived at high point for the tour!
At Taylor Trading Post.
I can't resist a Bigfoot.
Inside of my cabin.
The view from behind my cabin.
The false eyelashes on the sink are not mine. I peeled them off the bottom of my socks! that was a high ick factor!
I can't get even one photo to load here. We will have to wait. I have some colorful mountain photos to share.

We ate an early breakfast today, in anticipation of the 4,000 foot climb. Jim and Genny were already at breakfast when I arrived. They had eggs and sausage, plus the usual carbs. The front desk lady was running the whole show. She said they were so short handed that everyone was doing two and three jobs.

We agreed on an 8 AM departure. Jim was waiting outside. Genny was today's driver. She was going to gas the van and buy a gallon of water. I started the day with two bottles of Tailwind and one of water.

It was 46 degrees and sunny when we left. Our first directions were to go four blocks and turn right. The climbing grade was obvious from the start. Jim said we were going at 3%, according to his computer. I asked hopefully if we would keep that grade to the top, knowing full we had plenty of work cut out for us today.

I took a photo of the drive in movie theatre and another of the moon, still visible in the sky. Jim stopped to take off a layer. I kept pedaling, but told him to pass me.

The pavement was smooth and we had a 3 foot shoulder until the cottonwood hot springs, about five miles in. Then we went through a short canyon, where we had zero shoulder. I saw a purple bandana that I would have picked up if it hadn't been a curve and no shoulder. After we exited the canyon, we had a two foot wide usable shoulder all the way to the top.
We saw many Aspen trees in shades of yellow and also some oranges and reds. There were far more pine trees.

Today is Friday. Quite a few people were heading to the mountains, pulling their toys. It seemed to me that traffic dropped off after we passed The turn for Cottonwood Lake.

I told Jim I had been anticipating this ride for years and was planning to enjoy the entire day, which is another way of saying I would be slow. I told him to ride his ride.

We were surprised when Genny passed us barely five miles down the road. We expected her to dally in town. We didn't need water or food, but I appreciated the break.

Genny said she would stop at mile 12, where Alison had said there was a potty. It took me awhile to get there, Jim had already arrived and refilled his plain tea bottle. No water for him, or electrolyte drinks. I topped off both of my Tailwind bottles. That later proved to be too much sweet stuff. Usually I have only one electrolyte bottle.

I used the potty, thanked Genny for waiting, and warned her that the remaining eight miles would take me at least two hours. I was sure I had enough water, she really didn't need to wait for me at the top. Genny said she would wait anyway.

Alison had said the 12 mile mark was where the fun began. She was correct! I was in the bottom of my granny gear and panting as I passed the snow gate. That is a gate the road crew closes in the winter, so cars can't pass. A sign warned that the pass is only plowed as far as the top.

I concentrated on trying to regulate my breathing. I really wanted to enter the zone where my legs were on automatic pedal and my brain disengaged. That might me a state of oxygen deprivation!
I stopped each mile for several miles. Then the effort of the sustained climb forced me to make extra photo stops. My official story is that the colors were too beautiful. That sounds better than being tired. I finally arrived at the switchbacks. I was happy, as I knew I was making progress. Slow, but sure progress. I thought of how Jacinto would love this torture, too bad he had to work. Jim and I had noted the mile markers appeared that they would count down to the top. They were an encouraging visual for me.

The higher I climbed, the more of the area I could see above tree line. The rocks were stark and desolate. I enjoy riding up mountains as there is a large change in vegetation. It's something to distract my brain from the agony I'm putting my body through.

I was doing well, physically. Tired, but still performing. My legs weren't sore. The grade was relentless, but doable. Until- I saw the next switchback. Hell no! There's no way I can ride that! Look how the cars are pointing straight up! That's not reasonable!
I looked at my odometer. 1.5 miles to go. I could see the pass parking area at the top of several switchbacks. I don't think I had it in me. I would have to walk. I can walk that far. Shit.

I took a couple of photo breaks on the approach, trying to wrap my mind around what was in front of me. You know what? For all of their appearance, the grade was gentle. Mild enough of a grade that I switched into the center chain ring! Here I thought I would have to walk to the top!
I could see the red and yellow of Jim's jacket from down below. By the time I rolled up, he had gone on. Genny said he was visibly tired and she had forced him to eat a bar. I took the obligatory photo and then sat in the van and ate an apple. I did not want to get on the bike. 13 downhill miles to go. Genny read me the navigation turns. My brain was mush. Bertha had better be on duty, because I couldn't remember a thing!
The road lost the shoulder on the downhill. It seemed to me there was far less traffic, but perhaps that is because I was moving faster. I wasn't as fast as Jim, he said he was going 30 mph and the cars had to work to get around him!
As I got to the T intersection at the reservoir, my phone started pinging madly with text messages and it even rang. I was so surprised to hear the phone ring that I answered. It was someone calling about my car warranty. I kid you not!
I could see all of the cabins at the trading post on my left. I was really, really hoping our cabins were not up on the hill. I tried to see the van, but couldn't until I arrived at the turn. Yes! We are close to the office, with little dirt to ride.


A sign outside the door said, "No bathrooms, if you don't like that, complain to the forest service."
I took a couple of photos outside of the trading post and went in to register. I was enthusiastic in my reply when the man at the counter asked how I was doing. Excellent, never better!
I talked to a couple of motorcycle riders. They were buying gas and then heading to Tincup, a ghost town eight miles away.
Jim and Genny had cabin 22, with a fireplace. I was in 23, no fireplace, but a recliner. Genny thought the Smokey fireplace smell was undesirable and she would much rather have my recliner. She had their door and windows open to air it out. They had a fly swatted, which was a good thing. I have two flies that snuck in. No flyswatter here.

I ate a banana and chatted with Jim and Genny a bit before the stink got to me and I needed to shower.

I had two formerly frozen Tucson Tamales that were better than I expected. That was lunch. I have a can of chili and some instant potatoes to mix up for dinner.

I'm tired. But it's a good tired. I would ride this tour again next year, or a variation on the theme. Advantages of fall touring include less wind and more stable weather patterns, not to mention the colorful mountains!
Today's ride: 34 miles (55 km)
Total: 264 miles (425 km)
| | | |
| --- | --- | --- |
| Rate this entry's writing | Heart | 5 |
| Comment on this entry | Comment | 8 |