October 1, 2020
It's a Cottage, Not a Bungalow
Day 1
Day 1 - Thurs Oct 1, 2020
Weather: 54 degrees, rain, 8 mph winds blowing from nw
Mileage: 33 miles
Home, Zeeland MI to Wards Cottage, Casco Township, MI
After dropping off my absentee voter ballot this morning at City Hall I received an urgent disjointed message from my friend Ward. It read, "Dave, you have about 2 hours before 70 80% chance of rain. Get your butt on the bike and pedal down here! And so I did just that.
The impending thunder clouds kept me pedalling. I pedaled like a wild banshee. It also caused me to avoid the more scenic route along the Heinz waterfront boardwalk area in Holland and instead I made a beeline for Ward's bungalow. I pedaled through Zeeland and cut across Holland, MI on 16th and 17th streets. From there I continued west on scenic south shore drive which runs along Lake Macatawa. I then cut over to Saugatuck on 64th street taking a short mid morning snack break at the Felt Mansion located at Saugatuck Dunes State Park.
Back of Felt Mansion
From there I rode 15 miles south on Bluestar Highway until I reached my destination. I mostly managed to avoid the rain except for the last two miles in which I got poured on.
View from Bluestar (5 miles north of cottage)
All gear stayed dry except my riding sneakers which were damp. I was not very pleased with the showers pass rain booties. The bottoms already show significant signs of wear and look like they will be shredding over the next 100 miles.


Ward and I spent much of the afternoon gleefully chatting like school girls about the trip. We spent our time lounging around watching the rain from inside his bungalow. Ward also made clear to me that it's a family cottage not a bungalow after multiple times of calling his cottage a bungalow. He cooked a great steak dinner with broccoli for us.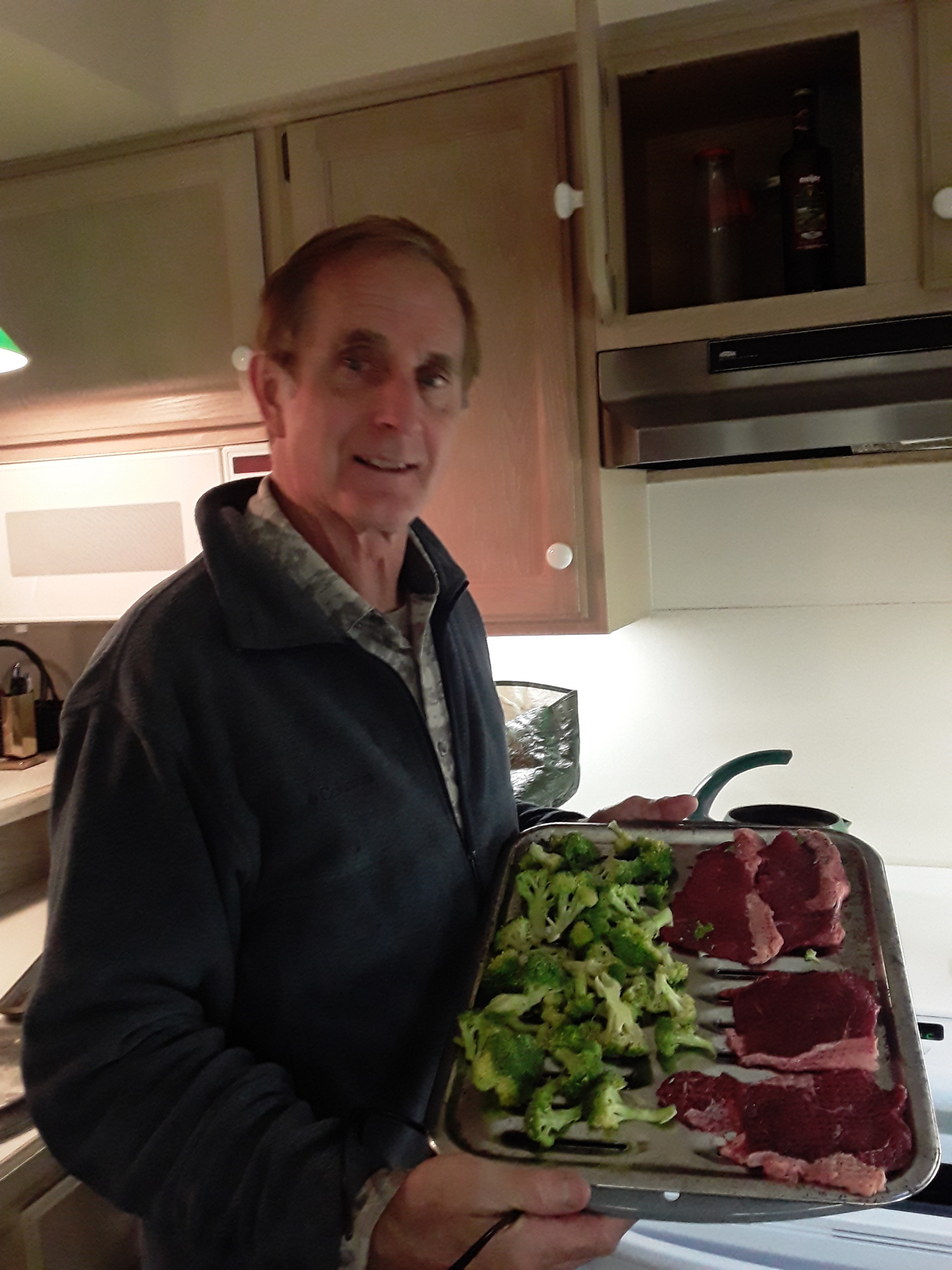 Ward's culinary prowess
I spent the evening putzing around with gear and packing and repacking to take up less space, working on this journal, and writing down ride notes for tommorows route.
Today's ride: 33 miles (53 km)
Total: 33 miles (53 km)
| | | |
| --- | --- | --- |
| Rate this entry's writing | Heart | 8 |
| Comment on this entry | Comment | 1 |