October 19, 2020
I Know Why the Cows Stare and The Dogs Bark
Day 19: Mon Oct 19th
Moundsville, AL to Thomasville, AL
Distance: 72 miles
Weather: 60 in am, 85 in afternoon and sunny
Woke up at 7 and was on the road by 8:15. I was primarily on two roads all day. And they were completely different. The first was 69 South for about 20 miles. This road was terrible. No shoulder and lots of morning traffic. I rode this highway right into Greenville.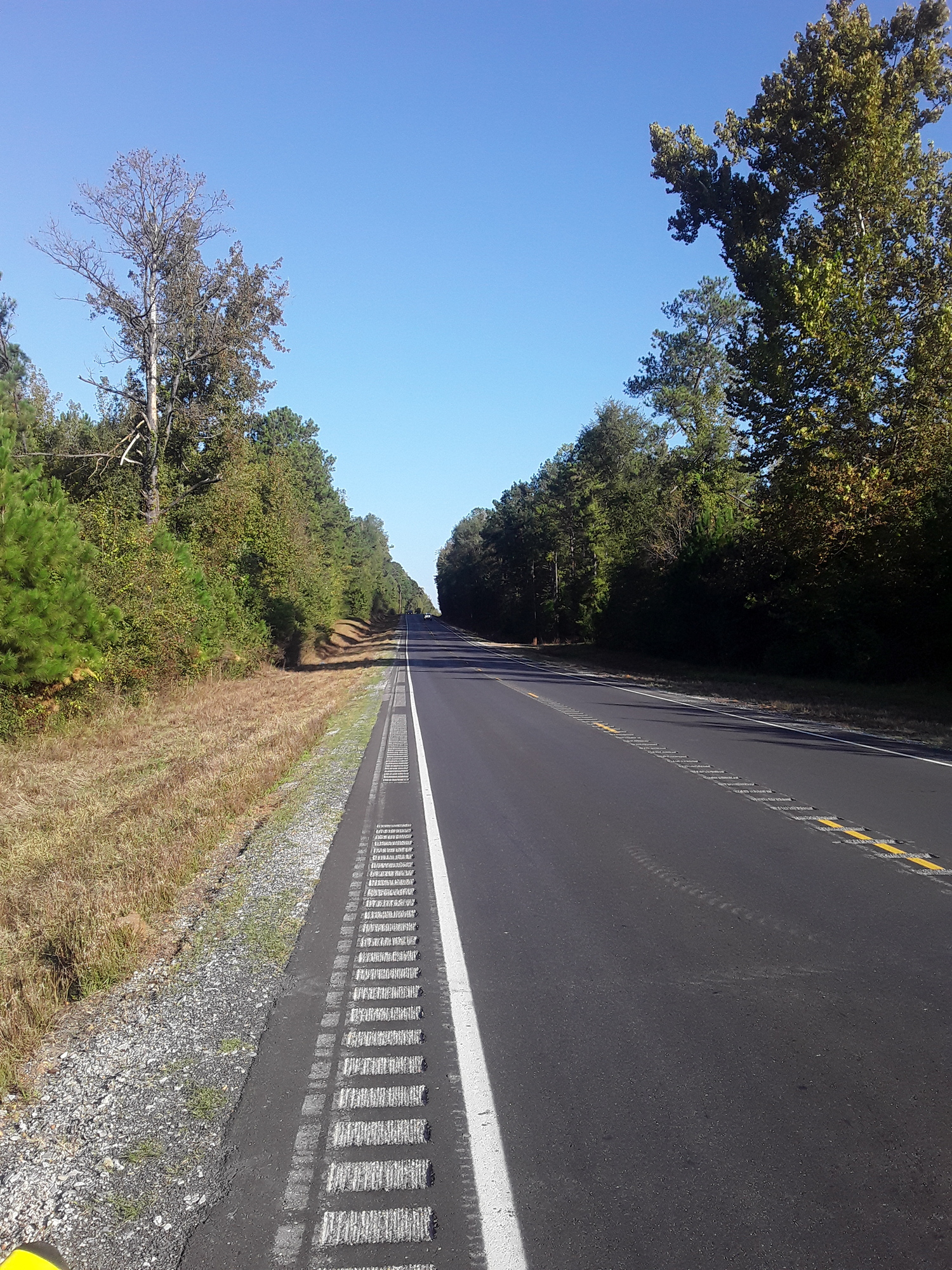 An unusually nice section of highway 69

Greenville is a larger town for Central Alabama. While there I resupplied at the local grocer with a couple days worth of lunches and more instant coffee which I was short on. They didn't have my usual cafe bustelo so I had to go with folgers.
The second road I picked up was 25 South which I picked up as I was leaving Greenville and was on for 52 miles. This road was extremely rural. In addition to the change in traffic there was a dramatic change in topography of the landscape. North of Greenville was fairly hilly. South of Greenville the landscape flattened considerably. It was much more gentle riding. Much of the land was forest mixed with farms and many of the farms had large lakes on them where they were stocking fish. I'd never seen anything quite like it. I was in new and uncharted landscapes.
Flatland and farms with lakes typify my ride south of Greenville, AL

Now when I say rural I mean rural. There was one gas station and a couple churches during the entire 52 mile stretch. Also I was clearly a minority in central Alabama.
Another change has been the fauna. Of course as a cyclist I see dead animals many times only half of them on the side of the road alot more often than living ones. There are armadillo in Alabama. That was news to me. Also the snakes are bigger. I saw one monstrous 5 inch diameter rattlesnake that had been run over. Finally it seems that the southern ants are more industrious or smarter or both than northern ants. The ant hills on the side of the road are huge. Some of them are 9 to 10 inches high! (I will get a picture tommorow) Northern ants have alot to learn from the southern ones. Oh, and dont step on an ant hill because you will spend 20 minutes trying to get them all off your leg and sneaker. They bite too. I speak from first hand experience.

Last, in sequence but most important of anything I've ever said, I know why all the cows have been staring at me and the dogs barking since I left Michigan 19 days ago. They realize just how insane riding ones bicycle across the country is. Fully loaded with camping supplies and solo to boot. Up endless hills with cars whizzing by sometimes less than a foot from me. The dogs have been trying to warn me and the cows just stare as if they are perplexed as to why one would do such a thing. I get it now.


I'm currently in the only large town I've come to today some 72 miles after leaving Moundsville. I'm in Thomasville. Thomasville strikes me as a suburban dump but their motto says otherwise. Alabama's success story. I came into Thomasville on 5 South after riding 52 miles along 25 South. By all accounts, 5 south coming into Thomasville is anything but a success story. The entire road is ripped up. It is a disgrace of a road. Terrible roads whether it be no shoulder, ripped up roads, harrowing traffic, people honking, or people throwing dr pepper cans at me has become thematic of my riding experience through Alabama. Add to this, no state parks for camping.
As a cyclist and a classic rock fan, I'd say Neil Young was closer to the truth than Lynyrd Skynyrd when he sang about Alabama.

As for camping tonight...well, its 8:25, dark, and I still dont have anywhere to go. The police said they'd get back to me about a place I could camp. That was two hours ago. So I'm just hanging out at the local Walmart.
All will be well.
Today's ride: 72 miles (116 km)
Total: 1,066 miles (1,716 km)
| | | |
| --- | --- | --- |
| Rate this entry's writing | Heart | 7 |
| Comment on this entry | Comment | 8 |