July 31, 2022
Day 100, to New Meadows: Early bikers get the views
Highway 95 curves to the left, with a little orange blur that is Dani ahead, just before the road disappears around the curve and down through the Salmon River Canyon. A faint pink and blue sky is getting increasingly brighter. The tops of a couple of buildings, including a not-yet -open coffee shop are visible straight ahead.
Sunday stats
Start: Slate Creek Recreation Area, Idaho
End: Hartland Inn, New Meadows, Idaho
The Daily Progress: 54.7 miles
Cumulative climb: 4572 feet
Cumulative descent: 2188
Elevation at endpoint: 3883
Ice cream flavors: An Oreo blend for Chris and a vanilla cone for Dani at the A&W. Later, we wanted another round and returned but the A&W was closing, so we got a pint of Ben & Jerry's Tonight Dough — and we very, very hesitantly passed up the chance for a Choco Taco, which has been discontinued. The Tonight Dough was excellent, but I'm still torn over this decision.
Lodging expenses: $106 at the Hartland Inn.
Food expenses: $101 groceries in Riggins on the way, $2 for seltzer, $28 for dinner at Subway, $5-ish at the Family Dollar (water and a breakfast burrito for tomorrow) and roughly $13 on ice cream on two separate occasions because it was available and boy do we love ice cream.
Sunday's story
As I often do, I awoke in the middle of the night because I was cold (apparently, this happens even when the low temperature was still supposed to be a very nice 71 degrees!), and I reached out of the hammock (yup, it's been really hot and I've opted to sleep in the "normal" hammock rather than share the tent) and I grabbed me sleeping bag to cover myself with. In the process, I noticed the clearest view of the stars and marveled at the Milky Way. I reflected on the fact that all the stars we see are just the ones on this side of the galaxy and there's a whole band of them way, way out there, and they are so far that they appear as a cloud of faint light. And all that is just our galaxy. I know it's not a surprising statement, but damn, the universe is big.
And I feel back to sleep, only to be awoken with a jolt about an hour later by Dani's headlamp in my face. "Mate? Have you made any progress?" she asks, referring to my progress in getting ready for the day. What?
We had agreed to wake at 3:30 (Pacific Time) this morning because we had a lot of uphill riding in store for us today and we wanted to get it all done by midday, before the 100-degree heat really kicked in. Dani's phone apparently had connected to the wrong time zone, so she got up at 2:30 and packed up the tent and a bunch of her things and then discovered me still snoozing in the hammock. She let me sleep until it really was 3:30 Pacific (not that it helped that much; it was quite difficult to fall back to sleep), but then we rallied and were ready to roll at 4:15 a.m.! Go, us!
Of course, thanks to the bizarre ways that time zones are divided, we would find ourselves riding back into Mountain Time because we were headed into southern Idaho. So I guess we left around 5:15 if you look at it that way.
In either case, it was still dark this morning and that was the novel part of today — riding through dawn in is entirety. The canyon along the Salmon River kept us in the shade for much of the morning. We were surprisingly stiff after all the climbing we had done yesterday, so today's ride was pretty slow, as it was almost all uphill, just not as steep as yesterday's climb. But it was very pretty and satisfying.
We ultimately settled in the small town of New Meadows, where many establishments are closed on Sunday and where there was a suggestion from the health department not to drink the water (easily solved by buying gallons of water at the Family Dollar, just kind of ironic that the one thing you need most on a hot day was not really available). We opted for a motel mostly because I really felt like we needed a shower but also because I think I'll get a better night's sleep here than I would at the camping options, and now I'm going to go test that theory very thoroughly. Good night!
Dani's daily digest
One of my superpowers is waking up when I want without an alarm. Chris and I agreed to wake at 3:30, and my eyes opened at 3:28. I packed up my things in the tent and then went to check on Chris in the hammock.
"Good morning," I whispered. "Just seeing if you are making progress." He startled awake into the glare of my headlamp. "What time is it?" he asked in a panic. "Almost 4" I answered. "What?!" he asked. He checked his phone. "It's almost 3."
Apparently my phone was on mountain time. Oops! I let Chris sleep until his alarm while I lay on a picnic table counting satellites (4) and meteors (3) in the clear night sky.
It was still dark when we departed at 4:25 (let the record show that Chris was ready to go at 4:15). I wondered if the passing motorist thought we were aliens -- blinking humanoid figures with bulbous heads gliding across the desert. Salmon River canyon turned blue then pink then gold as we rode along. Motivated to make miles before the intense heat of the day, we did not stop at the interpretive signs we passed. Sigh.
The morning's chronological confusion continued when we reached Time Zone Bridge, where the time zone changes back to Mountain Time. We "lost" an hour, but that meant arriving in Riggins just as the supermarket was opening at 7.
The dominant industry in Riggins is whitewater rafting tours, so the grocery store was well-stocked for outdoorsy activities. We had a diversity of sunscreens to choose from (most rural grocery stores carry just one brand, if any) as well as a respectable assortment of dehydrated meals. We bought breakfast foods and provisions for the road.
Even though the temperature at the time of our departure had been a warm 70 degrees (10 degrees warmer than the starting temperature of our other hot days), it was not climbing rapidly. The canyon wall and a thin scrim of clouds provided shade. This was a blessing, since both of us found our legs to be way more tired from yesterday's ride than either of us had anticipated. We took a break after 35 miles and goaded ourselves to keep going by promising ourselves another break 10 miles down the road.
During the ride I saw what I think was a mink (or maybe a weasel?) on the side of the road. I also saw a bald eagle and two cool but unidentified raptors. Chris saw a turkey and a turklet and declared the turklet "not cute."
The last 10 miles to New Meadows were a little easier. We passed a sign informing us that we were at the 45th parallel, halfway between the equator and the north pole. I appreciated being reminded that we live on a big, spherical rock.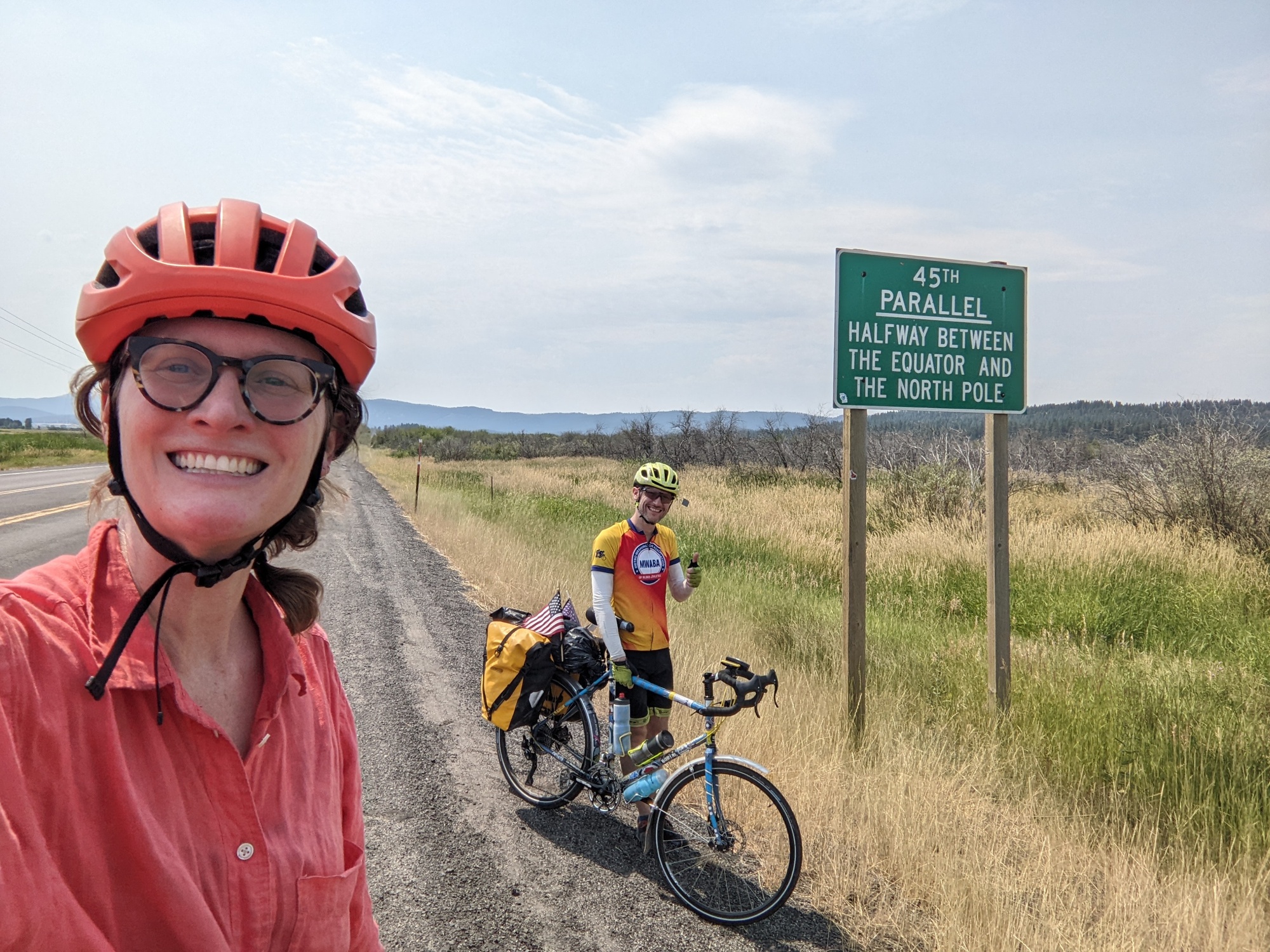 Dani snapped this selfie: We're on the side of Highway 95, Dani on the left, me standing in the center and holding Blue and giving a thumbs-up. At right is a green road side that reads: "45th PARALLEL. HALFWAY BETWEEN THE EQUATOR AND THE NORTH POLE."
New Meadows had a handful of intriguing restaurants and cafes, but most were closed because it was Sunday and the rest were closed because of a boil water warning. We got seltzers at a convenience store and ice creams from A&W, then waited until we could check into our motel at 3.
The motel was an extravagance but we were eager for showers. We got dinner at Subway, two gallons of water from Family Dollar, and Tonight Dough ice cream from the gas station.
And that was pretty much the day.
Today's ride: 55 miles (89 km)
Total: 3,636 miles (5,852 km)
| | | |
| --- | --- | --- |
| Rate this entry's writing | Heart | 4 |
| Comment on this entry | Comment | 0 |