August 18, 2020
T-0: Still Haikou
ShopCat is already learning important cat jobs like standing on the keyboard
So, the bike should be ready tomorrow.
I've been to the bike shop and confirmed that I can fit two Manything cages on one side of the fork so, as soon as I buy two more Manything cages, I can try out dry sacks strapped to my fork instead of front panniers. The bottlebags were a fun experiment (and awesome in how cheap they are) but ultimately far too difficult to get in and out of.
I'm trying to find a good compromise between my preferring to have as much weight as possible on the fork and my not especially liking the smell your stuff acquires when using waterproof bags.
For this trip, since I'm back to carrying a sleeping bag and camping supplies, I'll be using two of my old sets of cloth Vaude panniers. I bought a new pair secondhand on Taobao but they turned out to be the same size as the larger of my old pairs so I can't have 1 large and 3 small the way I'd intended.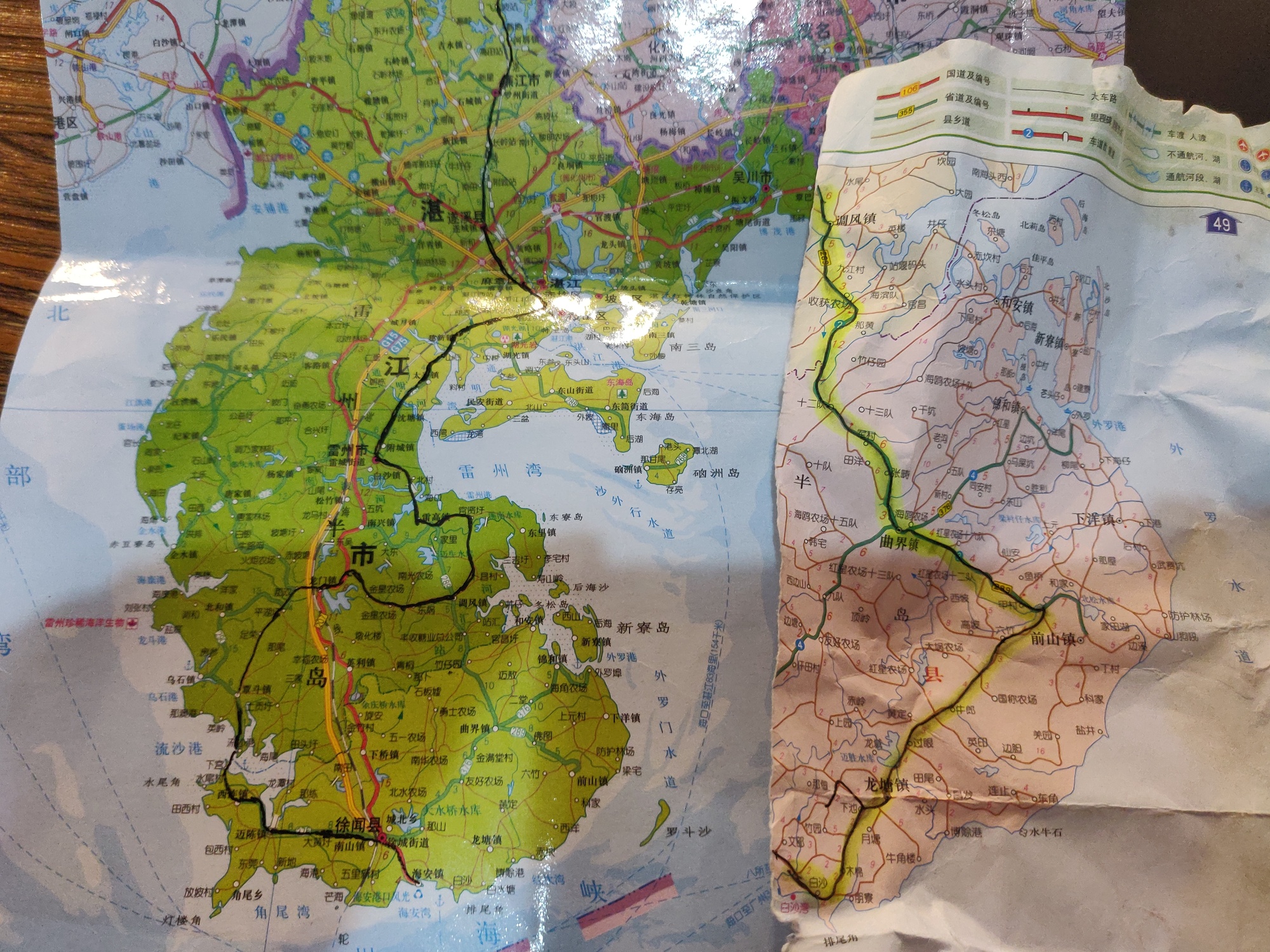 What I said before about remembering more detail on the maps, an old scrap found in the stuff at the shop indicates that's because I've been using larger scale ones.
So far I have owned a pair of Vaude Roadmaster Front (approximately 2006 - 2014) which are currently retired to the US where they never get used, a Vaude three-in-one Karakorum bag (2008 - 2014) which might be in the US or might have been given away, a full set of Krangear waterproof panniers (2014-2015) which are in perfectly fine condition but which I never use because I don't like waterproof panniers, another pair of Vaude Roadmaster Front (2012 - present), and now two sets of whatever the Vaude rear panniers are I've now got (one 2016 - present, and one shit-this-is-the-wrong-size from last week).

Something tells me, if I go begging for sponsorship whenever the Amsterdam to China trip happens, given my obvious preference in panniers, I should talk to Vaude.
I spent the morning actually packing stuff, convincing myself that I really don't need to bring any of the bike shorts with holes in them (that some of them have been mended enough that I really ought to just throw them out), getting my panniers mended, and going to the dentist.
I don't particularly enjoy going to the dentist but the temporary filling I had put in in Thailand in February when I broke the previous filling is starting to make its actual temporary nature increasingly obvious and I needed to do something about it before taking off for three months.
It's a good thing that a typhoon is coming and I won't be able to cross to the Mainland (ferry service cancellation has already been announced) as I've got to go back to the dentist on Friday. Apparently, hating to go to the dentist and keeping a one month filling in for 6 months has made the hole "icky" and he's stuffed my cavity with some kind of medicine and put a very temporary very rough filling on top of that. He'd actually prefer that I leave the medicated plug in for a week but since I'm not willing to do that, when I come back on Friday, I'll be getting a "you better come back here when you finish your trip" filling that will get replaced again.
I don't even want to think what something like this would cost in the US.
| | | |
| --- | --- | --- |
| Rate this entry's writing | Heart | 4 |
| Comment on this entry | Comment | 0 |