July 29, 2022
Introduction
This photo from September 2016 was taken from our first bicycling trip together in Burgundy.
My name is Jill (62) and my husband Dave(72) and I live in Central Oregon.
This is our first journal. Our plan for this journal is that I will do the writing and Dave will supply the the photos, since Dave is an excellent amateur landscape photographer. We shall see how it goes; we are both a little worried we will not be able to keep up.

Dave has been retired for awhile and I retired in the summer of 2019. One of our main goals for retirement was to travel the world by bicycle. A few things delayed the plan. For 10 years I suffered from a chronic ankle tendon condition that made cycling impossible and walking difficult and ultimately had two ankle surgeries in New York in 2018 in 2020 (and had a wonderful recovery!) And of course, Covid interfered as well! We kept ourselves busy by consolidating houses in Colorado and Oregon and by getting married in Mexico City just prior to the pandemic. Central Oregon was a pretty good place to weather the pandemic; lots of space and the ability to be outside, so we felt fortunate.
When the world began opening up I began plotting out a travel plan. Originally we planned to tour on our Comotion tandem with couplings (See pic above). We did a tour in Burgundy, France on the same bike in 2016 and had a great time, notwithstanding many unexpected twists and turns. However, we ultimately opted for a tamer, safer approach; we were over in Europe this March for a ski trip and purchased e-bikes which we left in a storage unit in Munich. The idea is to leave them there and go over every year for a 2 or 3 month tour (or whatever) with Munich serving as our departure base. I love travel and travel planning and I already have another 4 or 5 European cycling trips sketched out! Making the decision to move to e-bikes was hard. (Harder for me as I had previously toured extensively around the world on road bikes, but I am definitely the weaker rider of the two and Dave was worried that I would not be able to manage the mountains and distances. The e-bike decision has made things less stressful to plan; we have more flexibility in how much mileage we can do, more confidence in doing significant elevation and we can carry a little more gear. Given Dave is a photographer and and a tech guy who needs his tech stuff this was helpful. The tandem was great (we always arrived together) but limited our ability to hop on a train in a pinch. And, the reality at the end of the day is that we are not trying to impress anybody; we just want to travel by bike!
Our first trip is going to be to Central Europe where we will be touring parts of Germany, Austria, northeastern Italy, Slovenia, bits of Hungary, the Czech Republic and then back to Munich. Here is our projected route below: we have booked our stays throughout but with the mentality that we can change or cancel places if we need to. It will be strictly credit card touring. In the future I hope we can be more flexible, but it seemed that because we were travelling in the peak of the season it would be better to book ahead. I will report more later on our plans.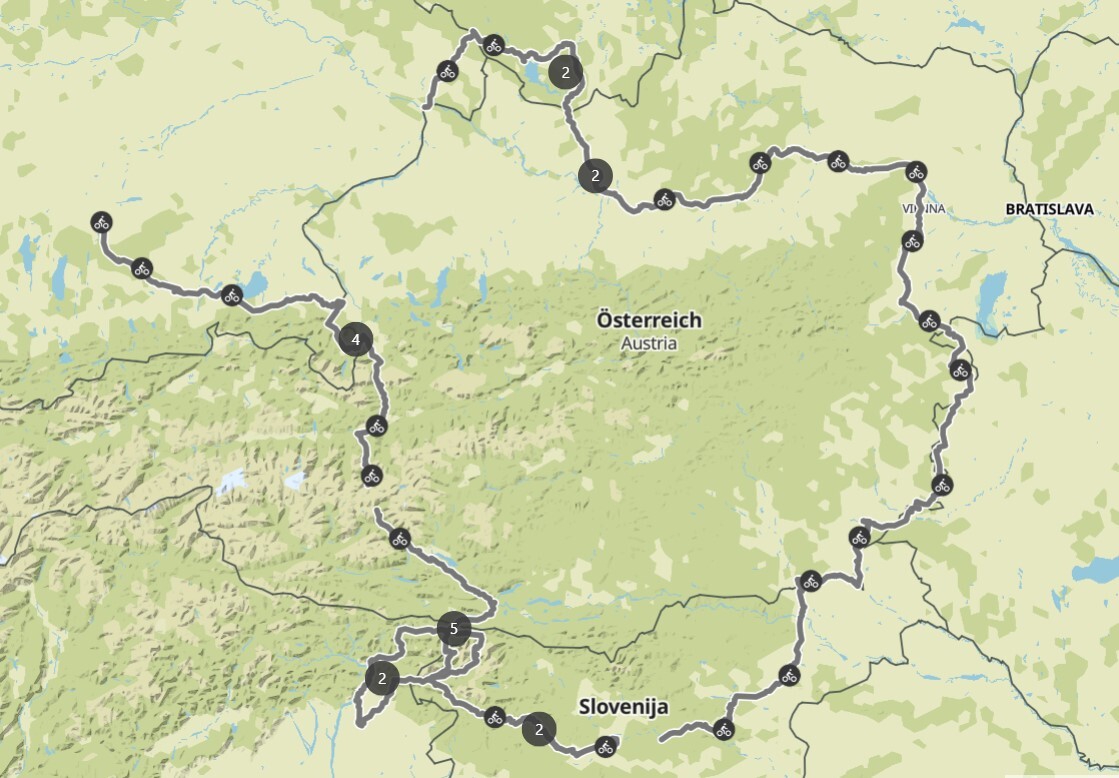 Here's our planned route.
Thanks for reading!
| | | |
| --- | --- | --- |
| Rate this entry's writing | Heart | 15 |
| Comment on this entry | Comment | 3 |