May 12, 2014
"To the memory of brothers and sisters lost"
IT'S OFF on the left as you ride into Hopedale, in Ohio. So far as I know, it's the only one in the world, there's nothing like it in cycling, and it's easily missed. It's the American national memorial to motorcyclists, "to the permanent memory of brothers and sisters lost."
"Yeah, it's really worth seeing," a woman had told me in a garage just before the town. I'd stopped for water after a hot and grinding epic over every hill that Ohio could find. I always thought the state was flat, but I promise you it's not. "Got a bathroom out back if you wanna freshen up a bit, too," she said, and she directed me through the work bay to a wonderful hole of a place that only men would dare to use. The walls were grimy, the top was off the toilet cistern, the basin looked as though it had cleaned motorbike parts and the whole air was of men whose object was to use the place and never clean it. I, of course, thought it was glorious!
So, you ride down the hill from the garage and turn left just before the rail bridge into Rabbit Road and then follow small blue signs. They take you into a park of a baseball ground and of guns parked outside a white bar for old soldiers. And then, further up the slope, the national motoryclists' memorial.
A white wall of waist height runs in a shallow angled curve with an engraving of two motorcyclists at its centre and names etched in both directions. Sadly, whereas war memorials know how many names to expect and fill the space, this wall pessimistically leaves room for the dead to come.
There are ordinary names and there are nicknames like "Mel (Don't Stop) Johnson" and the dates show they all died young.
The idea came from ordinary motorcyclists in 1992 and developed into a foundation the following year. There's no pretence that it names every dead motorcyclist in the area, of course, and still less in the history of American motorcycling. But it's touching, nevertheless, for what it is and for the simplicity of its execution.
I suppose it's good that there's no similar memorial to cyclists. It would be too poignant. And the risks we take, and above all the consequences, are far less. Motorcyclists die for as many reasons as anyone else but more often, I think, from the stupidity of others. We, travelling slower, don't run that risk.
I've always felt an affinity with motorcyclists, as though they were distant cousins. We travel differently but we neither of us travel like others. We are outside the system, not renegades of the road or anything like that, but of common blood. And my experience is that a motorcyclist will always offer help, will always know the way. Because he knows what it is to be different and sometimes alone.
To the permanent memory of brothers and sisters lost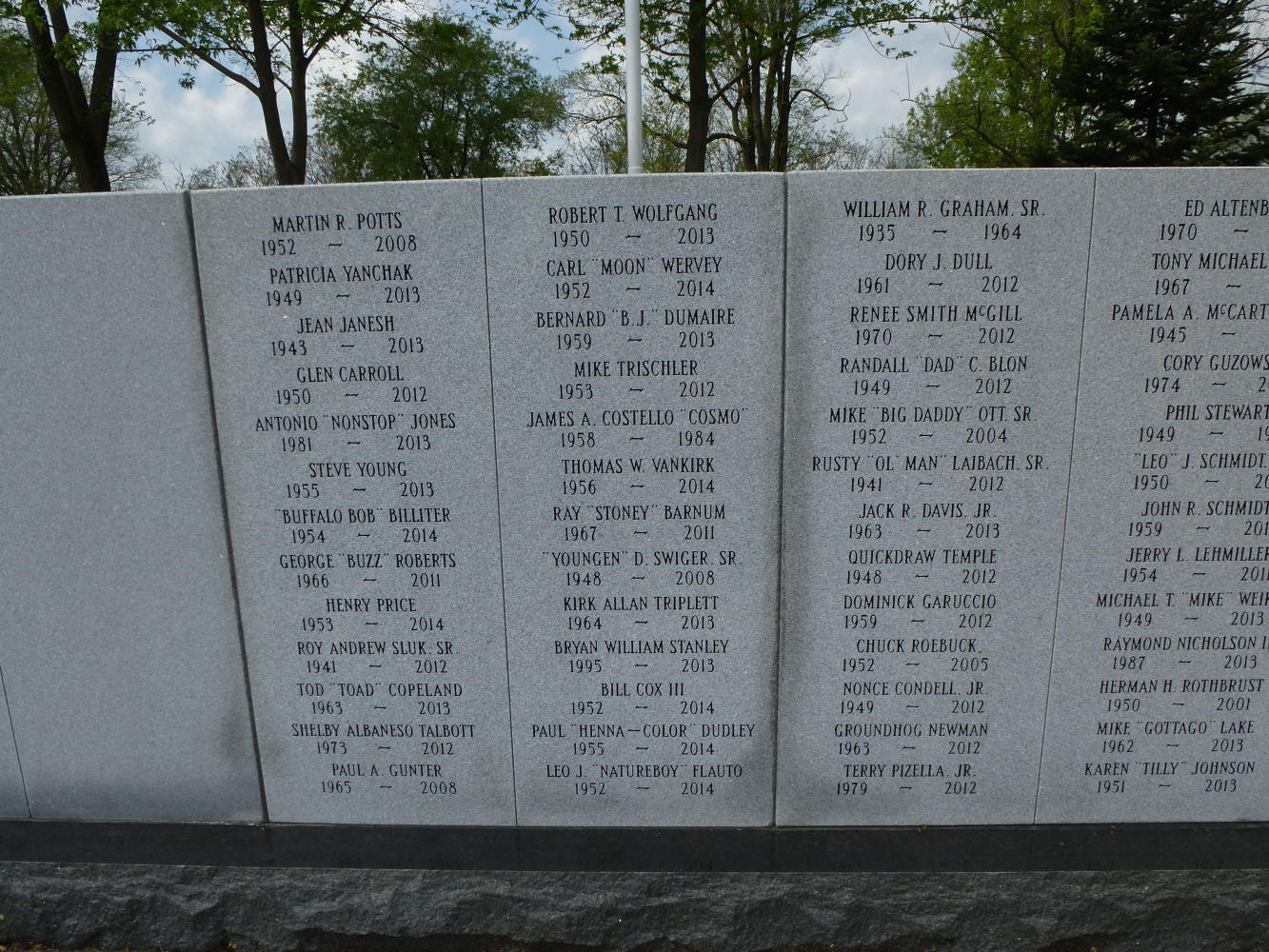 And they all died young
| | | |
| --- | --- | --- |
| Rate this entry's writing | Heart | 0 |
| Comment on this entry | Comment | 0 |