September 2, 2022
Cuidad del Este
The rain started pelting down in the wee hours of the morning and was still going hell for leather when we started preparing to leave. Eventually it eased off and at nine thirty we climbed on the bicycles and headed north holding thumbs that the rain would stay away. Apart from a few drops here and there we managed to stay dry until we got to our digs for the night.
Checking out of Argentina was quick and painless. As we crested a small rise on the Brazilian side of the Iguazu River we spotted three motor cyclists hastily moving some goods from their motorcycles to a delivery vehicle parked in a street near the road that leads to the border. The Brazilian border post is just over the rise so we assumed the goods weren't destined to enter Brazil via the official channels. On the Brazilian side we had to produce our COVID vaccination certificates, something the Argentinian authorities didn't ask for two days before. We also had to produce them an hour or two later when we crossed into Paraguay but the officials didn't even look at them.
It took visits to two bicycle shops before Leigh could find cycling shorts that fitted her. What she eventually found wasn't perfect but they will have to do. I couldn't find a wireless bicycle computer either so I will have to get by on a wired one.
Crossing into Paraguay was an experience to remember. Brazilians come here to shop because of the high duties they pay for imported goods in their own country. Much of what is bought is for resale in Brazil, once again bypassing the revenue authorities. The result is utter chaos in the main road leading into Cuidad del Este. We were so intent on staying alive that we never got around to taking any photos of the mayhem.
Paraguay is the twentieth country in which we have cycle toured.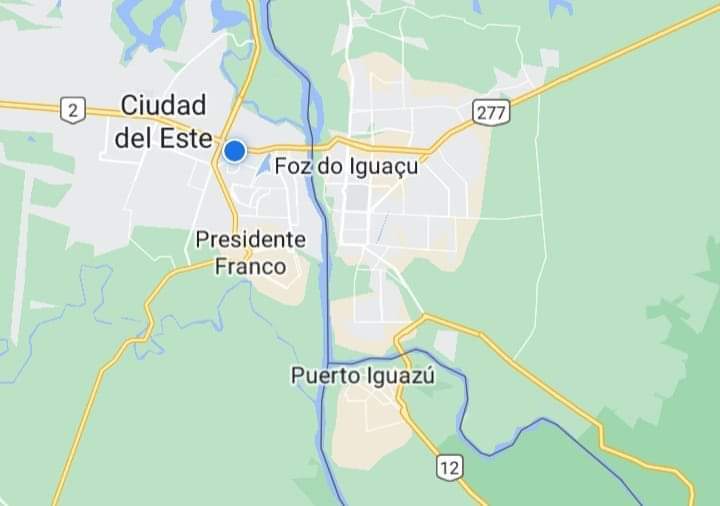 Argentina, Brazil and Paraguay lie cheek to jowl at the junction of the Paraguay and Iguazu Rivers. If we had played our cards right we could have have had breakfast in Argentina, breakfast in Brazil and supper in Paraguay. Unfortunately lunch was had from a giro stand on the Paraguayan side on the border.
Our digs for the night is the Hummingbird Hostel, a real old backpacker's place. It pretty simple but at eleven US dollars for the night for a private room with a kitchenette we aren't complaining.
After checking in I wandered off to get a data sim card for the next two weeks. At least I think I have one. Communication with the staff at the cellphone shop wasn't that easy but even if I got it wrong it only cost forty thousand Gurani for what I hope is a gig of data. I still need to sort out fuel for our stoves, particularly since we will most likely be camping tomorrow night.
The past few days of being normal tourists has been enjoyable but hopefully we will start real cycle touring tomorrow.
Today's ride: 23 km (14 miles)
Total: 57 km (35 miles)
| | | |
| --- | --- | --- |
| Rate this entry's writing | Heart | 6 |
| Comment on this entry | Comment | 0 |