July 28: Newhalem to Sedro-Woolley, Washington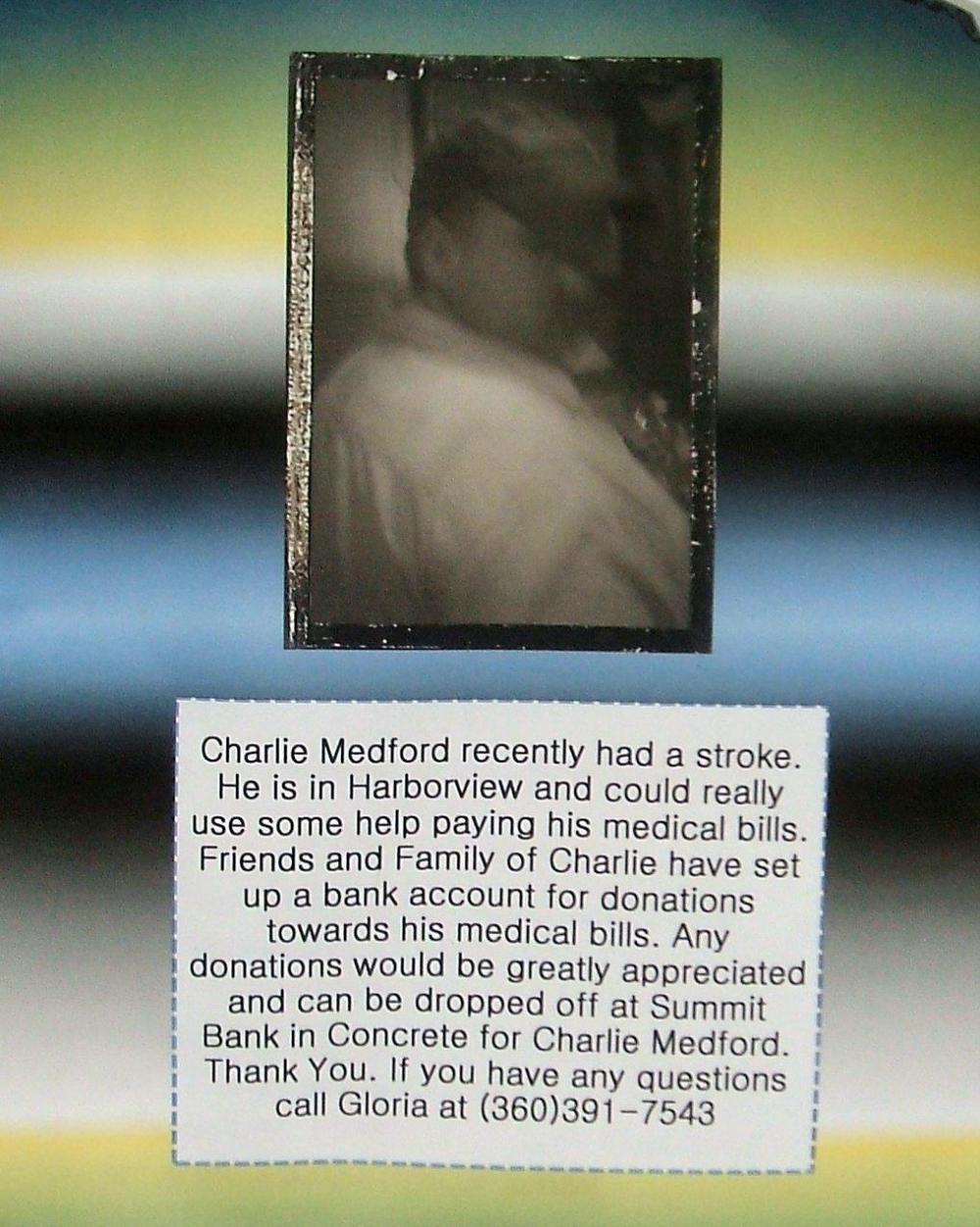 Maybe it's because we're Europeans and Europeans look after their sick, but we were shocked.
A MAN HAS TO SUFFER many disappointments before his life is full. Today we added another. All across America, for months, we have been looking forward to the self-kicking machine at Rockport. It was the mixture of futility and pain that appealed. It so summed up the ethos of cycle-touring.
In short, the machine was a wheel to which half a dozen boots had been attached. The only way to turn the wheel was to stand within range of the boots. There have been many inventions in our time on this planet but few so gloriously pointless. And for that reason we wished to celebrate it.
We knew it stood in the forecourt of a garage at Rockport and it didn't take long to find there was only one garage. But the wheel was gone. "Done for by the snow, so they took it away," a middle-aged man with a wrinkled face apologised as he filled a truck the size of a battlecruiser. "Used to be right there." He pointed with his free hand at a mark in the tar at the edge of the forecourt.
It was such a disappointment. For weeks I have chided Americans for knowing many things about their country, like the year of independence, Abraham Lincoln's birth date and Richard Nixon's table manners, but not that their nation boasted a self-kicking machine. Now I will be held up as a teller of tall tales. As if...
We camped last night in a fairy tale campsite among trees outside Newhalem. The town, or rather the village, is owned by the local power company and its influence has ensured that electricity cables scar the entire valley. The campground is set back from the road and organised in loops, each tent space then set back from the path. Deer roam unafraid of humans and stand with sad eyes as steam rises from morning coffee pots.
We rose a little later than usual, bade goodbye to Tim and Jill as they continued their motorbike tour, and then set off along cable heaven, gently down to Marblemount. Now, there is a law that tourist offices will be closed when tourists are in town, generally in the afternoon. In Marblemount, the rule of the three cafes is that they will stay closed when visitors want coffee and sticky buns.
And so, deprived of a second breakfast there and a sound shoeing in Rockport, we rode on saddened and deprived for lunch in Concrete.
The duller story about Concrete is that it owes its name, and its concrete main road, to the rivalry of companies that set up towns on facing sides of the river. Neither wanted to relinquish its name and see the opposition gain when the communities voted to merge. So, with much good sense but great dullness, they named the combined town Concrete.
The obligatory Concrete picture. No imagination, that's me.
The other story goes back to when Orson Welles' radio theatre company broadcast an Americanised version of War of the Worlds one halloween before the second world war. The planet was jittery and news of space invaders coming to earth on the east coast seemed the more believable. The tale had just reached the point where Martians were doing their worst with poison gas and heat rays when the electricity substation in Concrete fused with a flash. The town fell dark and radios cut out just as Welles' reporter had fallen suddenly silent as the little green men drew closer.
There was panic. People packed their cars and took to the mountains. A man was reported to have run two miles without shoes to get, well, to get just anywhere that wasn't Concrete and its newly arrived Martians. A religious man filled his car and declined to pay, saying "It'll make no difference - we're all going to die", and then drove 45 miles to Bellingham for absolution from his priest.
I assume that eventually everyone returned bashfully and that we must hope that the man of religion saw fit to pay his fuel bill and ask forgiveness.
American country roads have such wonderful names.
The route from Concrete to Sedro-Woolley takes a back roads to avoid Route 20. It is a bad choice. The scenery is pretty, trees and fields and birds and streams, but the road is in a miserable state. I don't know what it is like along the 20, except that it was fine as far as Concrete and had a good shoulder, but I can't believe it could be more joyless than this back road.
Tonight we are camped in the riverside park at Sedro-Woolley, a town - to judge by contact with the police, librarians and campsite attendant - is staffed by people who straighten their eyes and remove hayseed from their teeth before thinking. The campground is small and pleasant if without showers. The man who runs it lives in an RV across from our tent. His opening words were to apologise for "not having my teeth in because I've been eating ice cream." His next were to warn against using more than one table.
Or else.
AMERICAN FLAGS SEEN: 51
| | | |
| --- | --- | --- |
| Rate this entry's writing | Heart | 1 |
| Comment on this entry | Comment | 0 |