July 19: Libby to Cabinet Gorge, Montana
LIBBY IS A TOWN on its knees. Not economically, so far as we could see, but uncommonly provided with churches, meeting halls and panels showing the Ten Commandments.
Now, there's not much to dispute with the Ten Commandments as a general guide but the rest of the sign disappoints. The panels all look the same, and I assume they are turned out in some central sign-writing factory and then sold mail order to anyone who thinks the world is waiting for an update. Nobody has thought, it seems, to point out that the warning "The wages of sin is death" may be terrifying but lacks something grammatically.
Well, today was one of those days that got better and better. We left under cloud and then in showers. We were trapped once more on US2, although descending lightly and on generous if not immaculate shoulders. A single line of railway ran to our right below us and every ten minutes three orange beasts of locomotives pulled a mile-long freight train our way. A fourth engine pushed from the rear.
Some while back we heard that drivers, or engineers as they're known here, had their own personal hoots. Back in Wisconsin, where cliffs ran parallel to the track but 500 metres away, at least one driver hoots every few seconds for the pleasure of the echo. Here, though, drivers have lost enthusiasm. They have to - or at any rate they do - hoot three times for every level crossing. Since there can be crossings every few hundred metres, it must be hard not to abandon creativity for pure pragmatism.
We left US2 at the top of a puffer of a hill. We turned left in a shower, alongside bored controllers waiting for a boat trailer to pass so they could examine it for "invasive species." We were on the road for Cabinet Gorge. For an hour we were in a tree corridor, our view only occasionally wider than the edge of the conifer curtain. But then the trees thinned and fell back and we were in a marais, a gentle, wide valley of bright, fast streams with shingle beds. They ran through grassland of a deep, soaked green that glowed in the sun.
America is restoring her wetlands.
America is restoring her wetlands, signs told us. America should feel proud of itself. Not only is it returning land to the creatures and plants that used to occupy it but it is recreating a landscape of gentle beauty and peace, of water running here and back between shallow grass banks which call for boys in short pants to catch minnows in cans.
"The most beautiful countryside of the ride," Steph said. "Prettier than Going-to-the-Sun and better for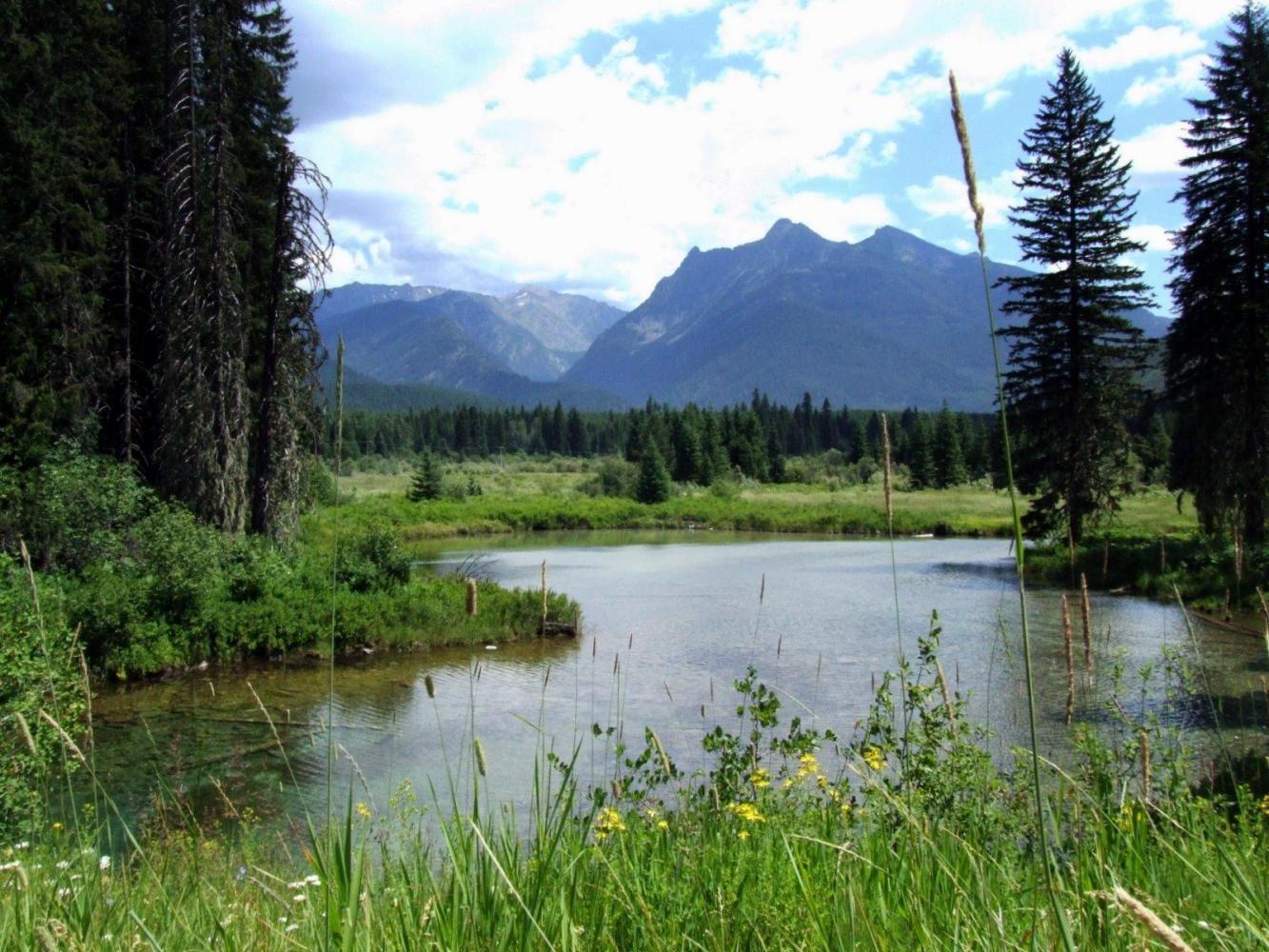 being less touted as a tourist attraction." The scenes amounted to false nostalgia, for a world that never was that good. Except that nostalgia wasn't needed: this existed right now, beside and all around us.
We are camping tonight at the RV park at the foot of the gorge. The village is a quiet place, fairly small, where one road dives to meet the route to Clark Fork and on to Sandpoint. Tomorrow's route, in fact.
AMERICAN FLAGS SEEN: 30
| | | |
| --- | --- | --- |
| Rate this entry's writing | Heart | 1 |
| Comment on this entry | Comment | 0 |