May 11, 2011
Day five: Narrogin to Wagin
Got started about 08:30 in the morning and rode the 10 km into Narrogin - mostly uphill. Got a hot breakfast and a large black coffee in a local cafe. From Narrogin it's about 50 km straight south to Wagin. I was stil lon the narrow two lane shoulderless hiway. I think I'll stop mentioning it from now on as I'm thinking this will be the norm for the rest of the trip. Luckily and thankfully almost every driver is very courteous and gives you plenty of room as they pass.
Had the easterly on my left shoulder for the whole day. And it was flat - ok mostly flat with a couple of hills here and ther to break the monotony. Got fly mugged occassionally on some of the steeper uphills when the breeze died down.
Didn't think I'd ever say that easterly had it's benefits. But it does keep the flies off and it also means there is a high sitting over the Australian Bight and there will be fine sunny weather.
Half way from Narrogin to Wagin is the community of Highbury - home of the best public toilets and rest stop in WA. I had a good spruce up and got on the bike again. Their general store is also a good spot for a cup of tea and you can sit on their verandah and watch the traffic wizz past and the day go by.
I saw my first cyclist - a madman on a road bike going in the opposite direction - we saluted each other as we passed. I guess he was out for a bit of exercise and a bit of excitement.... There is far less traffic on this road and far fewer big rigs, but it can still get a bit exciting at times. I had my first incident with a big rig driver - a prime mover hauling two long trailers. I guess he thought he'd see how close he could come to me without hitting me. Not another car on the road at the time and he had plenty of time and space to go wide around me, but he didn't. I was blown onto the gravel and I gave him a friendly Australian salute as he wobbled off into the distance. Glad he was a double and not a triple.
Anyhow, made my 60 km into Wagin by 2:00 pm and have settled down in the local Caravan Park for two nights, tomorrow is a rest day. I'm camping on soft grass tonight, so should have a better night's sleep.
My wife suggested bubble wrap for additional padding. I'm off to the post office tomorrow to buy a roll.
The Highbury roadside rest stop - you get to appreciate the little things in life like a clean loo.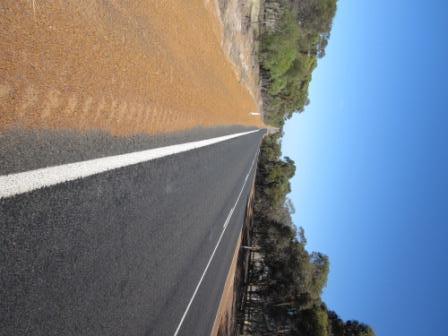 Massive paved shoulder to ride on....
Today's ride: 60 km (37 miles)
Total: 267 km (166 miles)
| | | |
| --- | --- | --- |
| Rate this entry's writing | Heart | 0 |
| Comment on this entry | Comment | 0 |