October 29, 2015
Sooner Than Later
It has been about three weeks since we stopped pedaling, having effectively reached the Atlantic, at Nantes . And we have been all the way back home for a week.

Three weeks seems to be long enough to lose a lot of conditioning, energy, and motivation and to make a good start on gaining back any weight lost in the previous 12 weeks. One week has been long enough to go through the accumulated mail, and go talk to our banker about whether we are broke now, or not.
Guess what - we're not! So doesn't it seem like about time to head back out on the bikes??
OK, we are looking forward to Christmas with the family. So what about January?
Now that raises a question we have grappled with for the past few years. Where can you cycle in Winter that is not in a crazy part of the world? "Crazy" in this context means "has a lot of cars, uncontrolled dogs, wars, or is crazy far away". Amazingly, those four conditions eliminate most of the world!
So that leaves us with ... Hawaii! Hawaii? Didn't we go there last year? Well, yeah.. Didn't it actually have a lot of hills? Hey, wait, hills was not part of cars,dogs, wars, ... And besides, the knees are feeling a lot better these days.
We have not 100% decided as yet, but watch for something happening soon!
Until then, bye for now, it's been a blast.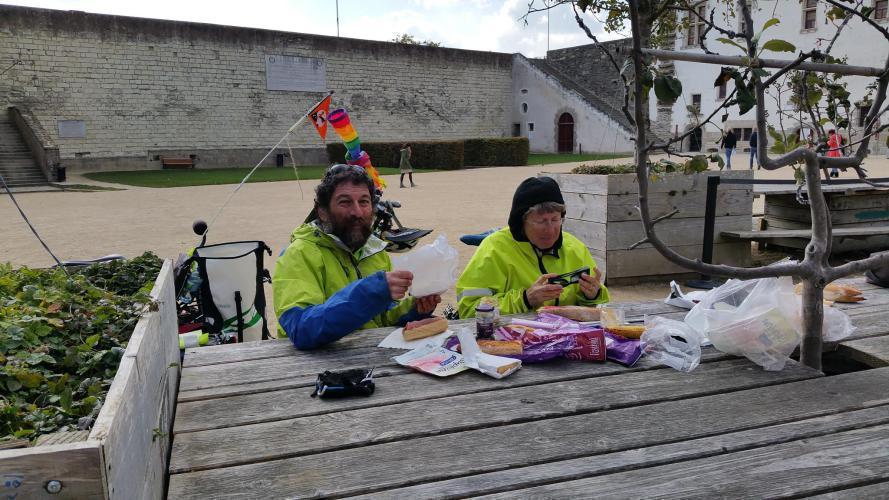 Bye for now - see you soon, somewhere warm.The Grampies. Thanks to Michel Fleurance for this photo at the Chateau of the Dukes of Brittany in Nantes
| | | |
| --- | --- | --- |
| Rate this entry's writing | Heart | 0 |
| Comment on this entry | Comment | 0 |