July 24, 2020
Day 7: Lincoln Rock SP to Swauk Creek Campground
We were all packed up and ready to go at 6:45am, when Sunyoung discovered that she had a flat in the rear tire. We took care of it quickly, and, fighting this headwind that never died, we made our way to the bridge just north of Wenatchee via a very nice bike trail.
Our only flat of the trip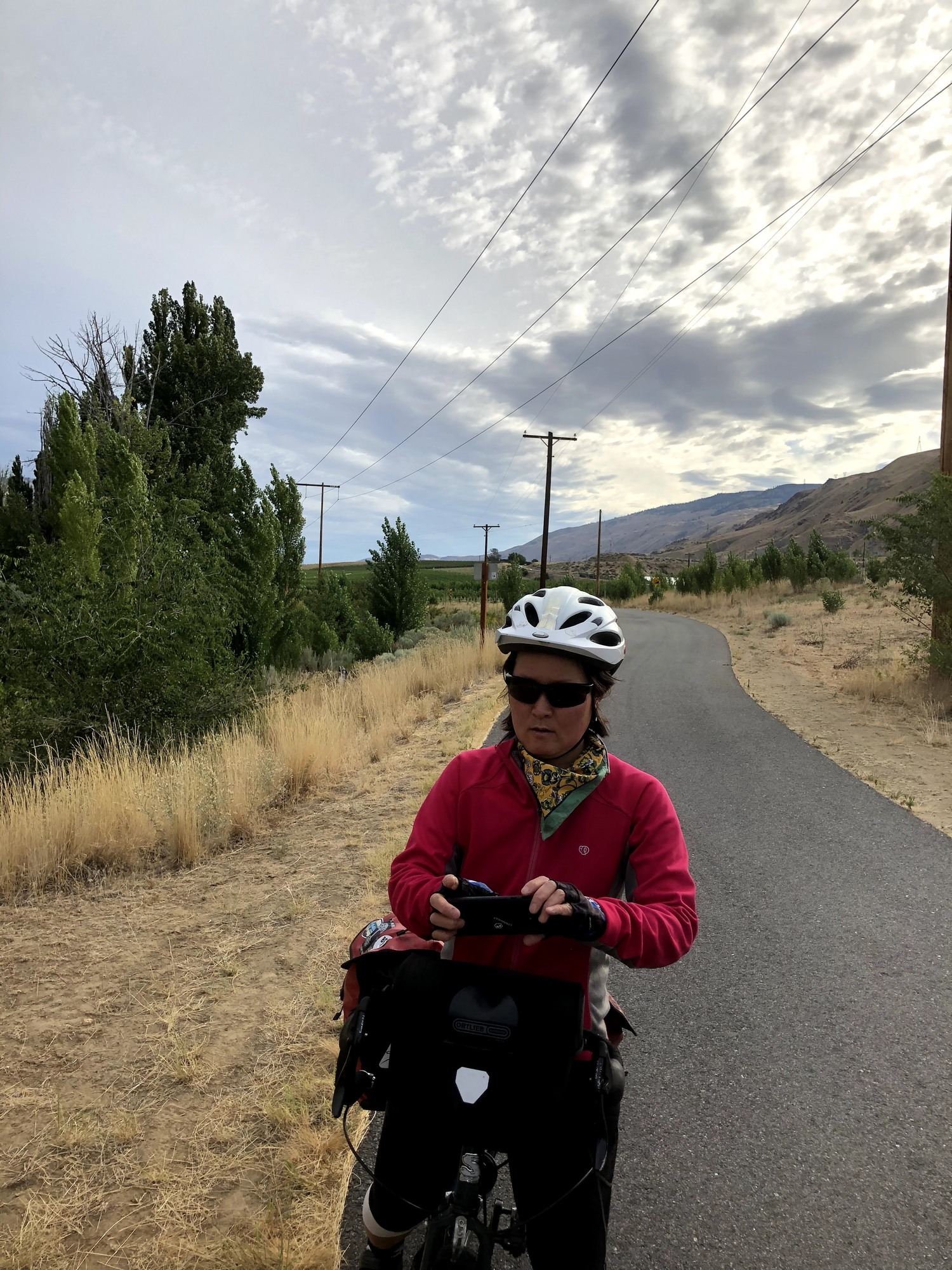 On the Apple Capital Trail
Headwinds continued on Highway 2, even though we were now headed west. We stopped in Cashmere for a snack. Although we had passed many fruit stands the previous day, this was the first time we actually bought some. The peaches were delicious.
Our fortunes turned for the better as the wind died down, and our energy carried us through the last few miles to the Highway 97 intersection. The grade was flat-to-mild all the way to our lunch spot, which ended up being "The Rock," a fancy beer and coffee joint with picnic tables conveniently spread around for their customers. We enjoyed our second iced Americano of the the tour.
Happy to run in to this lunch spot. It was a choice between this sunny spot, or a shady one with music blaring straight at us.
The road got a bit steeper, but nothing to worry about. I kept putting off the big decision of the day: stay on the main highway, or veer off to Old Blewett Pass Road, which, while supposedly paved, is designated as a lowly forest service road? Sunyoung and I discussed the pros and cons, and when when the moment came, we both felt good about the risks and decided to try the forest road. We didn't know what to expect, so here's what we got: a couple miles of easy, a mile or so of quite steep, 3 or 4 miles of consistent but manageable climbing, followed by a big bomb down the other side. The road was pocked with potholes, bumps, and rockfall, so we had to descend carefully, but it was still a lot of fun weaving around the hairpin curves and the various hazards.
The third obligatory pass photo: Old Blewett Pass!
Next decision was whether to track back uphill a little ways on the main highway to our chosen campground, or to forget it and look for alternatives further towards Cle Elum. Once again, we decided to go for it, despite a short stretch of construction that eliminated the shoulder. Sunyoung put forth her best effort, and we made it without holding up too much traffic.
I told Sunyoung that if there were no sites available, we wouldn't try to beg for space in someone else's site (which, to be honest, we've never done before), but we'd instead head down the mountain. Lo and behold, there were not one, but four sites available out of about 25. This was at 3:30pm. The NFS described this is a "light-to-medium use" campground, so I guess they're right about that.
The rate is a little high at $18. We got site #4, a good spot nicely distanced from the others. We had our own water spigot, which we took great advantage of by doing some laundry. All sites are close to the highway. It's not exactly a nature-lover's getaway. Someone left some sticks and one log at our site, so Sunyoung made a fire, which, much to my surprise, burned very quickly and cleanly.
We got really lucky with the weather. It feels like it never got above 80F, and there was almost always a cool breeze even in direct sun. Later on, it even became somewhat chilly. Standing next to the fire felt good.
The weather changed quickly, so we took advantage of the firewood someone had kindly left behind at our site.
Laundry laundry laundry
Today's ride: 46 miles (74 km)
Total: 363 miles (584 km)
| | | |
| --- | --- | --- |
| Rate this entry's writing | Heart | 3 |
| Comment on this entry | Comment | 0 |