July 20, 2020
Day 3: Rockport to Colonial Creek Campground
I love these glorious mornings when the world is still. Blaine, Logan, and Levi were still sleeping when we left. I forgot to mention that they're doing the Northern Tier, so they're at least heading the same direction.
Fog on the river and not-quite-dry laundry
Didn't know what to expect from Howard Miller Steelhead Park, but boy was it a nice place to camp
We were forced to take a detour to Rockport Cascade Road, which was lacking a shoulder but was otherwise just fine. We passed the Cascade Wagon Road campground, which I was rather curious about. It looked pretty primitive.
Just after we rejoined Highway 20, we approached two more bike tourists! One was lagging behind the other, so we alerted the frontrunner. They had their system worked out, and we left them both behind. Still, wow, so many riders on the road during this crazy time! It made me feel a little less guilty about taking this trip. It shouldn't have, but it did.
Proof that we made it to the park entrance
We leapfrogged with the other two bikers. When we passed them up again, the slower one was just making his way through a tunnel. We checked up on him as we passed. When we stopped to take in the view, the faster one offered to take our photo. His name is Laszlo. He and his buddy, John, are also doing the Northern Tier, and were heading over the pass today. That's a pretty tall order!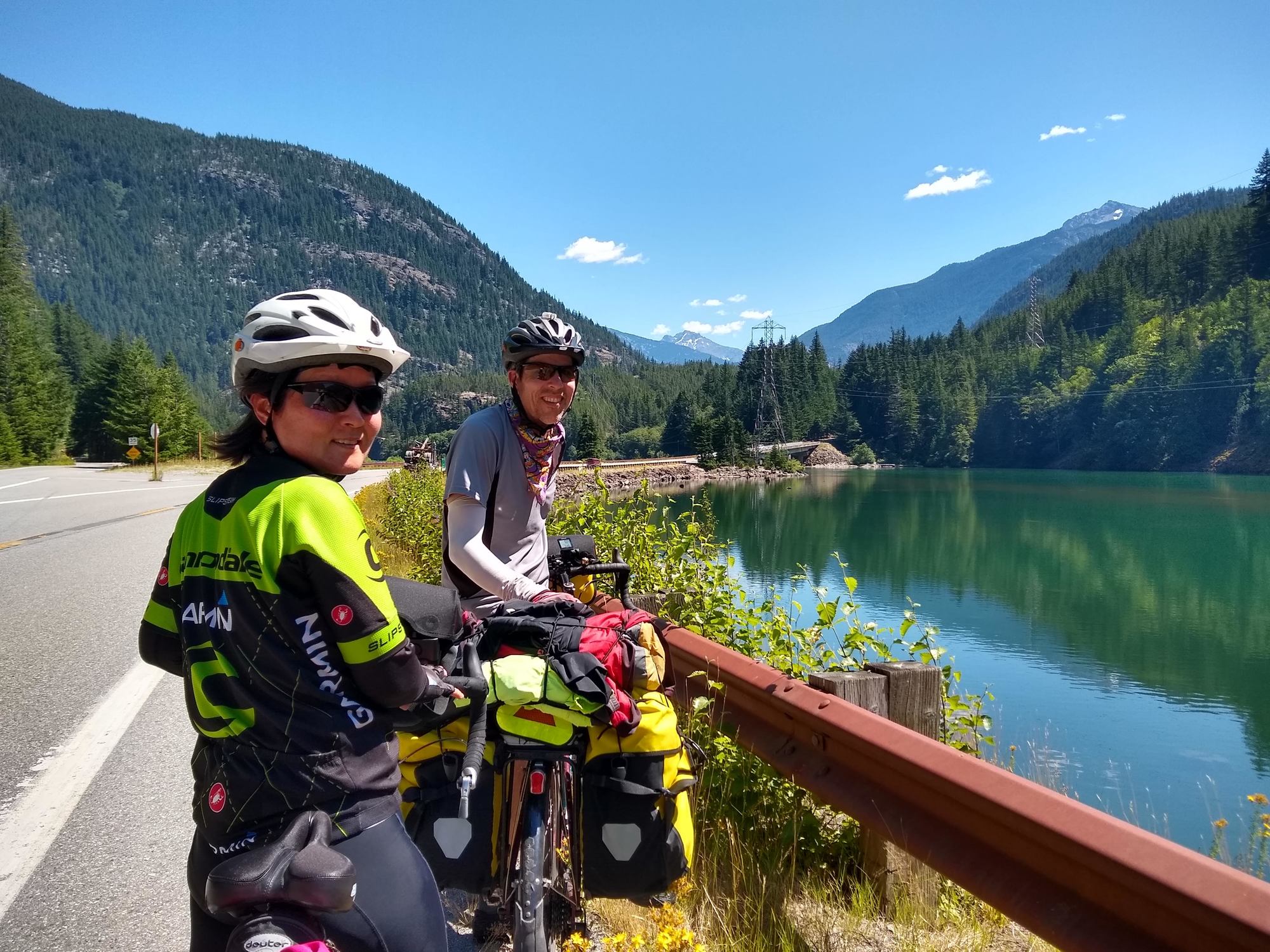 A tough climb followed by a pleasant descent and a nice view
We made it in to camp a little hot and tired from climbing, but otherwise in good shape. Some time later, Laszlo and John appeared, having decided to cut their day short. It was a good call on their part. They were given the ADA/overflow site next to ours. I chatted with them a bit. It turns out they had stayed at that Cascade Wagon Road campground. It was only $10, but the well wasn't operational, so there was no water. They had to ride up to the gas station to get it.
Cooling off at the lake
I was expecting to see Blaine and his crew, and sure enough, they came around too. We offered to let them camp in our site's parking spot, but they ended up finding their own spot in the non-reservable north campground. Then another guy, Rico, showed up. He's doing a Cascades loop too, only longer (including Rainier), and counterclockwise. Then, just before dark, a trio of young riders appeared, heading west from somewhere to beat the heat. We didn't have much time to chat with them. They and Rico all shared the parking spot. That's ten bike tourists all in the same campground at the same time! This far exceeded my expectations.
Wait -- those aren't our bikes! And that's not even our tent!
Today's ride: 38 miles (61 km)
Total: 153 miles (246 km)
| | | |
| --- | --- | --- |
| Rate this entry's writing | Heart | 5 |
| Comment on this entry | Comment | 0 |