January 4, 2007
Of dead men and heroes
Roubaix, Lannoy, Sailly, Péronne, Frétin, Avélin, Tourmignies, Attiches, Phalémpin, Carvin, Lens, Sallaumines, Lens, Nôtre Dame de Lorette, Vimy Ridge, Arras
With the significance that Paris-Roubaix gives Roubaix, most bikies expect a place of size and beauty. In fact it is nothing more than a suburb of Lille, the largest city of northern France and the equivalent of Manchester in England.
Far from beautiful, Roubaix is to Lille what the armpit is to the human body: indispensable but dark, unpleasant and frequently smelly. Alain said it is regaining confidence and prosperity but there are still depressed houses, abandoned factories, broken-down cars and high unemployment. Step out the train and you see someone has smashed the platform signs, that the buildings all around are covered in graffiti and wear and tear.
"I am attached to the Nord," Alain said of his region. "It is an area where people are hard and accustomed to hard work. That's why they created Paris-Roubaix and why it lives to this day."
Roubaix belongs really to Belgium. It is Flanders. But it has not the prosperity of Belgian Flanders but the problems of the Belgian south. And yet it can't always have been that way. You have only to look at the rows of workers' houses dating from the 19th century. These aren't shabby, brick-rotten hovels put up to accommodate human muscle at the lowest cost; there is a dignity to them, to the flourishes in the design, the glazed panels in bright colours.
If Roubaix loses its reputation, these will be once more gem houses, sought-after and beyond those who live there now. But that's Roubaix's problem. Make it there and you go off somewhere else. Alain is from Roubaix. He used to live on the last few hundred metres of his beloved race, which is how he fell in love with it. But now he's marketing director of La Redoute, Roubaix's huge mail-order company... and he lives in a nice house in a nice village a nice distance out.
Waiting for new trade: If Roubaix can lift itself from the gloom, its little town houses will be prized. Until that day, it waits...
Leaving Roubaix was simple enough and the next couple of hours passed in unusual sunshine, riding a gentle curve round Lille. I rode through open and windy countryside, then through a forest which provided welcome relief and pleasant scenery, towards Carvin. After that I was on main roads to Lens, where I had lunch before going to Maurice Garin's grave.
Maurice Garin was the winner of the first Tour de France, back in 1903. In Italy, where he was born, he was Maurizio. Then he became French, accompanied by some colourful but improbable story that his impoverished parents exchanged him for a wheel of cheese, and he ended up in northern France as a chimney sweep.
When this novel sport of cycle-racing came his way, this little man had a go and found he was pretty good. He won several big races, including the first Tour de France and then the second. There should have been nothing to stop him. Unfortunately it turned out his win in 1904 hadn't been entirely unblemished, that perhaps he and others had extended the concept of cycle-racing to include catching a train.
It was a bizarre race generally, ruined by its success. In just a year, passions had risen enough for thugs to beat up riders whose chances they didn't favour. Those with cars towed or gave rides to their favourites. And, so it seems, some simply caught a train.
Each day's race went on through the night and the following day and there were no judges to keep an eye on the riders. Anything could happen and probably did. It was moonlight chicanery that eventually persuaded the organisers to abandon night racing.
Garin long denied cheating but the French cycling federation never believed him, nor others, and the first batch of riders were disqualified. While later Garin nodded acknowledgement to what he'd done as a young man, he felt bitter at the effective ending of his career. He ran a garage on the edge of town - there's still a filling station on the site - and then retired. As he grew older, his tales grew more rambling.
I once met a man who'd known him back then, who wishes now that he'd listened more attentively. But he had been a small boy and Garin a boring ancient telling the same tales over and over. The boy itched to get away and, as soon as Garin had filled his container with the paraffin, he ran back in the street and to freedom.
In one of those odd twists, the little boy grew up to be a gravedigger at the cemetery at Sallaumines, on the edge of Lens. If not too many people died, it was a quiet life. Quiet enough to notice one day that Italian television had started filming one of the graves. The gravedigger wandered over and was surprised to find that one of his charges all those years had been the old man, the old winner of the Tour de France, who'd bored him as a boy.
I'd been to Sallaumines cemetery before. That's how I got to talking to the people who tend it. They told me that few people went to the grave, although more since news had got out, and that out of respect they gave it a sweep of accumulated leaves every so often.
"There's not a single memorial to him anywhere in France," one of them said. "It's a disgrace. If he'd been a politician or a pop star..."
I rode out of town and walked up the long hill to the Nôtre Dame de Lorette, admiring the cloudscapes and the pointing fingers of sun to one side and the sprawl of Lens and its slag heaps to the other. Lens had once been a thriving mine town but France's coal seams grew weak and the last mines closed in the 1990s.
Nôtre Dame de Lorette is a national war cemetery. The publicity, if that's the right word for war cemeteries, goes to Commonwealth sites with their rows of white stones designed by the man who placed the lions in Trafalgar Square and built the government buildings in New Delhi. It's easy to forget that Commonwealth troops fought mainly on the Western Front, bloody though that was. Almost all the rest of the line, all the way to Switzerland, was French. The French directed the war - Marshal Foch's grave is in Les Invalides in Paris - and more Frenchmen died than all the other Allied armies added together. The toll of dead and injured was something like one Frenchman in four and the long lists on memorials in every village tell the tragedy.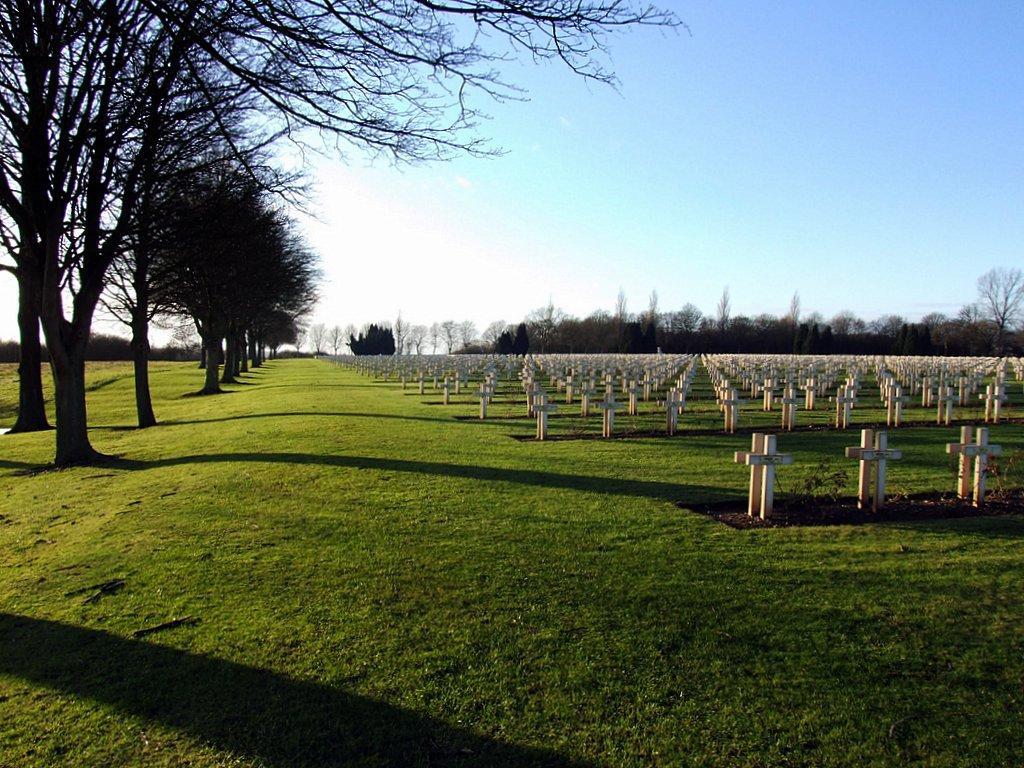 More Frenchmen died in the first world war than all Americans in all foreign wars since Independence
The French cemetery with its subtle wooden crosses was on the top of the hill, to one side of a site dominated by a huge memorial and a church put up by the women of France. Inside the church is a small plaque commemorating another winner of the Tour de France, a giant of a man called François Faber. He was such a legend that thousands turned out in the early hours to see him pass. No agony, no effort was too much for him.
Faber lived in Paris but his origins were in Luxembourg. When war broke out, he joined the French Foreign Legion. He was in the slaughter of the Chemin des Dames, a struggle to hold the ridge that dominated the area. In no man's land he found an injured colleague. Using his height and strength, the sporting hero lifted him in his arms and began carrying him to the French trenches.
Just metres away, a German soldier saw his chance. He lifted his rifle. There was a shot that Faber never heard and he fell, a bullet in his back, just one more name to be added to the millions.
Today's ride: 97 km (60 miles)
Total: 457 km (284 miles)
| | | |
| --- | --- | --- |
| Rate this entry's writing | Heart | 1 |
| Comment on this entry | Comment | 0 |