Where I'm riding, What I'm bringing...
...just to satisfy your curiosity
Where I'm riding
It's been said, "you can never go home again" and with this tour I choose to investigate that claim. To me, it means when you return home after an extended period of time, it's never the same. True, things will be different; places that I once knew may have changed ownership, they may be gone altogether, and memories I once had of a certain location may over the years been "enhanced" and really weren't what they were to begin with. So where exactly is this "home" anyway? Well, several places in fact.
Originally, I wanted to ride home to see my parents in Bucks County, PA. But the trip from the Atlanta, GA region was a bit to much. So I started to investigate Google's bike layer and found a "green line" indicating a bike trail snaking all the way north to the Lehigh Valley. Since Lehigh Valley was a home for me for 10 years, I knew the Bethlehem river trail connected me to Allentown. From there, another (new to me) trail went north into Jim Thorpe, and then the Lehigh gorge trail (a "home" tour training ride) went all the way into Mountain top. So there's about 180 miles of trail right there. And I'm investigating connecting them all.
That's the green line snaking from the upper left to the lower right. It's a combination of river trails and canal trails, and then bike lanes into Philadelphia
TO do this, I'm flying into Syracuse, then cycling across the Finger Lakes region to Ithaca, and then south along the Susquehanna river, crossing into PA, and then picking up a rail trail in Starucca, taking me into the Scranton area. From there, it's city bike paths and streets to Wilkes Barre, where I begin the big climb out of the valley and connect with another rail trail into White Haven, and through the Lehigh Gorge trail to Jim Thorpe. Then, it's a connection of bike paths following the Lehigh River into Allentown, then Bethlehem, Easton, and then linking up with the Delaware Canal towpath all the way to Bristol, where it turns into dedicated bike lanes into Union Station in Philadelphia. Did you get all that? If not, here's a map of the route: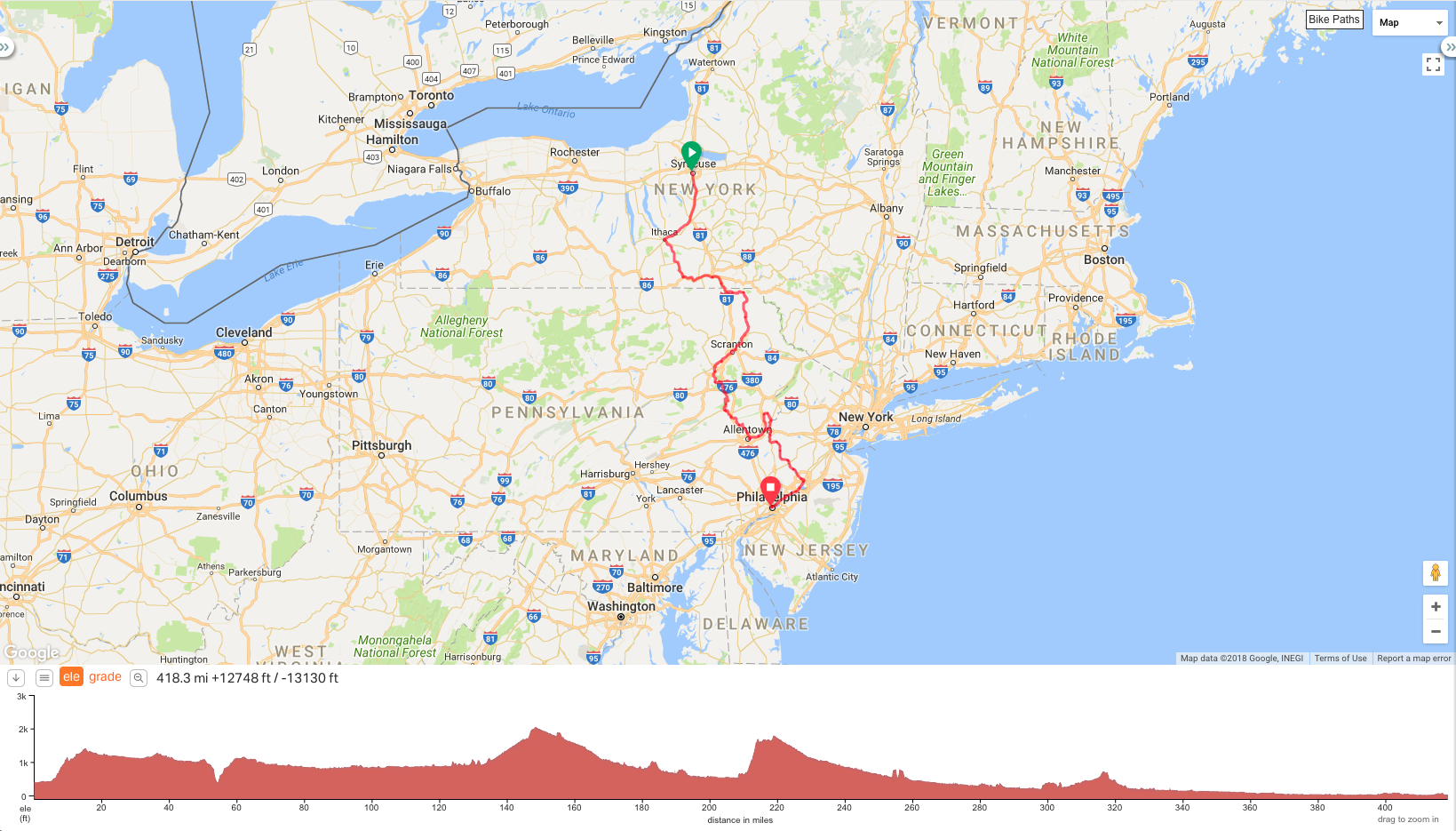 Roughly 420 miles in 7 days
What I'm riding
I'll be riding my Niner RLT for the trip. It's set up with rackless bags, and it's a good steed. For me, the bike fits, its size and geometry and riding position work very well for what I want to do. If you're interested in what the bike looks like, you can see pics from my Silver Comet Express tour journal (https://www.cycleblaze.com/journals/deepsouth2018/birminghams-beverage-and-pastime-of-choice/)

I'm sticking with clipless pedals, as my feet tend to get sore and tired if I ride flats and trail runners. So I stick with mountain shoes with recessed cleats, and I like riding with the eggbeater pedals.
I like by Brooks saddle now that it's broken in. Very important on the "...now that it's broken in..." part.
Bike has hydraulic disk brakes. Yesss......
It shipped with a 1x11 setup, and I'm touring with it today. I swapped out the 42T front chainring for a 30T as I found I wasn't using all the tall gears in the back, even pedaling on the flats. By replacing the 42T with a 30T, I kept the roughly 70 gear-inch ratio I used pedaling in the flats (went from 42/17 to 30/13) and lowered my climbing gear from about 30GI (42T/42) to around 20GI (30T/42)i.
I'm also swapping out the lower water bottle on the downtube for a small repair kit. This moves the repair kit outside the frame bag, leaving room for food and clothing. I'm trying to go even lighter on this trip, without the two 5L dry bags attached to the fork.
The gear
I found a cool website to track gear lists at Lighterpack.com. Here's what I'm packing, along with weights and location. OK, this is a bit nerdy, but still pretty cool to weight everything. This way, when people ask, "how much does that all weigh?" (the third-most-frequently asked question of a cycle tourist after "How far are you riding?" and "Where did you start?") I can answer it precisely. Click here to see my packing list for the trip.
| | | |
| --- | --- | --- |
| Rate this entry's writing | Heart | 2 |
| Comment on this entry | Comment | 0 |