October 8, 2019
This Place is Hoppin
Regensburg to Wolnzach
This is going to be brief. For a little more entertainment value you could just read the Dr. Seuss classic 'And The Cat Came Back' and substitute 'rain' for 'cat'.
As foreshadowed in yesterday's post, we made an early morning trip to the post office and sent back 6 kg's of tent, sleeping bags and camp kitchen stuff. Yes, we are 'fair weather' campers and the weather has been anything but fair so far, and with little prospect of changing for the better.
We were really quite surprised a the cost, 59 euro's (including the cost of the box we needed to buy) .. less than the 'extra bag' fee that airlines charge.
So once again, we are flying without a safety net, but we will be dry every morning!.
We also made a quick trip to the Regensburg Cathedral to check out some of the original 13th century stained glass.
As a result of these two morning excursions, it was closing in on 11 before we pedaled away from Regensburg. If you check out the www. yr.nr (Norweigan weather forecasting service - very good worldwide!) forecast for Regensburg you will see that rain was forecast to start right around 11.
It did.
Pedal on.
Once again, very nice countryside, great cycle trails / paths but zero inclination to stop and take any pictures of it with the drizzle.
It did lighten up and stop raining for the last hour into Wolnzach though. Nice little Bavarian town, and if we were wondering what folks do around here, the answer came from looking at the fields as we rode in.
Hops, or at least all the trellises and nets they use for training them as they grow, in all the fields. The hops have long been harvested.
When we got to the hotel we discovered that not only are the hops grown here, several of the locals take it to the next step and make some pretty tasty local beer too! Basic, filling Bavarian dinner ... with the great local beer, and friendly and efficient folks working in the hotel restaurant
That pretty much wraps up the day. Great place to cycle ... if the weather's good. Tomorrow's forecast is for even more rain ... same basic country we will be going through .. watch out for a cut and paste job!
Song of the Day: Here Comes The Again by the Eurythmics. Sure, I've used this before. Sure it's cliche for a day like today. But dammit, it works. And I like it. So there.
'Falling on my head like a memory'
'Raining in my head like a tragedy'
A few images of the beautiful stained glass in the Regensburg Cathedral. I could post hundreds of pics but I've picked just a few of my faves
Each panel tells a story but I'm a bit of a philistine and don't bother to learn about them. I just like how they look and appreciate the effort and craft required to create them
... last one as I'm getting dragged out into the cold by the high priestess
... and here she is, about to set off at the crack of 11 .. still dry for now
We rode along the Danube heading west for the first few km's, almost retracing our steps from '17. We were on the other side of the river then
65 km's later the rain let up as we were getting closer to Wolnzach
Really nice riding in Bavaria. Fantastic cycle paths through beautiful country side. You can just make out some of the hop trellis in the background
Checking in at the hotel ... a portent of what's to come
Have a nice stay (the Germans do love their garden gnomes!)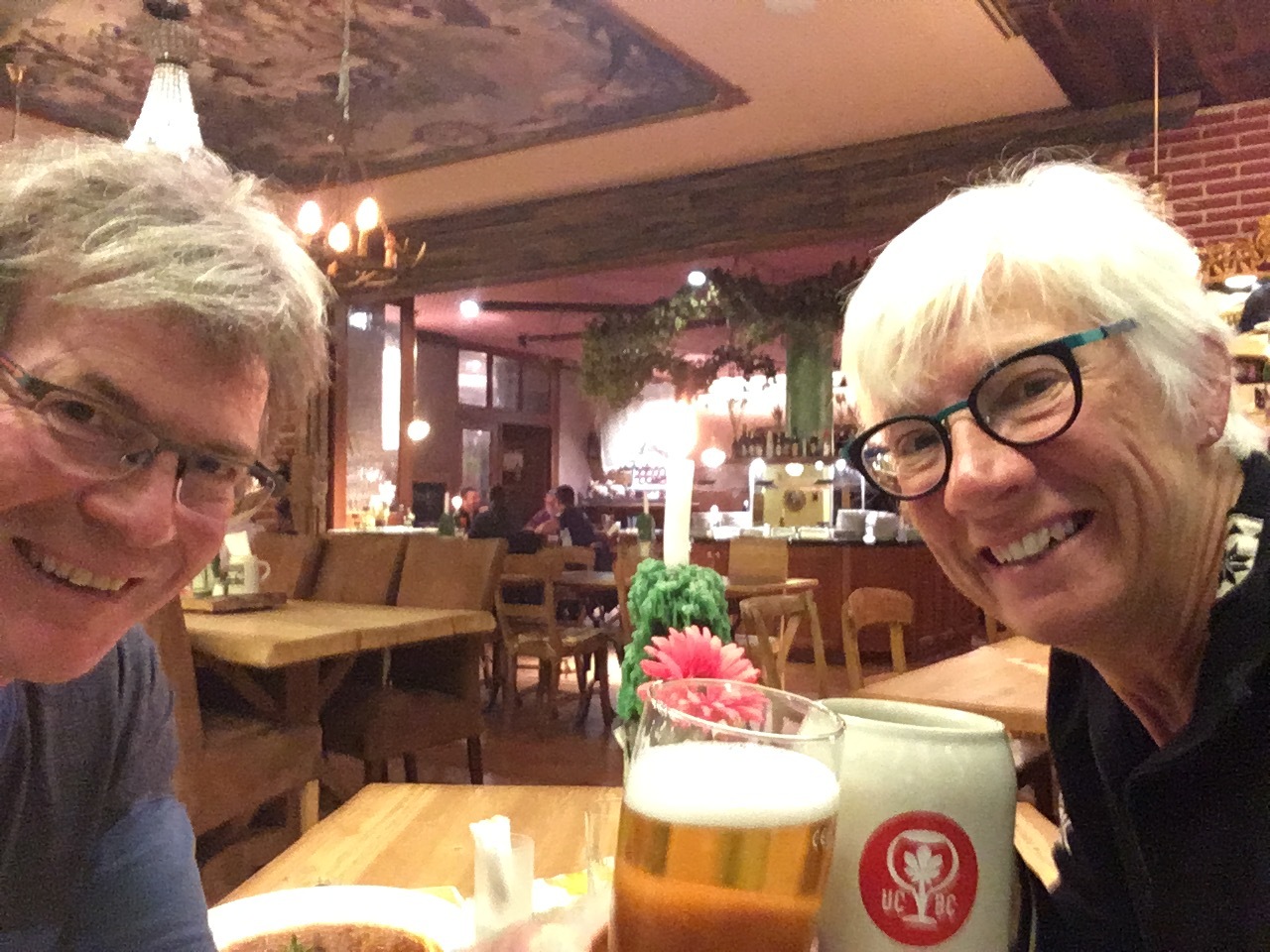 Another one for the record books. Good night!
Today's ride: 78 km (48 miles)
Total: 1,296 km (805 miles)
| | | |
| --- | --- | --- |
| Rate this entry's writing | Heart | 6 |
| Comment on this entry | Comment | 0 |